Soba noddles will most likely liven up your dinner routine and it will add some nutty and satisfying flavors as well. You can try them with almost anything, including salads, soups, stir-fries, and many more things. So, are you new to soba? Well, this Japanese noodle is made from buckwheat and it tastes delicious whether you eat it hot or cold. It also contains 8 different and necessary amino acids, which makes it healthier than flour-based pasta.
These recipes will show you how much soba noodles are versatile and how quickly you will be able to prepare them. Hence, here is a list of interesting soba noodle recipes that you can try.
1. Soba Noodle Veggie Bowl with Tahini Dressing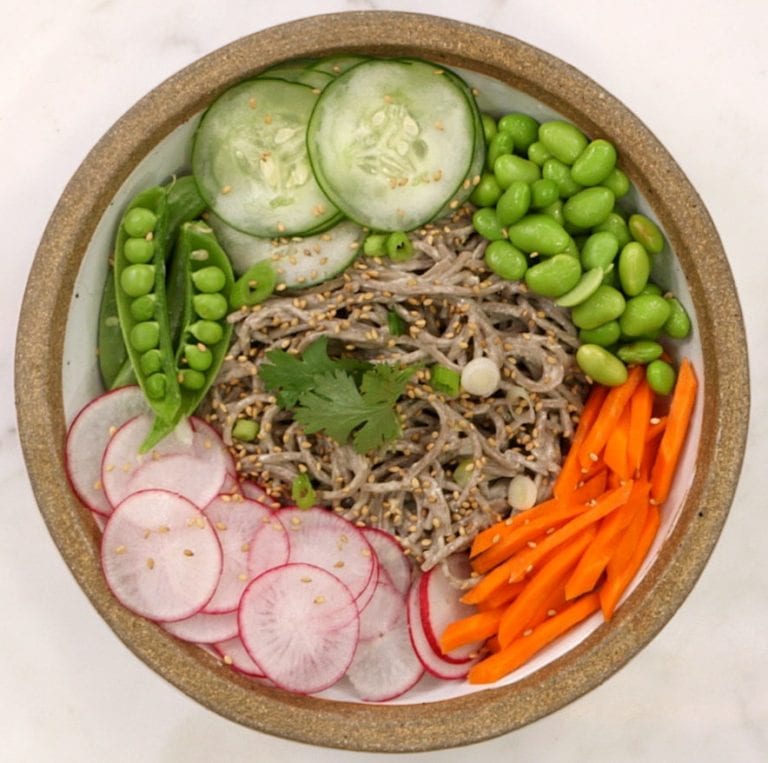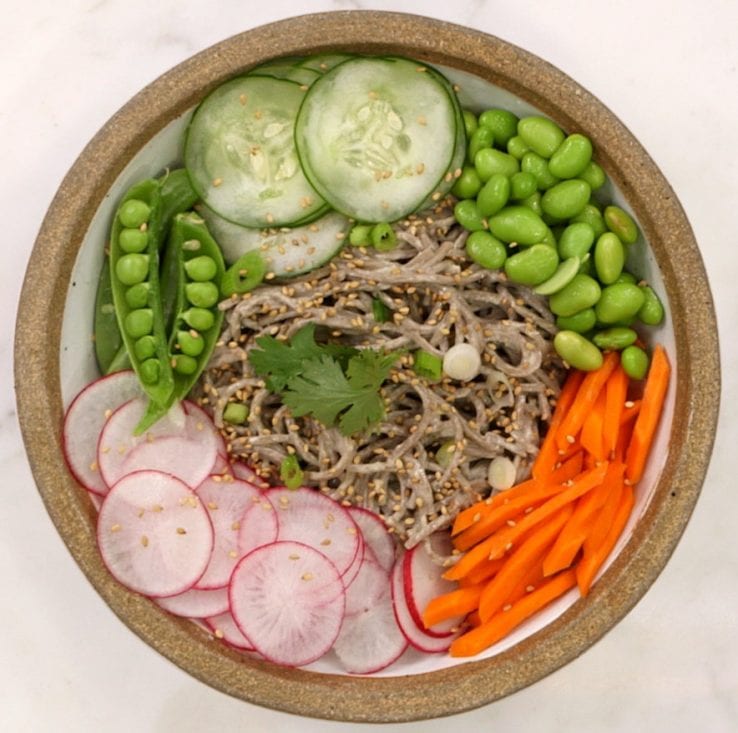 This particular recipe is just as fun to make as it is to eat. This recipe is basically build-your-own noodle bowl, and you will be able to add anything that you want. So, in order to prepare it, you will first need the ingredients.
Ingredients:
8 ounces of soba noodles
Half a cup of tahini
2 tablespoons of tamari
1 tablespoon of rice vinegar
1 tablespoon grated ginger
1 tablespoon of lime juice
2 teaspoons of maple syrup
4 cups of chopped vegetables (radishes, cucumber, carrots, snow peas, scallions)
1 cup of frozen shelled edamame
Cilantro leaves and tender stems
2 tablespoons of toasted sesame seeds (for serving)
Preparation
Cook the noodles according to the directions on the package, drain and rinse them with cold water
Combine the tahini, rice vinegar, ginger, lime juice, tamari, and maple syrup in a bowl and whisk it all in order to combine the ingredients well
Add the water, one tablespoon at a time until the dressing is pourable and smooth
Pour two-thirds of the dressing over the noodles and coat it
The remaining dressing should be kept for serving
Split the noodles into several bowls and top each of them with the vegetables, sesame seeds, and cilantro
Also, pour the remaining dressing on to it
Enjoy!
2. Spicy Thai shrimp soba salad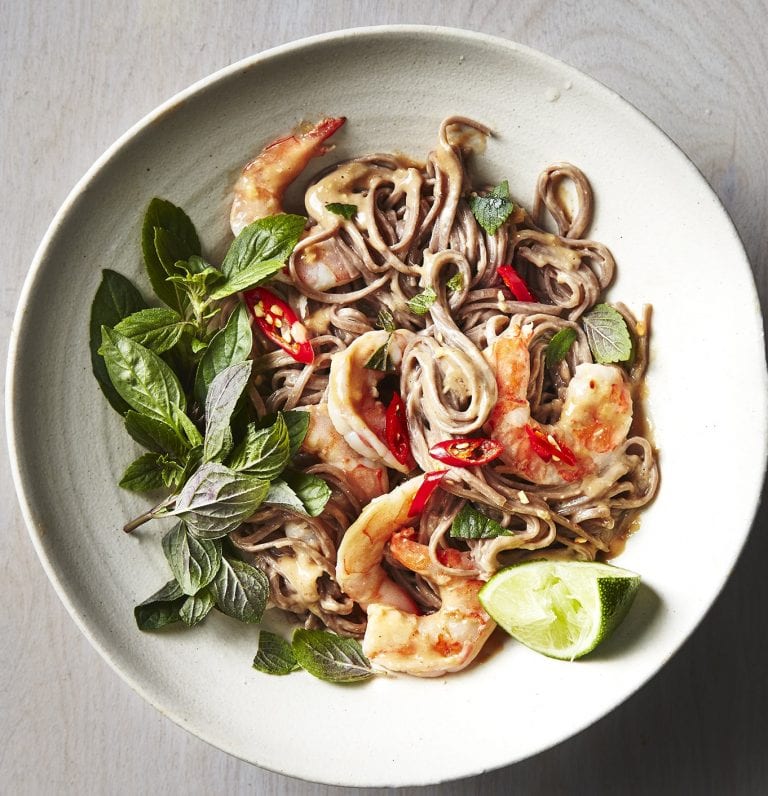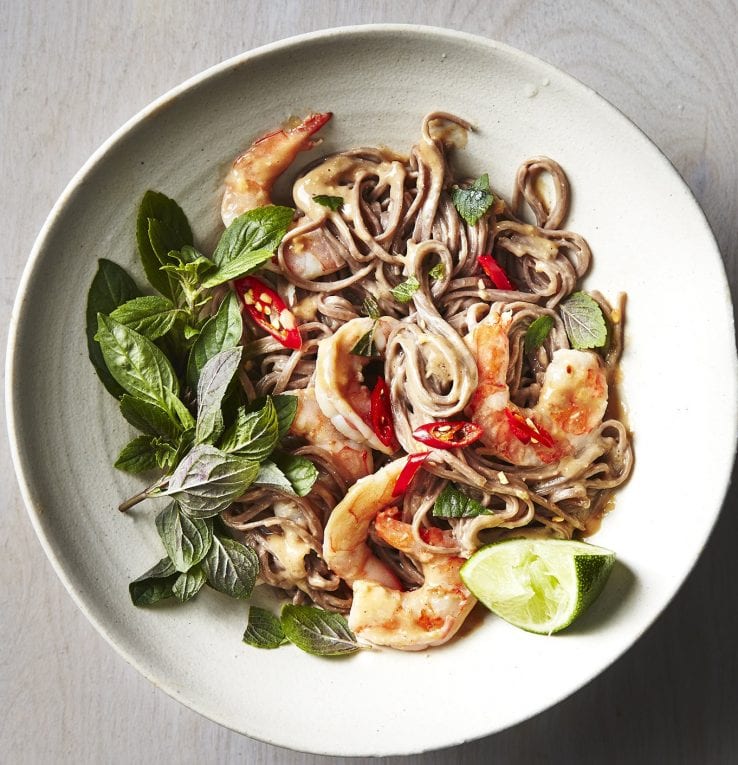 This one-pot recipe is simply magnificent – you cook the shrimp and then add the soba noodles and before you know it the noodles are tender just as the shrimp was cooked.
Ingredients:
¼ cup creamy peanut butter
¼ cup of coconut milk
2 tablespoons of soy sauce
2 tablespoons of rice vinegar1
2 tablespoons of minced lemongrass
1 teaspoon kosher salt
½ teaspoon of toasted sesame oil
1 large shallot, thinly sliced
8 ounces uncooked soba noodles
1 pound of raw shrimp
¼ cup torn fresh mint leaves
¼ Thai basil leaves
Lime wedges (for serving)
Preparation
Mix the peanut butter, soy sauce, vinegar, salt, coconut milk, lemongrass, chili-garlic sauce, shallot, sesame oil, and ¼ cup of water into a large bowl
Cook the noodles in a large pot according to the directions on the package
Add the shrimp to the noodles for the last 3 minutes of the remaining cooking time
Drain the noodles and shrimp
When it is cool enough, peel the shrimp
Add the noodles, shrimp, mint, basil, and combine all the ingredients
Serve it into bowls and add the lime wedges
Enjoy!
3. Mushroom and Leek soup with Soba noodles
Are you looking for a meal that will please all your palates? You will no longer have to search, you have probably found the perfect soup right here.
Ingredients
1 ounce of dried porcini mushrooms
12-inch piece of Parmesan rind
3 tablespoons of soy sauce
2 tablespoons olive oil
2 leeks (sliced)
Kosher salt and black pepper
10 ounces mixed mushrooms (quartered)
8 ounces soba noodles (cooked)
2 tablespoons chopped fresh chives
Preparation
Step 1 – mix the porcini, Parmesan, and 10 cups of water in a large pot and boil it. Reduce the heat and let it simmer for about 15 minutes. Strain and discard of the solids while reserving the liquid. Stir in the soy sauce.
Step 2 – Heat the oil and add the leeks, salt, and pepper. Cook the ingredients for about 4-6 minutes. Add the mushrooms until they are tender, then add the broth, cover it and bring to a simmer. Add the soba noodles until heated through. Serve the soup topped with chives.