Homemade Rustic Balsamic Mustard is made from scratch – complex, spicy and a touch of sweet from the balsamic vinegar. This is not any ordinary mustard!

This post may contain affiliate links to products I adore and trust in my kitchen. Thank you for supporting Cooking In Stilettos!
It's the beginning of February – the Seahawks have won the Superbowl and that Puxatawney Phil has seen his shadow, promising six more weeks of winter.  One other thing that signals the beginning of February – it's Secret Recipe Club time!
This month's assignment was a fun one.  My top secret assignment was PolaM from An Italian Cooking In The Midwest.  Her blog is fascinating – she's a wealth of info when it comes to Italian recipes, she's studying for a PhD and I just love how she dives right in when it comes to recipes.  The girl has some serious bread making skills!
I had the worst time choosing recipes to feature – there were so many fabulous ones that I had a hard time picking just one.  Between Petronilla's Apple Cake, an Irish Whiskey Cake that is after my own heart, Raisin and Oregano Bread Rolls, and her Lemon Marmalade, how could I pick just one?  However, when I saw that she had a recipe for Rustic Balsamic Mustard, I knew that was it.
I have a silly story – I have always been a mustard gal.  Since I was young, if you gave me a choice of ketchup or mustard, I would go with mustard, hands down.  I even horrify my buddies when I order a cheesesteak because I always ask for mustard "wit".  There's something about that savory spicy spread that I just love.  When I was in 3rd or 4th grade, my parents had a rule – after school, I could not use the stove and if I wanted to make a snack, I had to get creative.  Well – there was always crackers and mustard available and, yes, I did love crackers (or pretzels if they were in the pantry), drizzled with a touch of mustard.  I know, you are going "Aly what is WRONG with you" but like I said – it's been a love of mine since I was young (along with Baileys – but we won't talk about my sneaking that out of the fridge will we).
Anywhoo – this mustard was so simple to whip up.  A few ingredients, a bit of soaking in a balsamic sauce and a whir in the mini food processor and *viola* you have a spicy condiment that is begging for a fabulous Philly pretzel to serve with.  Sadly, my yellow mustard seeds were well past their prime so I went with some ground mustard and a blackish/brown mustard seed.  The darker the seed, the spicier the mustard will be.
This recipe is a tried and true in my household – sweet, savory, spicy and a bit of sass – that's the perfect mustard!
Onto the recipe:
Gather the ingredients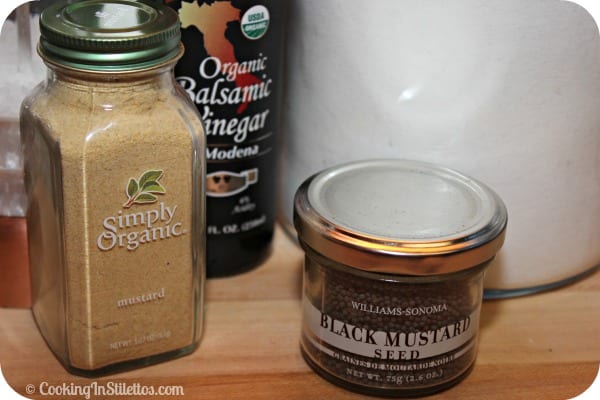 Adding the ground mustard to the balsamic mixture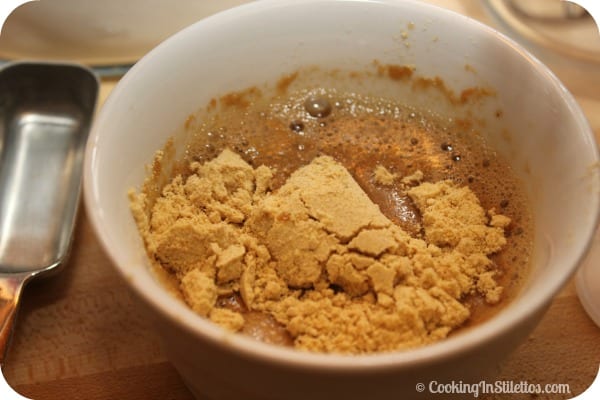 Time to soak the mustard seeds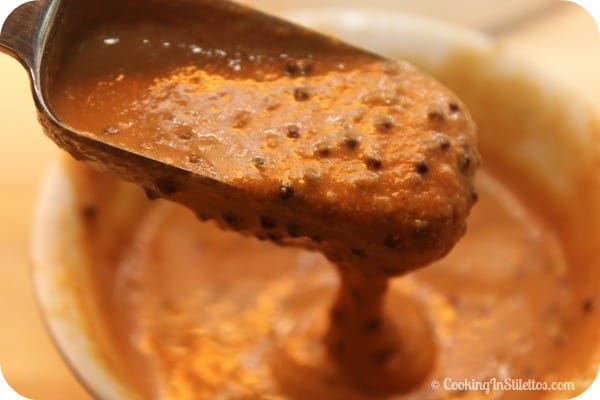 Mustard love!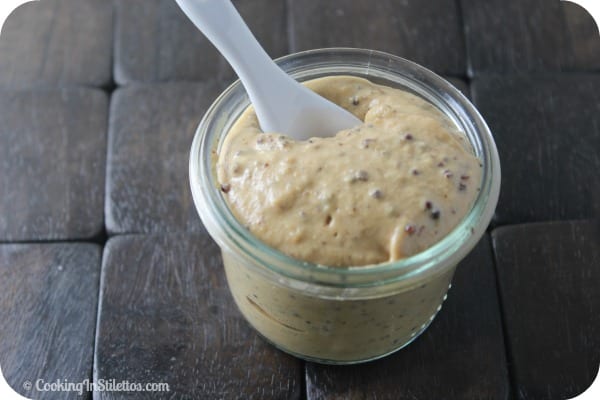 Print
Rustic Balsamic Mustard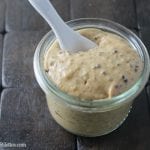 This Rustic Balsamic Mustard is made from scratch – complex, spicy and a touch of sweet from the balsamic vinegar. This is not any ordinary mustard!
Author:
Prep Time:

4 hours 30 minutes

Total Time:

4 hours 30 minutes

Yield:

8

Category:

Condiment

Cuisine:

American
Ingredients
1/4 cup of water
2 tablespoons of balsamic vinegar
1/2 teaspoon of salt
1 1/2 teaspoons of sugar
1 tablespoon of brown mustard seeds
2 tablespoons + 1 teaspoon of ground yellow mustard
Instructions
Dissolve the salt and sugar in the mixture of water and balsamic vinegar in a glass container.
Whisk in the ground mustard until fully combined.
Add the brown mustard seeds and soak in the mixture for about an hour and a half to two hours.
Transfer the mixture to a small food processor or blender and blend together. There will still be some seeds visible but that's okay – it's "rustic". If it's too thick, feel free to whisk in a bit more water.
Let stand at room temperature for an hour or so until it mellows a bit and enjoy!
Many thanks to PolaM and the gals at the Secret Recipe Club for such a fun assignment!
My Favorite Finds for this recipe:
Did you enjoy this post?
| | |
| --- | --- |
| Share the love | Get free updates |