I don't know if you are like me at all but I always have tortillas on hand. They are great crisped up in the oven drizzled with a bit of Mojo de Ajo or just perfect for a warm gooey quesadilla for those nights that I get home way too late from the 9to9 to even think about making something complicated for dinner. Recently, I noticed that a pack of the tortillas was – shall we say "disintegrating" and maybe it was a bad batch but I tossed it out and shuddered, not wanting to know what was in those tortillas to turn them into a foul smelling mystery dust.
When I made the slow cooked carnitas, I remembered that I had no tortillas. Rather than rush out to the local grocery store and take a chance on mystery dust tortillas, I and remembered something that Rick Bayless had said – that it was so simple to make your own as the ingredients are already in the pantry.
I recently bought a tortilla press that has been been sitting in my "gadget cabinet" just waiting for a little love. However, you don't need a fancy schmancy press to make a decent tortilla – just a flat surface and a rolling pin. If you do use the press, make sure to use two Ziploc bags or cling wrap to keep the dough from sticking to the surface. Great thing about this recipe – you will never find "mystery dust" in place of your tortillas when you are craving a seriously good quesadilla.
Gather the Ingredients
4 Simple Ingredients

Time to Press
Toasting It Up
Homemade Tortillas – Rustic but No Mystery Dust

Easiest Ever Homemade Tortillas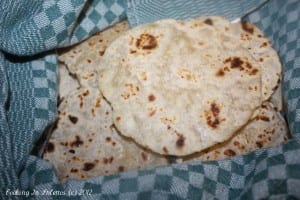 Ingredients
3 cups flour
1 teaspoon kosher salt
1/3 cup vegetable oil
1 cup warm water
Instructions
In a bowl, combine the flour, salt, water and vegetable oil into a dough.
Separate into 1 to 2 inch pieces, roll into balls, and set aside.
For each dough ball, you can either use a press, carefully positioning in the center or roll the ball into a circle with a rolling pin.
Set the pressed tortillas aside.
Place the tortilla into a nonstick skillet, letting brown specks form on each side (about 3-4 minutes a side).
Remove from the heat and set the cooked tortilla into a cloth lined dish or basket to keep warm.
Enjoy!
7.8.1.2
400
https://cookinginstilettos.com/easiest-ever-homemade-tortillas/