If you're planning to redesign your kitchen, you may want to consider using drywall. It's a versatile building material that can enhance the appearance and functionality of your kitchen. Here's a guide to help you understand how to use drywall in kitchen design.
Smooth Walls for a Great Starting Point
Drywall is an excellent choice for creating smooth walls for your kitchen. Whether you want a modern look or a more classic appeal, painting or wallpapering, the drywall creates an even, seamless finish to match your kitchen's style and color scheme for a cohesive look that sets the overall tone for your kitchen design.
Customize Your Kitchen to Suit Your Needs
Drywall is also excellent for customization. With its ease of molding and shaping, it can create architectural features like arches and niches that will give dimension to the design of your kitchen. The BA-AHA-GYP recessed drywall panel door is another innovative feature easily integrated into your design for added functionality. This hidden storage space seamlessly integrates into the surrounding walls for a neat, streamlined finish.
Benefits of Installing BA-AHA-GYP
– Easy to install anywhere
– Multipurpose – great to keep in stock
– Recessed to accept drywall or tile
– Adds extra support to heavy doors
– Offers a concealed design and clean final finish
– Provides easy access for hassle-free maintenance and repairs
Let There Be Light with Drywall Lighting Fixtures
Drywall is a perfect fit for lighting fixtures too. Recessed lights blend in with the walls effortlessly, adding modernity and providing sufficient illumination, making your kitchen more elegant and functional, especially when it's dark.
Drywall for a Quieter Kitchen
The kitchen can be a bustling space that contributes to ambient noise in your home. Drywall has great soundproofing qualities that help reduce noise levels and make the kitchen quieter. With drywall installed, you can enjoy a more serene space, and even better – it is eco-friendly.
Drywall for Texture and Depth
Drywall offers various texture and depth options that create a captivating focal point in your kitchen. Its versatility lets you play around with designs, from the popular orange peel texture to more intricate patterns like skip trowel or knockdown. Textured drywall enhances the aesthetic of your kitchen and makes it visually appealing.
Drywall for your Kitchen Ceiling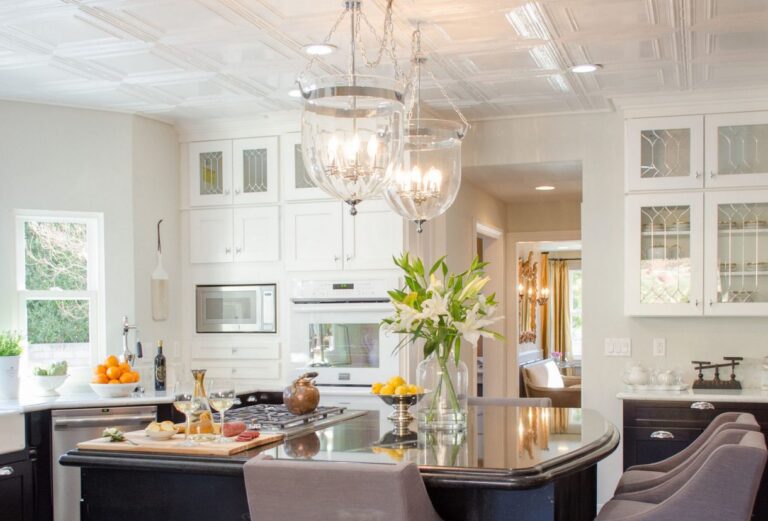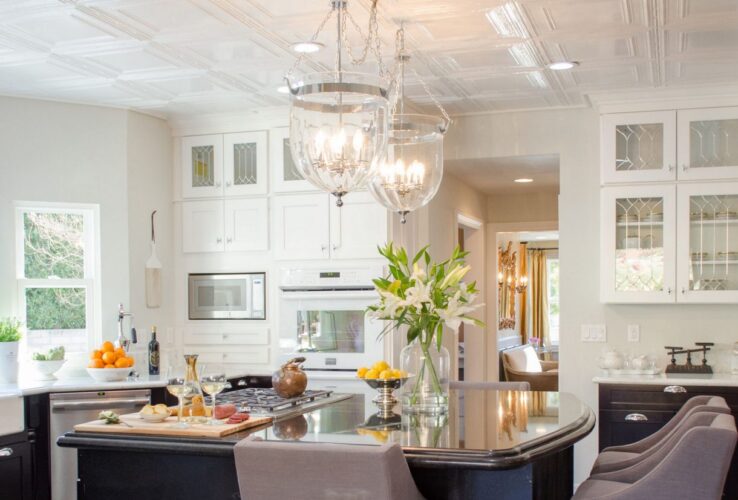 Use drywall to create a variety of architectural features, adding elegance and sophistication to your ceiling. Drywall also accommodates pendant lights and chandeliers with recessed lighting fixtures. It's an excellent way to tie the entire kitchen design together.
Easy Maintenance and Repair
Drywall is durable and easy to maintain, making it ideal for high-traffic kitchen areas. Cleaning the surface is straightforward, and minor damage like small cracks or dents is easy to repair with joint compound and sanding.
Drywall, your Budget-Friendly Option
Compared with other materials like stone or tile, drywall is budget-friendly, making it an appealing choice for homeowners. Drywall allows you to achieve an upscale appearance without breaking the bank, especially if you invest in quality installation and finishes.
Drywall for Durability
Drywall is known for its durability and longevity, making it a reliable choice for kitchen design. With proper installation and maintenance, it can withstand the rigors of daily kitchen activities like heat, humidity, and moisture. Drywall is resistant to warping, cracking, and shrinking, ensuring that your kitchen walls and ceilings remain structurally sound for years.
Drywall is versatile and offers numerous benefits for kitchen design, from seamless walls to textured elements, hidden storage solutions like the BA-AHA-GYP recessed drywall panel door, lighting fixtures, acoustic performance, and more. It's also budget-friendly, durable, practical, and easy to maintain. Drywall can enhance the appearance and functionality of your kitchen and give it a personal touch. Use this guide to explore the numerous possibilities of drywall in kitchen design and create a beautiful and functional space that matches your style.