"Leave the gun. Take the cannoli" ~ The Godfather
Recently, when I was perusing a new cookbook that is all about America's Best Breakfasts, I happened on a recipe for a Cannoli French Toast that got my attention. It was based on a South Philly restaurant recipe and, of course, when one thinks of South Philly, well, you know we had to go with the cannoli, right?
There is nothing better than a cannoli from the bakeries in South Philly. The filling is classic, the shells are crisp and they are always garnished with a bit of chocolate and/or pistachio. This French toast recipe conveys those classic flavors with a bit of a twist and if you serve this at your next weekend brunch, I guarantee that your guests will be savoring each and every bite of this decadent dish.
While French toast is always a favorite brunch item, I loved how the preparation has you essentially browning each side and then the oven finishes the toast to the perfect crisp outside and soft, pillowy interior.  In lieu of lemon zest, I decided to use some Nielsen-Massey lemon extract in the filling. Like with any flavored extract, just a hint is perfect for that citrus kiss, reminiscent of the classic cannoli filling. Also – as I wanted to add a bit more richness to the filling, I added some mascarpone cheese  and it was the perfect consistency – not too heavy and not too light. It was just right.
For Mother's Day or for your next weekend brunch, make this Cannoli French Toast and be prepared for the raving reviews!
On to the recipe

:

Gather your ingredients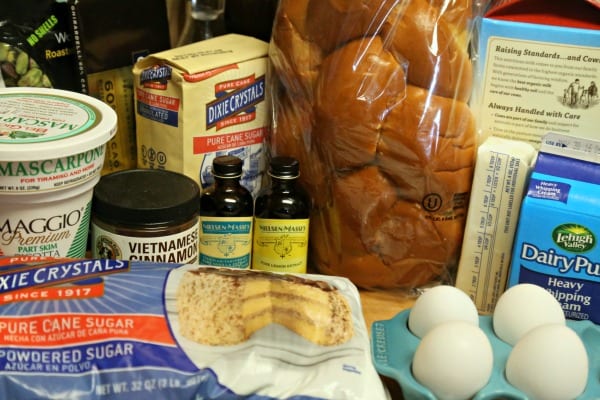 Let's whip up the ricotta and mascarpone cannoli filling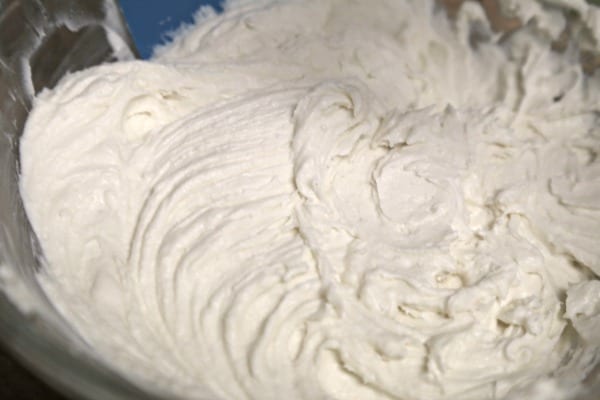 Just a "hint" of cinnamon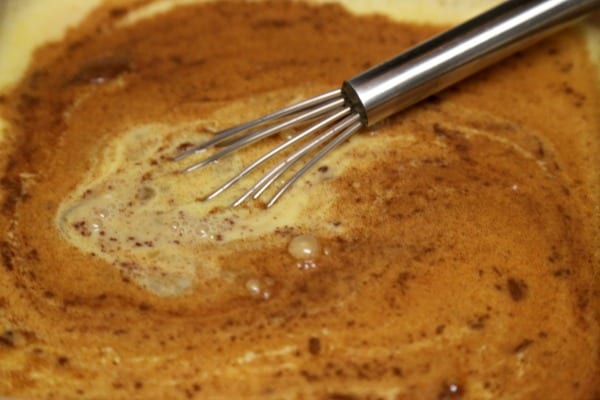 Look at this golden brown French toast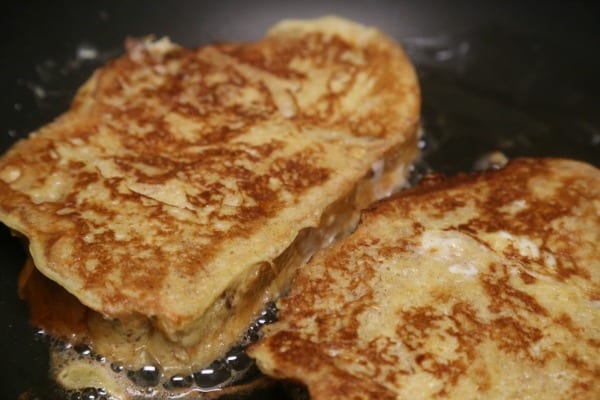 Off to bake to perfection in the oven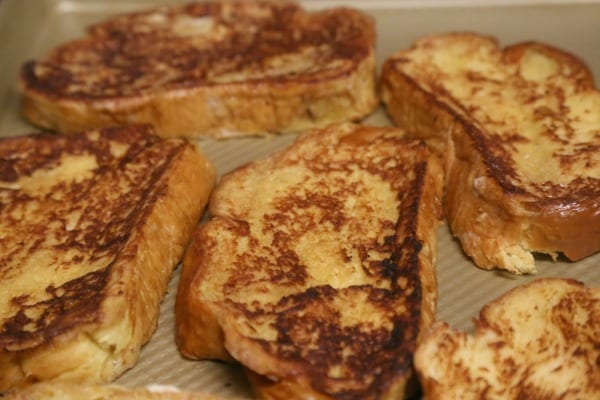 Now – look at this lovely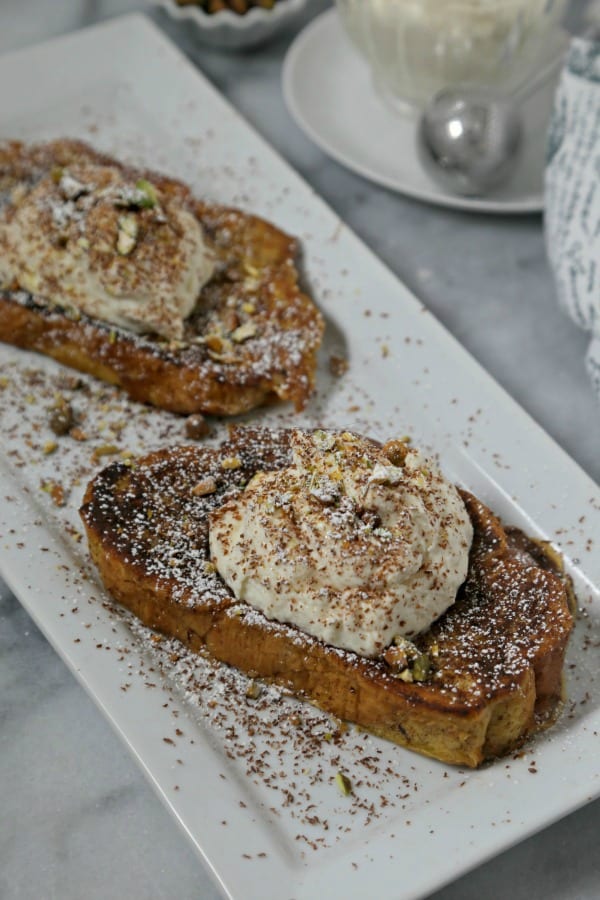 Shall I make you a plate?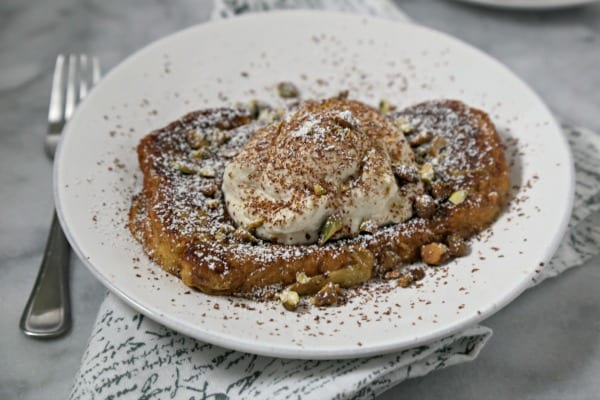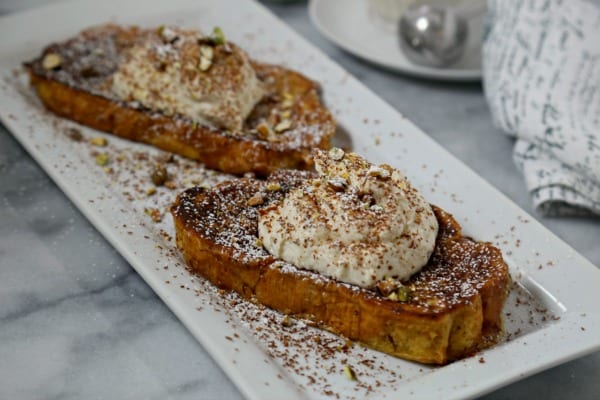 Aly M. Cleary | Adapted from America's Best Breakfast
Yields 6
Cannoli French Toast
Cannoli French Toast has the flavors of the classic Italian dessert but is perfect for brunch. Cinnamon soaked french toast is dolloped with a citrus scented cannoli filling and then garnished with a bit of chocolate and pistachios for the ultimate decadent bite.
20 minPrep Time
20 minCook Time
40 minTotal Time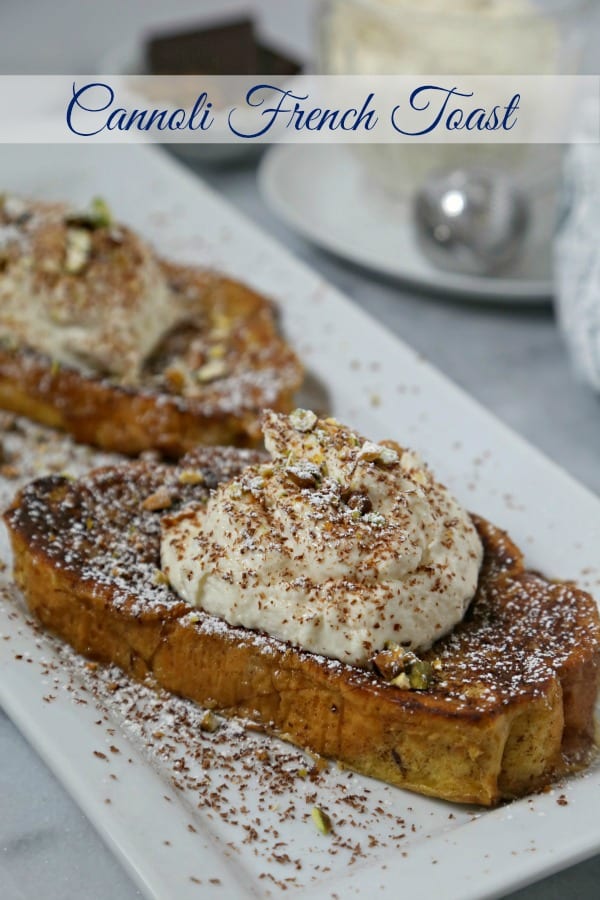 Ingredients
For the Cannoli Filling:

1 1/2 cups of part skim ricotta cheese
1/2 cup of marscarpone cheese, softened
1/2 cup of powdered sugar (I used Dixie Crystals)
1 teaspoon of vanilla extract (I used Nielsen-Massey Tahitian Vanilla)
1/4 teaspoon of lemon extract (I used Nielsen-Massey)

For the French Toast:

5 eggs
3/4 cup of milk
3 tablespoons of sugar (I used Dixie Crystals)
1 teaspoon of cinnamon
1/8 teaspoon of salt
1 teaspoon of vanilla extract (I used Nielsen-Massey Tahitian Vanilla)
1 loaf of challah bread, sliced into 2" pieces
4 tablespoons of unsalted butter
1/3 cup of chopped pistachios
Bittersweet chocolate for shaving
Powdered sugar for garnish
Instructions
Heat the oven to 350 degrees F.
In a large bowl, using an electric mixer, mix together the ricotta cheese and mascarpone cheese.
Add the powdered sugar, vanilla extract and lemon extract and mix until everything is smooth. Set aside.
In a large baking dish, whisk together the eggs, milk, sugar, cinnamon, salt and vanilla extract.
Dip each slice of challah into the egg custard and let soak for about 15 seconds a side.
Melt a tablespoon of butter with a small drizzle of canola oil in a nonstick skillet over medium heat. Swirl the pan so the base is coated in the butter mixture.
Add two slices of the soaked challah to the pan and cook until golden brown on each side – about 5 to 6 minutes.
Remove the golden French toast to a baking sheet and continue with the remaining challah slices.
When the French toast slices are browned, bake in the oven for about 10 minutes.
When the French toast is cooked through, remove from the oven and place a slice on the plate. Dollop with the cannoli filling mixture and garnish the Cannoli French toast with grated bittersweet chocolate and chopped pistachios. Dust with powdered sugar and serve.
Enjoy!
7.8.1.2
94
https://cookinginstilettos.com/cannoli-french-toast-recipe/