Normally, when I have to pick a recipe for my Secret Recipe Club assignment, I'm often overwhelmed, picking out a slew of recipes to marinate over while I decide what would be the perfect recipe to spotlight. It can be quite the process for me (or, perhaps, I just over-complicate it – hey – it's been known to happen). This month's assigned blog had a recipe that literally screamed "MAKE ME!" the minute I saw it and I knew that while I was tempted by the other recipes, this would be my March Secret Recipe Club reveal.
The Secret Recipe Club, for those not in the know just yet, is a fabulous group of bloggers that spotlight each others recipes. There are some amazing bloggers in my group and I was thrilled to have The Pajama Chef for my top secret assignment as Sarah had my blog previously and did a killer spin on my Lemon Herb Eggs in Ciabatta.  I have to tell you, you are going to want to bookmark her site because Sarah has some fantastic recipes, including her Brown Sugar Bacon Waffles, Pumpkin Cinnamon Rolls, Hawaiian Chicken and and a divine Turkey, Black Bean & Sweet Potato Chili. However, it was her Homemade Pumpkin Spice Latte that haunted me.
My friends will tell you that I have a bit of a Starbucks addiction, especially come fall. I often get an iced pumpkin spice latte whenever I can and, while others may think pumpkin is a fall thing, I subscribe to the belief that pumpkin is perfect year 'round. I always have pumpkin in the pantry and love the flavors of fall – even in the spring/summer. So, when I saw that I could actually attempt to make my own version for a fraction of the cost I had invested in my Starbucks budget, I knew I couldn't pass up the opportunity.
Let me tell you – this homemade version rocks! I love the idea of straining the syrup through the cheesecloth that essentially eliminates the thick syrupy sludge often found at the bottom of the 'bucks mug. It does take a bit and you want to use fresh spices – not that nutmeg from 1996 that was in the back of the pantry. When I make my next batch, I want to try it with some fresh ginger as I only had ground ginger on hand. I also cheated and used the Vue as you know my coffee making skills are mediocre at best. Thankfully the Keurig has a strong coffee setting. I wound up with a steaming mug of pumpkin deliciousness that will have me saying Sayonara to the 'Bucks pumpkin frenzy come fall and making it at home year 'round.
Many thanks to Sarah for having such a rockin' recipe! My wallet thanks you immensely – every penny saved helps toward the stiletto fund! Make sure to check out her site for some seriously delish recipes. Want to join the Secret Recipe Club – you can find out more here!
Onto the recipe:
Gather the ingredients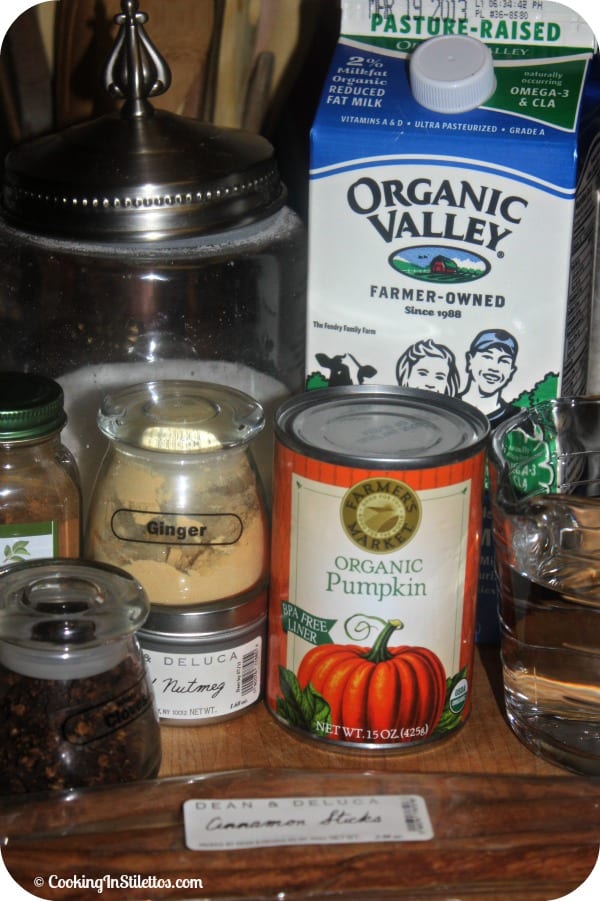 Simmering the spices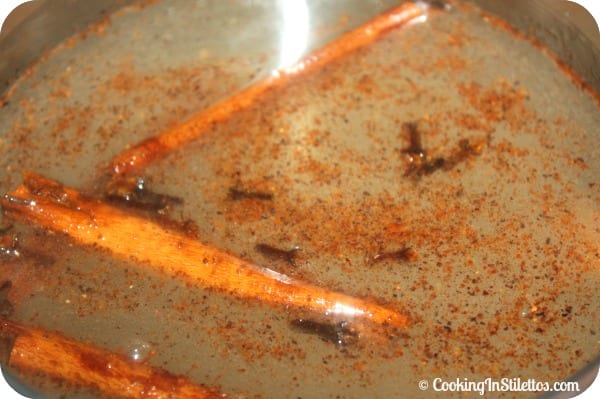 This is why cheesecloth should always be in the pantry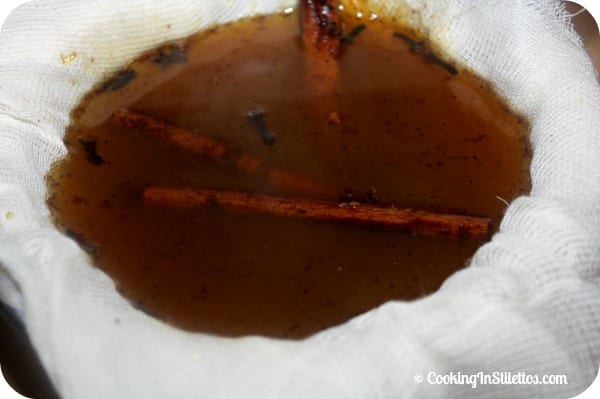 Voila – Pumpkin Spice Syrup!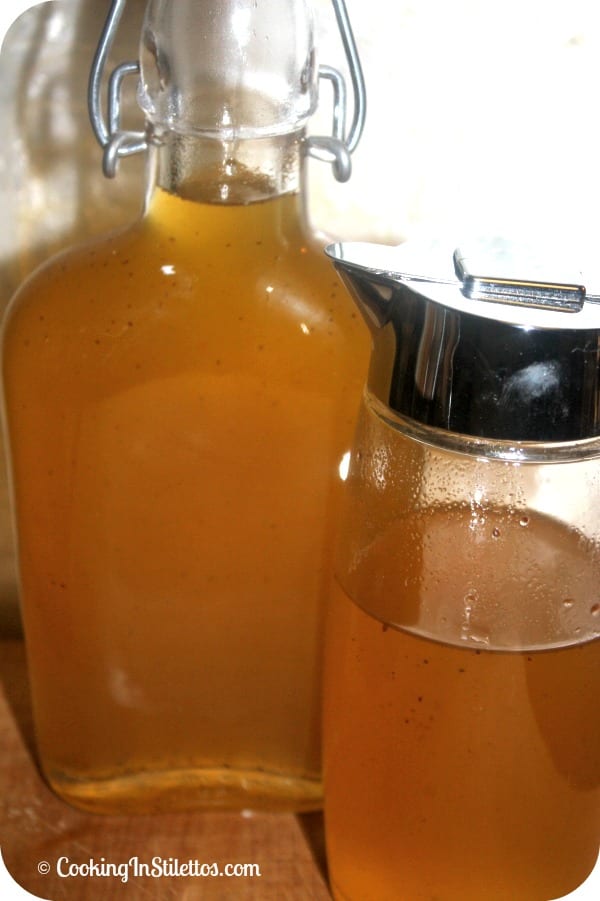 Time to gather the ingredients for the Latte portion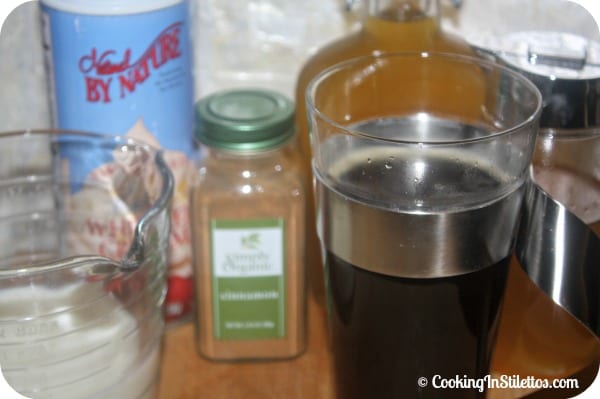 I love my Aerolatte – a stocking stuffer gift that keeps on giving!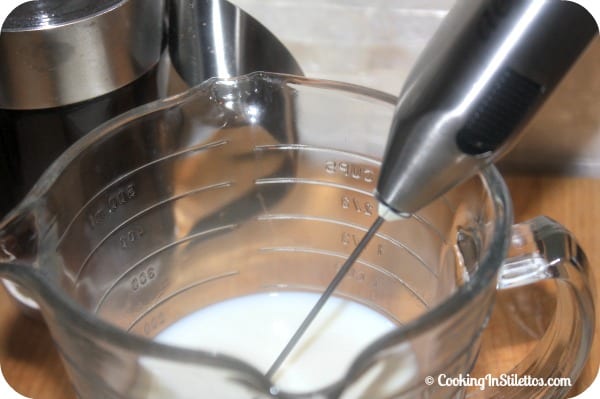 And this, my friends, is why I'm going to have to tell that coffee shop that we're on a break – yum!
Slightly Adapted from The Pajama Chef
Yields 5
Homemade Pumpkin Spice Latte
Let me tell you – this homemade version rocks!
3 minPrep Time
10 minCook Time
13 minTotal Time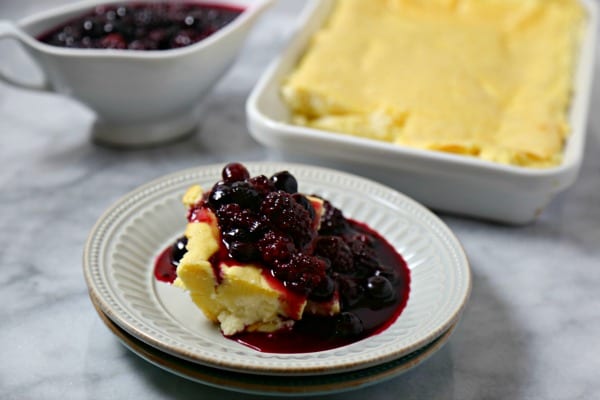 Ingredients
For the Syrup:

1 1/2 cups water
1 1/2 cups sugar
4 cinnamon sticks
1 teaspoon of ground nutmeg
1/8 teaspoon of ground ginger
1/2 teaspoon of whole cloves
3 tablespoons of pumpkin puree (NOT pie filling!)

For the Latte:

4 ounces of milk
3 ounces of brewed espresso or 5 ounces of strong coffee
1 – 2 tablespoons pumpkin spice syrup
Whipped Cream and Ground Cinnamon for topping.
Instructions
For the Pumpkin Spice Syrup:

In a medium saucepan, stir together the water and sugar and heat over medium high heat and stir occasionally until the sugar dissolves.
When the sugar is dissolved, add the spices, and cinnamon stick and let simmer for a minute.
Whisk in the pumpkin puree and, once everything is incorporated, reduce the heat to a simmer.
Let simmer (not boil!) for 5 minutes.
When the syrup is ready, strain through a cheesecloth into a bowl and you can keep in a sealed container in the fridge.

For the Latte:

You have two ways to froth the milk – you can either pour the milk into a Mason jar, screw on the lid and shake for 60 seconds or you can froth it with a milk frother – either way it will come out perfectly.
Microwave the milk for about 45 – 60 seconds or so until hot
Pour the milk into a large mug and stir in the coffee.
Add the pumpkin spice syrup and stir.
Top with whipped cream and a dash of cinnamon (if desired) and enjoy!
7.8.1.2
287
https://cookinginstilettos.com/homemade-pumpkin-spice-latte/