Instant Pot Kalua Pork is ready in under 2 hours and is packed with flavor – perfect for your game day parties!
This post may contain affiliate links to products I adore and trust in my kitchen.  Thank you for supporting Cooking In Stilettos!
Kalua Pork is one of those recipes that is always a favorite with my friends and family.  Kalua pork takes a bit of planning, however, because it takes a full day of cooking in the slow cooker so when I finally succumbed and bought my Instant Pot, Instant Pot Kalua Pork was the perfect recipe to make.
I must confess – I was clearly skeptical because kalua pork ready in under 2 hours – ummmm… that seemed impossible.  Now when I make it in the slow cooker or oven, it also takes quite a bit of time.  Now, when some of my friends make kalua pork – they have an emu oven in their backyard so it is almost a full day to make it there. But 90 minutes in a pressure cooker – well, let's see what the Instant Pot has can do.
When I make kalua pork in the slow cooker, I tend to wrap the packet in foil to mimic banana leaves so that it steams appropriately but with this pressure cooker, I didn't think I could go that route.  After a bit of research, I took some advice from Pressure Cooker Today's recipe and cut the pork into three pieces to brown appropriately.  I love that the Instant Pot has a browning feature so I can keep it all in one pot and don't have use another pan on the stove! Easy cleanup is an added bonus don't you think?
Whenever I make kalua pork, I always use Hawaiian Alaea Salt and ONO Seasoning, both of which give a distinctive flavor to the kalua pork.  The key to remember with this recipe is to add a touch of water into the Instant Pot so that it has enough water to steam and make sure to scrape up any brown bits so you don't lose any flavor.  If you add the Liquid Smoke to the water, rather than rub it into the pork like you would with the slow cooker, it adds that deep smoky flavor to the pork and tastes like it cooked for hours.
Instant Pot Kalua Pork is a tried and true and for game day, it's the perfect quick kalua pork recipe for sliders, tacos, sheet pan nachos or to pile up on sweet onion buns with a spicy pineapple salsa.  Leftover kalua pork also makes a killer grilled cheese or sweet potato hash.  The options are endless!
If you are looking for a tried and true Instant Pot recipe, this Instant Pot Kalua Pork is a winner!
In the video below you can see to how to make Instant Pot Kalua Pork.

Aly M. Cleary
Yields 10
Instant Pot Kalua Pork
Instant Pot Kalua Pork is the perfect way to prepare kalua pork quickly and fabulous for game day bites!
10 minPrep Time
1 hr, 50 Cook Time
2 hrTotal Time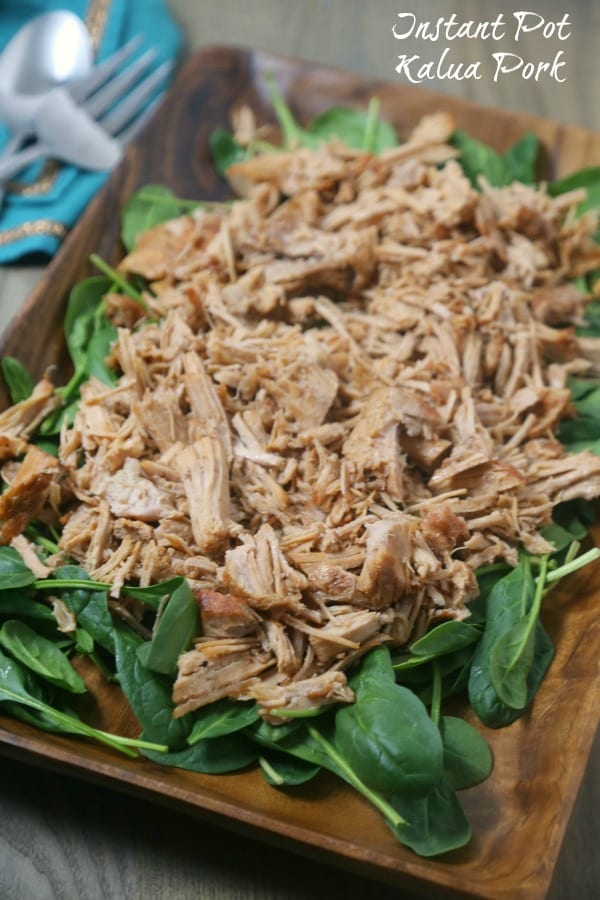 Ingredients
3 pounds of pork roast, cut into 3 pieces
2 teaspoons of fine Hawaiian Alaea Salt
1 teaspoon of ONO Seasoning
2 teaspoons of vegetable oil
1/2 cup of water
1 tablespoon of Liquid Smoke
Instructions
Cut the pork into three pieces and, using a sharp knife, pierce the pork in several places.
In a small bowl, combine the Hawaiian Alaea Salt and ONO Seasoning. Set aside.
Season the pork with a bit of the Hawaiian seasoning mixture.
Set the Instant Pot to saute and when it indicates that it is ready, brown the pork on all sides. Remove from the Instant Pot and set aside.
Add a bit of the water to the Instant Pot and scrape up the brown bits.
Turn the Instant Pot off, add the remaining water and Liquid Smoke.
Return the browned pork to the Instant Pot and season with remaining Hawaiian Seasonings, taking care to flip the pork so that it is seasoned on all sides.
Put the lid on the Instant Pot, lock and hit the manual button for 90 minutes.
When it is complete, you can either release the pressure naturally or, if you are impatient like me, use silicone tongs and release the pressure quickly.
Remove the Kalua Pork from the Instant Pot and spoon some of the juices into a gravy/fat separator.
Moisten the Kalua pork as needed.
Enjoy!
7.8.1.2
23
https://cookinginstilettos.com/instant-pot-kalua-pork-recipe/