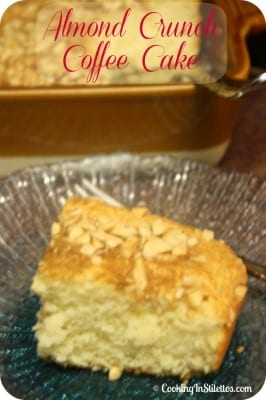 There's something comforting about coffee cake.   A few ingredients, a slight sauna in the oven and *viola* you have a tried and true that is good for breakfast, lunch or just a sweet snack and always perfect with a cup of coffee.
This month's Secret Recipe Club pairing was a delightful one – I was given the top secret assignment of Cupcake Muffin, run by the super sassy Sara who is beyond accomplished in the kitchen.  We're taking some seriously fabu recipes that really had me scratching my head going "What the heck to make?"  I had a few finalists, namely her Thai Cucumber Salad, Meyer Lemon Pasta Salad with Asparagus, Almonds and Goat Cheese, a divine sounding Roasted Butternut Squash and Apple Salad or her Blueberry Corn Muffins.  I finally decided on her Hazelnut Crunch Coffee Cake but ran into a slight snafu.  When I went to the freezer to grab the hazelnuts, I realized that I did not purchase them like I had thought but had two packages of almonds.  One good thing about cooking is improvisation is your friend.  A few slight changes and I wound up with a coffee cake that I will be making again and again!
Gathering the ingredients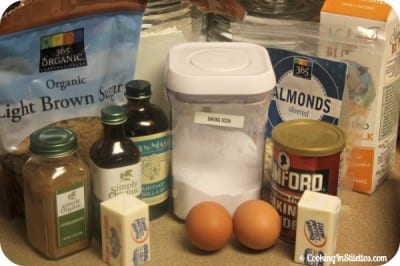 No judgements for sampling the topping (or batter – not that I'm confessing or anything 😉 )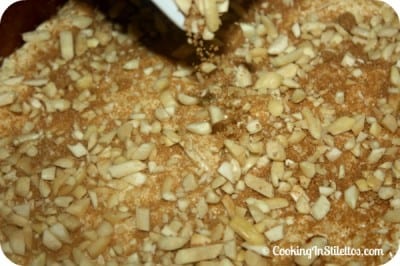 Fresh out of the oven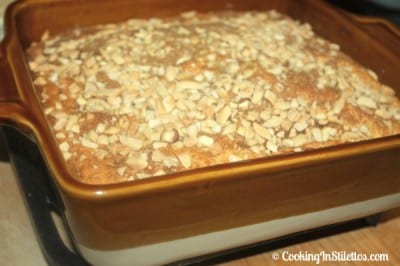 Now – don't you want a bite?
Almond Crunch Coffee Cake
---
Ingredients
Nonstick Spray
1 stick of unsalted butter, softened
1/2 cup of sugar
2 large eggs
1 teaspoon of vanilla extract
1/8 of a teaspoon of almond extract
1 1/2 cups of all purpose flour
1/2 teaspoon of kosher salt
1/8 teaspoon of baking soda
1 teaspoon of baking powder
1/4 teaspoon of cinnamon
1/2 cup of buttermilk

For the Topping:

2 tablespoons of light brown sugar, packed
1/2 cup of slivered almonds, chopped
1/2 teaspoon of cinnamon
Directions
Preheat the oven to 350 degrees F.
Lightly spray an 8x8 pan with the nonstick spray and set aside.
In the bowl of a stand mixer, add the butter, beat on high until light and fluffy.
Slowly add the sugar to the mixture and beat for another few minutes.
Add the eggs once at a time and follow with the vanilla and almond extracts.
Beat for another 3 minutes or so.
In another large bowl, mix the flour, salt, baking soda, baking powder, and cinnamon.
To the mixer bowl, slowly alternate the flour mixture and the buttermilk and make sure everything is mixed thoroughly.
Add the batter to the baking pan and spread evenly with a spatula.
In a small bowl, mix the brown sugar, the almonds and the cinnamon.
Top the batter with the topping mixture and bake for about 25 - 30 minutes, until a knife inserted in the center comes out clean.
Let cool for a few minutes and serve.
Notes
Recipe slightly adapted from Cupcake Muffin.
7.6.8
761
https://cookinginstilettos.com/secret-recipe-club-almond-crunch-coffee-cake/
All images and content are © Cooking In Stilettos. Please do not republish without contacting us first. Thank you.
Many thanks to the Secret Recipe Club and Sara and her wonderful blog, Cupcake Muffin, for some fabulous monthly culinary inspriation.  If you aren't a member of the Secret Recipe Club, you can sign up here – the bloggers are fabulous and I can't rave about it enough!



Did you enjoy this post?
| | |
| --- | --- |
| Share the love | Get free updates |