Do you intend to lose weight? You're probably wondering how you can lose weight without running every day or depriving yourself of your favorite foods and so on. But guess what? I have a powerful thing that can help you lose fat – it's called a mushroom for weight loss.
Are Mushrooms Good For Weight Loss?
Mushrooms are undeniably a superfood with numerous health benefits. These edible fungi, mushrooms for weight loss as supposed based on their benefits, are high in vitamins, minerals, and antioxidants and should be included as much as possible in your diet. Truly beneficial for your health, these nutritious edible mushrooms should be consumed frequently as they are rich in vitamins, minerals, and antioxidants. Due to their high protein and fiber content, mushrooms have been found to be useful for weight loss.
Mushrooms differ from most other products in that they have a number of health advantages, one of which is their capacity to raise vitamin D levels. Few foods, particularly edible vegetables, have substantial concentrations of this crucial vitamin. Unexpectedly, mushrooms produce vitamin D when exposed to sunlight, much like humans do. Are mushrooms good for weight loss? Indeed, they are!
Nutritional Facts of Mushrooms
Although edible mushrooms are rich in other vital elements, they are devoid of fat and cholesterol. Additionally, mushrooms can help you reduce your dependency on meat by giving vegan foods a distinctive, delicious flavor.
Most mushrooms have respectable levels of:
B vitamins: niacin, pantothenic acid, and riboflavin
Potassium: For the health of your nerves, you need potassium.
Dietary fiber: Almost all Americans fall short of the daily guidelines for dietary fiber.
Copper: Your body needs copper to help your red blood cells receive oxygen.
Selenium: An essential mineral for heart health is selenium.
Mushrooms that are exposed to UV light are one of the few good sources of vitamin D, which is necessary for strong bones and a healthy brain.
Best Mushroom For Weight Loss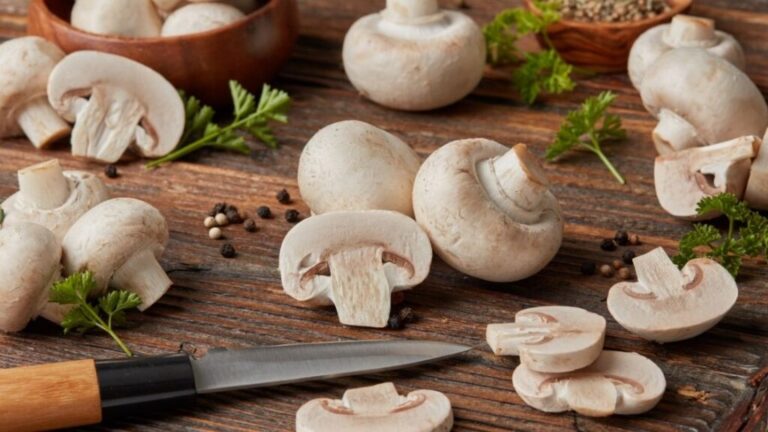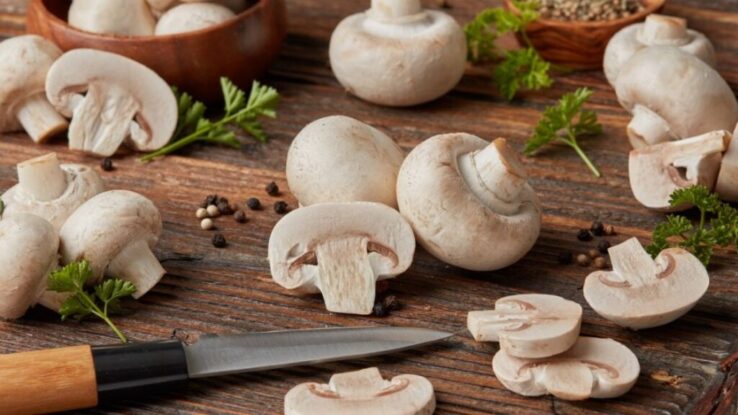 Mushrooms can assist in enhancing your immune system when included in a healthy eating regimen. Mushrooms are known to be high in antioxidants and have anti-cancer effects. Mushrooms are a good source of protein and fiber and have been shown to help people lose weight.
You are undoubtedly thinking about including mushrooms on your dietary list of foods as you are already aware of their benefits, in particular, mushrooms for weight loss, right? Well, here are the best mushrooms for weight loss listed for your convenience.
Maitake Mushrooms
Maitake mushrooms are a great food option for improving the immune system's performance since they have a high content of beta-glucans. These mushrooms are exceptionally successful in reducing blood sugar levels, which suggests that they aid in the fight against diabetes. It has been demonstrated that maitake is a mushroom for weight loss as it truly helps by reducing their sensations of hunger.
Cordyceps Mushrooms
Well-known for its stimulating properties, Cordyceps mushroom is a great option for giving you a boost of energy. If you struggle to search for motivation to exercise and lose additional pounds, cordyceps mushrooms for weight loss can help. These mushrooms enhance both blood circulation and oxygen absorption.
Chanterelle Mushrooms
You need to go no farther than chanterelle mushrooms if you want to increase your intake of B vitamins. The B vitamins 1, 2, and 3 that chanterelles are a reliable source of are all necessary for your body to assimilate other vitamins from meals and deliver them to cells.
Shiitake Mushrooms
Shiitake mushrooms are a great meat substitute because their amino acid profile is pretty comparable to that of a weight loss meal made entirely of other types of meat. It has been demonstrated that the shiitake mushrooms' beta-glucans, sterols, and eritadenine are useful in decreasing blood sugar and preventing high cholesterol.
Portobello Mushrooms
Another fantastic meat alternative that is huge and satisfying when used in a dish is portobello mushrooms. These weight-reduction mushrooms are incredibly low in carbohydrates and high in fiber, which keeps individuals fuller for longer and reduces their propensity to overeat. Fiber is also helpful for controlling gut flora, which improves the efficiency with which food is metabolized.
Reishi Mushrooms
Reishi mushrooms change the method through which your body absorbs and stores fat. Reishi mushrooms are among the weight-loss mushrooms, with the largest amount of scientific research supporting their use in the treatment of obesity. These mushrooms contain ganoderic acids, beta-glucans, and a number of other healthy ingredients for the heart. In addition to this, they improve immune system performance and sleep quality.
How To Prepare Mushrooms?
Although they may not add many calories to your meal, mushrooms are a great source of fiber, vitamins, and minerals. Per serving of 1 cup raw or 1/2 cup cooked, they offer 25 calories. There are many different kinds of mushrooms, and they work well in all of your favorite dishes.
You can consume mushrooms sliced or unsliced, raw or cooked. They can be sautéed in a hot skillet or boiled in water for about 5 minutes until soft. The mushrooms should be sautéed in a skillet with extra virgin olive oil over medium heat for about eight minutes, often stirring until they start to brown around the edges. You may add a little extra texture and taste to your meals by sprinkling chopped mushrooms on top raw. Just be sure to wash them fully first.
Here are some well-liked methods for including more mushrooms in your diet:
Dinners with Grilled Meat
Grilled steak tastes delicious when topped with sauteed morel mushrooms. Cook a skinless chicken breast or your preferred steak on the grill in your backyard. Slice a few more mushrooms and sauté them in oil while the meat is cooking. For added taste, incorporate a couple of slices of julienned onion. Add the mushrooms and onions to the meat once it has finished cooking. Add a teaspoon of crumbled blue cheese for additional flavor.
Soups
When all the vegetables are tender, saute them in a little oil with sliced onions and carrots. Add enough chicken stock to completely cover the vegetable combination, then boil the dish. After giving the soup a taste-testing salt and pepper, heat the soup for 20 to 30 minutes. Once the soup has the flavor you want, purée it in a blender and strain it. Making fresh mushroom soup is quick and simple, and it tastes great as an appetizer or lunchtime meal.
Sandwiches
Portobello mushrooms are the ideal addition to a sandwich for lunch. These robust and tasty mushrooms can take the place of meat in vegetarian diets. The portabella head should be heated through on the grill or in a sauté. Toast two slices of whole-wheat bread and spread mild mayonnaise over them as it cooks. Your sandwich should be piled high with spinach, tomatoes, red onions, and avocado slices, and the hot portabella mushroom should be placed on top of the other vegetables. Fill this mushroom sandwich with any additional favorite vegetables to up your daily vegetable intake.
Stuffed Mushrooms
In a food processor, mix bread crumbs, chopped garlic, green onions, and melted butter. Once the components can be rolled into a ball, the mixture has been well combined. Your preferred variety of mushrooms should have the caps removed; button and criminis work best. To create a level surface, scoop out the interior of the caps and slice off the bottoms. They must be capable of standing upright like a bowl. Place the combined mixture inside the mushrooms, then sprinkle Gorgonzola cheese on top. The mushrooms should be lightly browned after roughly a minute under the broiler after being placed on a cookie sheet. When making stuffed mushrooms, add cooked ground sausage to the mixture to make a heartier appetizer.
Pasta
Numerous components in pasta go incredibly well with mushrooms. With a sprinkle of olive or canola oil, add chopped crimini or oyster mushrooms to your skillet. Add some diced tomato, minced garlic, and artichoke hearts. With linguine noodles and grilled chicken, this mixture of mushrooms and vegetables works wonderfully. Alternatively, if you're creating a Bolognese beef sauce, add sliced button mushrooms.
Salads
Your tossed salad can contain sliced button mushrooms. Consume these mushrooms raw or cooked, but let them cool first. These flavorful mushrooms add more fiber to your salad. Use spinach or mesclun mix as the foundation of your salad, then add the mushrooms, olives, cucumber wedges, chopped tomatoes, and shredded carrots on top. Drizzle with red wine vinegar or low-fat Italian dressing. Or garnish your salad with marinated portobello mushrooms. Mushrooms should be overnight marinated in balsamic vinegar dressing. While you warm the marinated mushrooms in a, saute pan, toss your preferred vegetables. Place your salad bed on top of the hot marinated portabellas. You may eat this filling salad as a vegetarian meal.
Final Thoughts!
People who desire to lose weight have goals beyond just having a sexy figure. Some people must lose weight due to medical conditions, while others simply want to maintain a healthy weight. Additionally, even in the absence of any other risk factors, those who are overweight or obese are most likely to suffer heart disease and stroke.
Fortunately, mushrooms for weight loss exist. B vitamins, vitamin D, copper, dietary fiber, and potassium are just a few of the essential vitamins and minerals that mushrooms are truly rich in. The healthiest mushrooms also have high levels of antioxidants, and beta-glucans are also there to strengthen the immune system and aid in the body's defense against age-related disease,
Starting a diet or fitness program is simple. Keeping one is more difficult! But no matter how challenging it is, if you are committed to it, you can achieve your ideal weight.
Spend each day supplementing your mushrooms to reap the best rewards. Mushrooms are not only for meals but also for snacks! Visit Crispy Munchroom at crispymunchroom.com to avail of its inexpensive, fresh, nourishing, mushroom-based snacks, which are the healthiest available. These are innately satisfying, delicious, chewy, savory mushroom bites, a highly unusual plant-based treat that is delightful and nourishing!