Philly got a bit of a present over the weekend in the form of freezing rain and snow galore. With the freezing rain that turns the hills of Manayunk into skid central, it was a weekend in for this gal. The Sous Pug didn't fare well with the snow as he is now officially completely blind and could only slide down the sidewalks and stand bewildered on the freezing snow banks that he bravely attempted to climb. He pretty much was ready to pack his toys and head back to Florida.The good thing about being a food blogger held captive during a snowfall is that one can play in the pantry for a bit.
One of my new favorites for winter is this comforting Winter Minestrone Soup from Giada de Laurentiis. It was lightening quick to make and perfect to take off that icy chill. The one step you can't skip is the parmesan rind – it's definitely one of those secret weapons. I buy them from Whole Foods and keep them in the freezer for soups like this.  Grab a bowl of this soul soothing soup and curl up on the couch.  It's a recipe that you will find yourself making again and again.
Ingredients
3 slices of thickly cut bacon, chopped
1 onion, chopped
2 carrots, peeled and chopped
2 celery stalks, chopped
2 cloves garlic, minced
1 pound Swiss chard, stems trimmed, leaves coarsely chopped
1 large Yukon gold potato, peeled and cubed
1 can (14.5 oz.) diced tomatoes in juice
2 fresh rosemary sprigs
1 can (15 oz.) cannellini beans, drained and rinsed, divided
4 cups of beef broth, divided
1 small Parmesan rind
1/4 cup chopped fresh flat-leaf parsley
Salt and Freshly Cracked Pepper
Grated Parmesan for garnish
Directions
In a large dutch oven over medium heat, crisp up the bacon and set aside.
Retain about 2 tablespoons of the bacon fat and add the onions, garlic, carrots and celery.
Sauté until the onion is translucent (around 10 minutes or so).
Add the Swiss chard and let it wilt a bit.
Add the cubed potato, season with salt and pepper and cook for 2-3 minutes.
Add the tomatoes and rosemary springs and bring everything to a boil.
Lower the heat and let the mixture simmer for 10 minutes, allowing the chard to fully wilt and the tomatoes to become soft.
In a blender, combine 3/4 of the rinsed and drained cannellini beans with 1/2 cup of the beef broth. Blend until smooth.
Add the pureed beans, remaining broth and parmesan rind to the simmering vegetables.
Simmer, stirring occasionally for about 15 minutes until the potatoes are tender.
Add the remaining beans and the parsley, simmering for 2-3 minutes until the beans are heated through and the mixture is thickened.
Discard the rosemary stems, season to taste with salt and pepper.
Garnish with grated parmesan and serve.
Enjoy!
Notes
Adapted from Giada de Laurentiis
7.6.8
771
https://cookinginstilettos.com/winter-minestrone-soup/
All images and content are © Cooking In Stilettos. Please do not republish without contacting us first. Thank you.
Gather the ingredients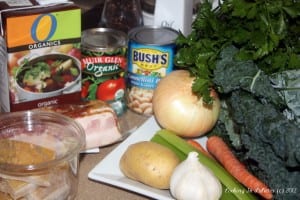 Swiss Chard adds a bit of heft to the soup.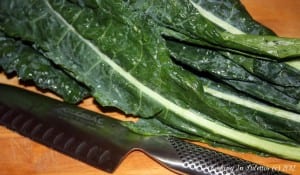 Tomatoes and Rosemary play so nicely together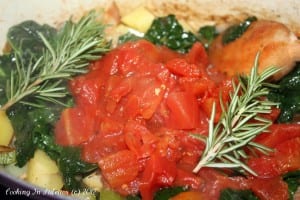 Time to puree the beans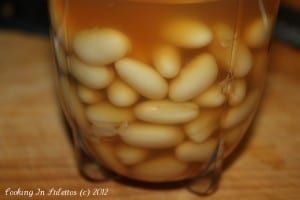 The secret ingredient for some of the best soups – parmesan rind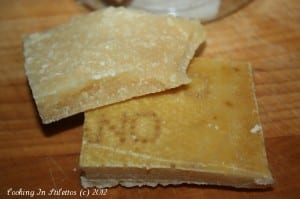 A bowl of cozy comfort for a chilly winter's night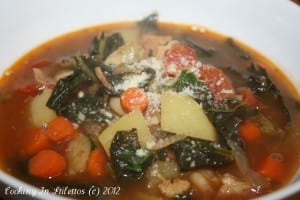 Did you enjoy this post?
| | |
| --- | --- |
| Share the love | Get free updates |