This spooky sip was created using Sweet 'N Low® as part of a sponsored post for Socialstars. #donthesitaste

Who doesn't love a rum punch, right? Well I have a hauntingly delicious Blood Red Rum Punch for you to toast Halloween with that will have your guests dancing all night long.
*cue the #TBT tunes*
Now that I have that song stuck in your head, let me tell you about this cocktail that will have you singing Lionel Ritchie tunes and dancing on the ceiling. (let me shush with the music puns). Plus – this cocktail has a fun 80s reference with The Shining and "Red Rum". Who doesn't remember that epic movie, right?
For holidays, I love a great signature cocktail and this Blood Red Rum Punch will be the hit of any Halloween soiree. It also has an added bonus – it's lighter in calories thanks to a skinny grenadine syrup that I made with Sweet 'N Low®. This skinny grenadine syrup takes minutes to whip up and tastes so much better than the bottled version. I love using Sweet 'N Low® in many of my drinks and cocktails as it makes things lower in calories and, of course, for my friends that are diabetic, it's diabetic friendly.
Rather than water down the drinks, if I can use frozen fruit to chill the drink, I will. So, with the blood red nature of this drink, some dark sweet frozen cherries were the perfect accent to this rum punch and chilled it perfectly. This cocktail is easily doubled and can be ready in minutes. Plus – the longer it sits, the better it tastes.
For Halloween this year, whip up a pitcher of Blood Red Rum Punch, put on your favorite 80s costume, toss on the 80s playlist and see if your guests get the Red Rum reference while you dance the night away!
On to the recipe:
Let's gather the ingredients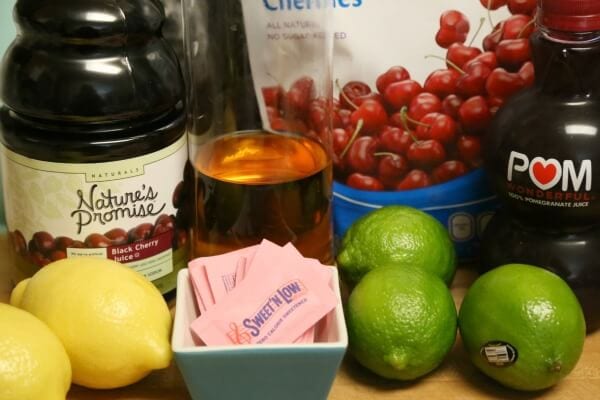 Start by making a skinny grenadine syrup with Sweet 'N Low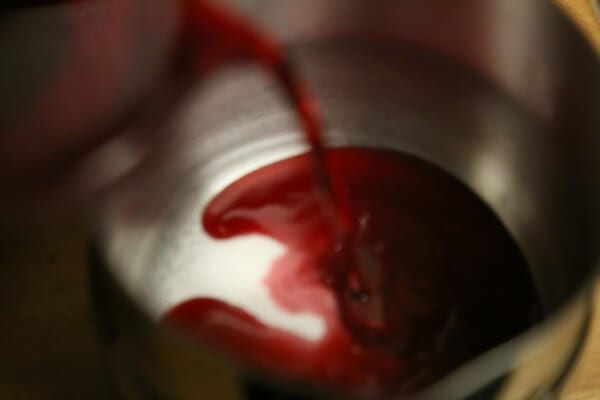 Letting the syrup cool for a bit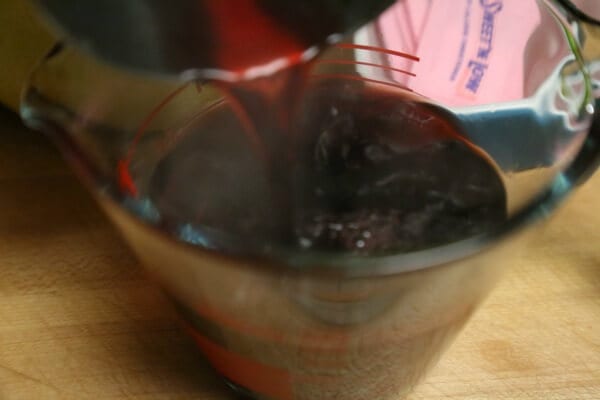 Spiced Rum is always a must for a really good rum punch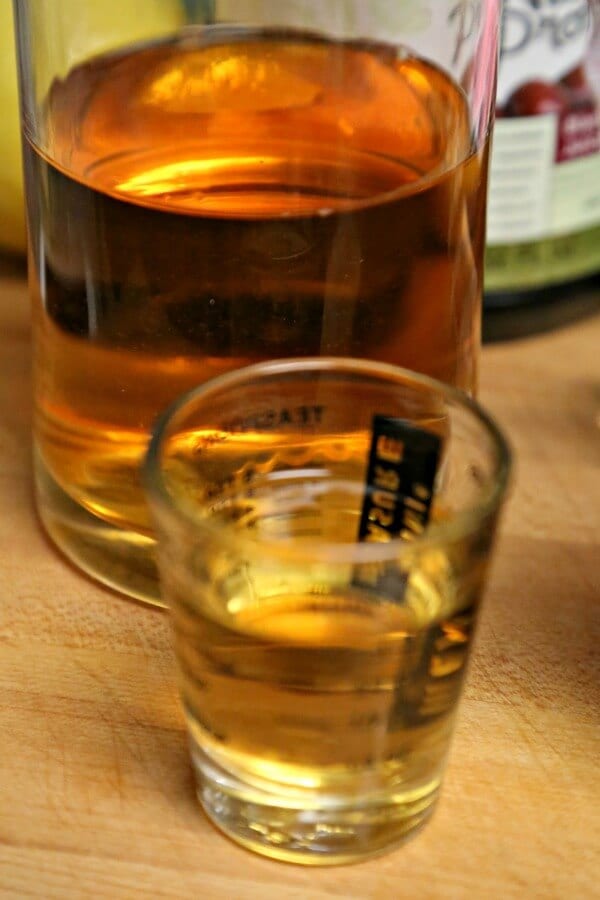 Poured over some frozen cherries, this spooky sip is ready for some Halloween festivities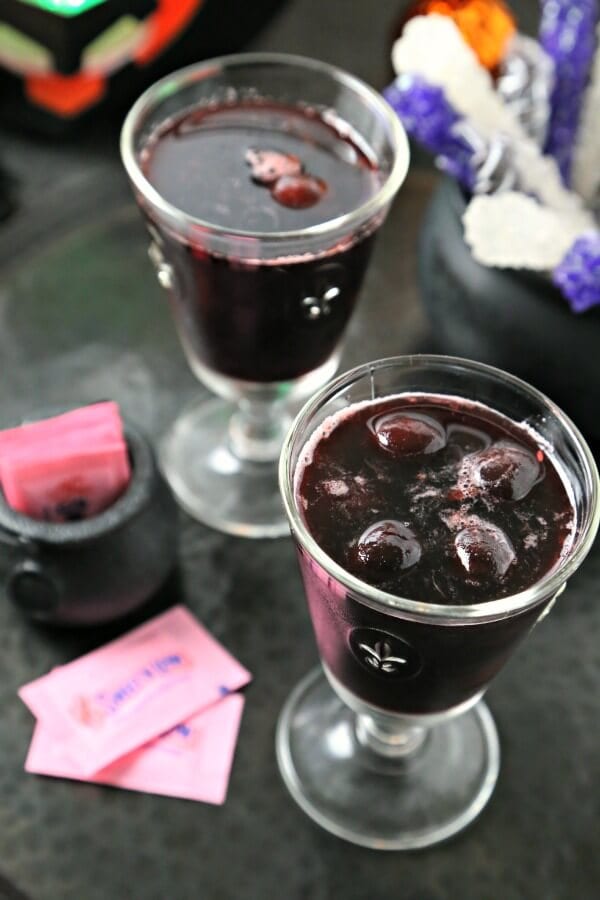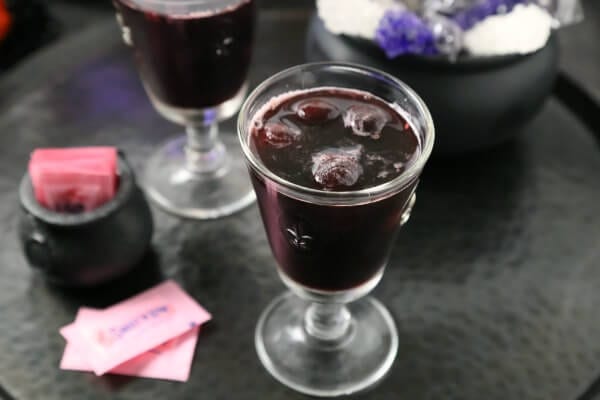 [b]Blood Red Rum Punch [/b]
---
Aly M. Cleary
Yields 2
This hauntingly delicious Blood Red Rum Punch will satisfy any thirsty ghost or goblin. Pomegranate and Black Cherry juice are mixed with spiced rum, a bit of citrus and sweetened with a skinny grenadine syrup.
20 minPrep Time
7 minCook Time
27 minTotal Time
Ingredients
For the Skinny Grenadine Syrup:

5 packets of Sweet 'N Low®
1 cup of unsweetened pomegranate juice
1 tablespoon of fresh lemon juice

For the Blood Red Rum Punch:

7 ounces of black cherry juice
3 ounces of unsweetened pomegranate juice
3 ounces of Skinny Grenadine Syrup
Juice of 1 - 2 limes, depending on how tart you like it
4 ounces of sparkling water
Frozen cherries for serving
Directions
To make the Skinny Grenadine Syrup:

To a small saucepan, add the Sweet 'N Low® Sweetener and pomegranate juice. Stir to dissolve the Sweet 'N Low into the juice and then bring to a boil over medium heat.
Boil for about 5 - 7 minutes, until the mixture has thickened slightly and reduced by a third.
Let cool.
When the Skinny Grenadine Syrup is cool, add the lemon juice, stir and use, storing any leftovers in the refrigerator.

To make the Blood Red Rum Punch:

In a pitcher, mix together the black cherry juice, pomegranate juice, Skinny Grenadine Syrup, lime juice and sparkling water.
Serve poured over frozen cherries and enjoy!
http://cookinginstilettos.com/blood-red-rum-punch/
All images and content are © Cooking In Stilettos. Please do not republish without contacting us first. Thank you.
For more recipes and other fabulous ideas from Sweet 'N Low®, check out their website. You can also follow them on Facebook, Twitter and Instagram!
Did you enjoy this post?
| | |
| --- | --- |
| Share the love | Get free updates |