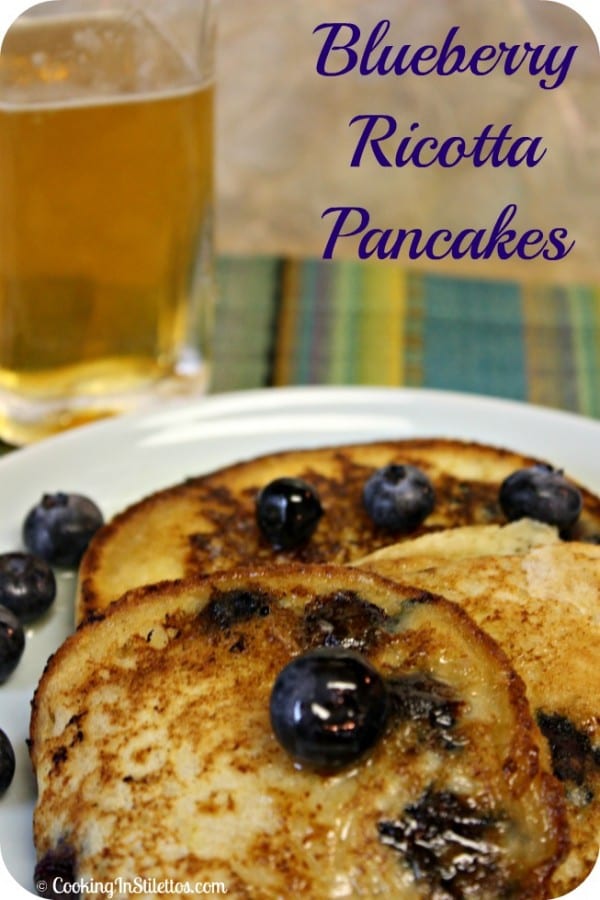 Now that it's unofficially summer, it's no secret that berry season is fast approaching. I always try to keep blueberries on hand for long weekend brunch ideas because Blueberry Ricotta Pancakes from Giada de Laurentiis are one of my favorite tried and trues.  I figured that these blueberry ricotta pancakes were perfect for the recipe redo this time because the picture on the 2009 post made this gal wince and want a cocktail ASAP.  Ahhh – if I only knew then what I know now.  I also improvised a bit as I used lemon zest to brighten up the berries and low-fat ricotta.
Everything in this recipe is right from the pantry and the fridge – nothing fancy. It comes together quickly with the Instant Pancake Mix that already should be in the pantry, some fresh blueberries, vanilla, and that syrup will have your guests begging you for the recipe.  So, next time you want to look like a culinary rock star in the morning, give this a whirl.
On to the recipe:
Gather your ingredients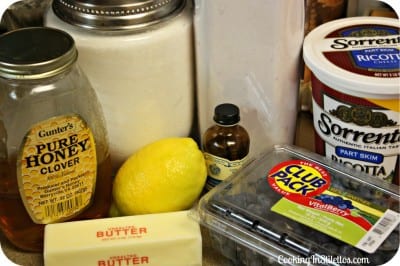 Time to make the syrup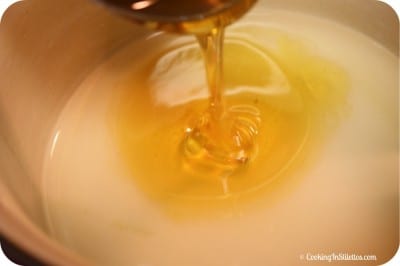 Brunch made chic!
Blueberry Ricotta Pancakes
Light and fluffy Blueberry Ricotta Pancakes drizzled with a from scratch honey citrus syrup - how bad can that be?
Author:
Adapted from Giada de Laurentiis
Ingredients
2 cups water, divided
⅓ cup sugar
⅓ cup honey
2 teaspoons of vanilla extract, divided
2 cups instant pancake mix
1 cup low-fat ricotta cheese
¾ cup of fresh blueberries, plus additional for garnish
Zest of ½ a lemon
Melted butter
Instructions
For the Syrup:
In a small, heavy bottomed saucepan, combine ⅓ cup of water, sugar and ½ teaspoon of vanilla over medium heat until the sugar dissolves, about 5 minutes.
Add the honey to the sugar syrup mixture and set aside, keeping the honey syrup warm.
For the Pancakes:
In a large bowl, combine the remaining 1⅔ cups of water and vanilla.
Add the pancake mix and stir until the mixture is moist but still has a some lumps.
Add the ricotta to the pancake mixture and stir gently to combine but make sure the batter is not perfectly smooth and still has lumps.
Fold in the blueberries and lemon zest and let the mixture rest for a minute.
Over medium heat, in a large non-stick pan, add a bit of butter to the pan and add the batter in ¼ cup batches for each pancake.
Cook the pancakes for about 3-4 minutes per side until they are golden and lovely.
Serve with the honey syrup and a few fresh blueberries to garnish.
Enjoy!
[The Recipe Redo Series is when I take one of my earlier posts here at Cooking In Stilettos, redo the recipe with new pictures and add any tips I've learned along the way. This Tried & True originally appeared back in April of 2009:  Tried and True: Giada's Blueberry Ricotta Pancakes.  Promise not to laugh at the beyond horrid photo please. ]
Did you enjoy this post?
| | |
| --- | --- |
| Share the love | Get free updates |