Welcome to Day #5 of Christmas Week, a multi-blogger event co-hosted by Kim of Cravings of a Lunatic and Jen from Juanita's Cocina! Each day we will be celebrating the holidays with a different set of Christmas-themed treats, as well as a fabulous Christmas giveaway. We hope you enjoy this fabulous event. Tune in each day starting Monday, December 9th and ending Saturday, December 14th.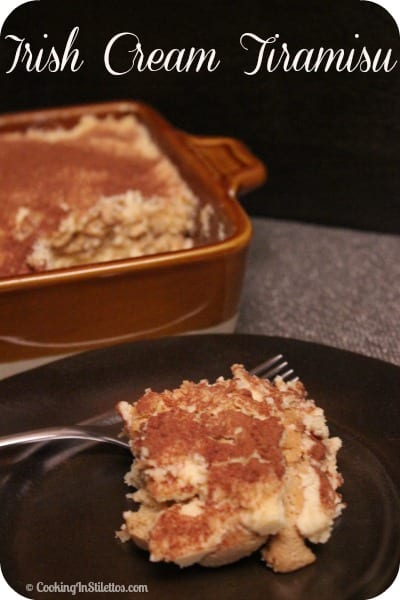 We're nearing the end of Christmas Week and I don't know about you but I'm thinking that I need to break out the yoga pants with the amount of delicious treats that everyone is spotlighting!  I thought I'd provide a twist on the classic Italian tiramisu but with a bit of an Irish twist.
My infatuation with Irish Cream began many many moons ago.  I'd like to say it began when I had my mother's BFF Moe's divine Irish Cream Cream Puffs but if I must confess it started a bit earlier.  See – back when I was in the 4th or 5th grade, my friend Anna and I would sneak a sip or two of Irish Cream out of my great grandmother's fancy crystal.  In our defense, we thought it was a funny tasting milkshake and my mom had a bottle of it in the back of the fridge.   Boy did we think we were fancy.  I blame the blonde hair.  Anywhoo – the moral of the story is that I've learned that baking and whipping up treats with it is almost as good as a really good cocktail.

This Irish Cream Tiramisu couldn't be easier to make and – an added bonus – there are no raw eggs in the mix.  I started experimenting with a Nigella Lawson recipe and then decided to sub in a bit of whipped cream in lieu of the whipped egg whites.  The end result was a divine, rich dessert that is perfect for your Christmas Eve dinner.
On to the recipe:
Gather your ingredients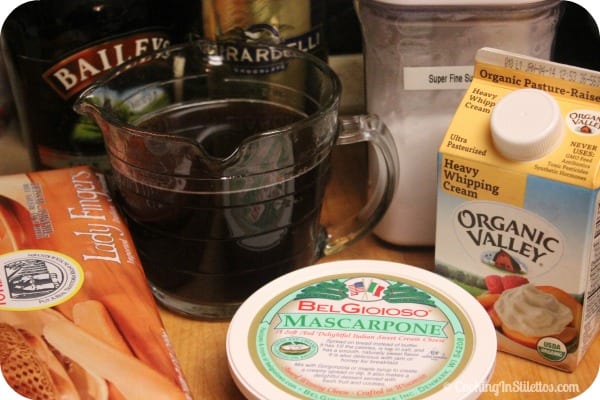 Adding a bit of Irish Cream to the Whipped Cream – how bad can that be?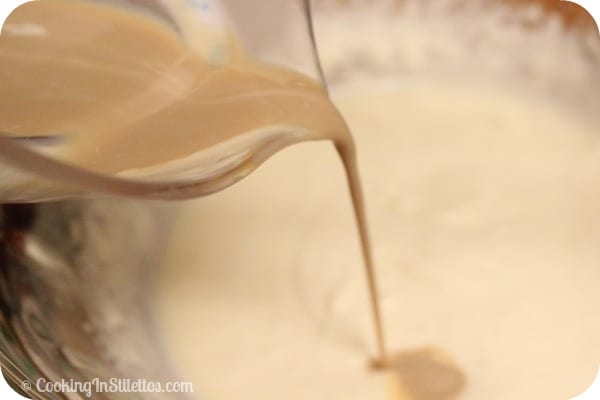 Time to whip in the marscapone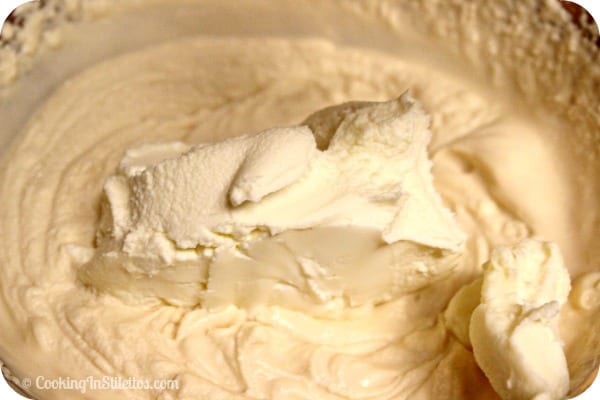 Adding a bit of Irish Cream to some seriously strong coffee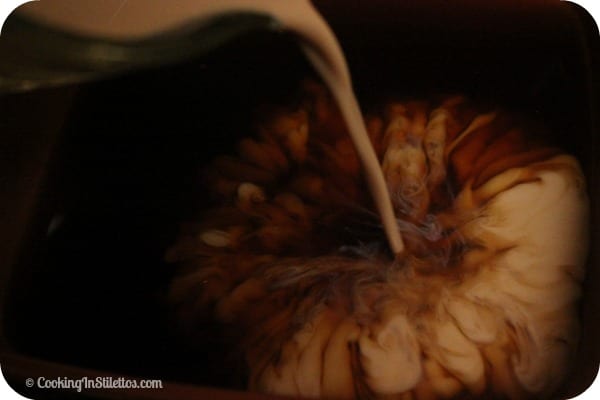 Time to assemble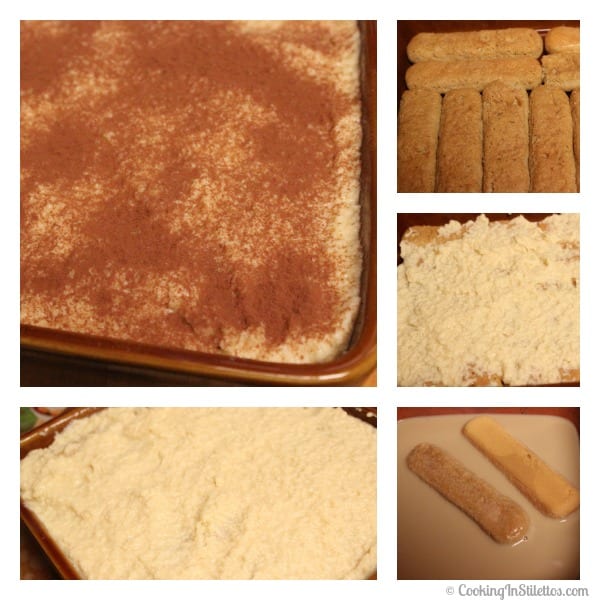 Now this is what I call a coffee break!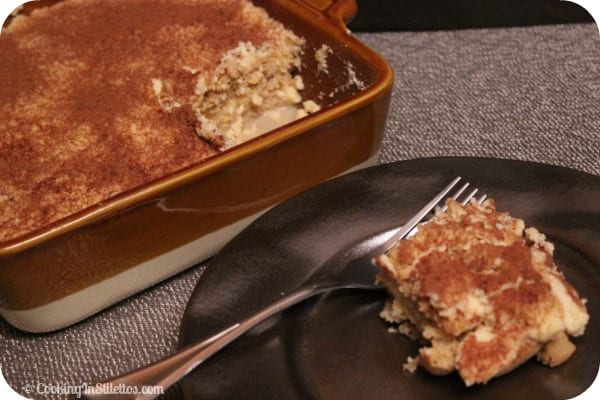 Irish Cream Tiramisu
This luscious no-bake Irish Cream Tiramisu couldn't be easier to make and has the flavors of Irish Cream woven throughout.
Author:
Adapted from Nigella Lawson
Ingredients
32 ladyfinger cookies
1½ cups of espresso or strong coffee
¾ cup of Irish Cream liqueur, divided
¾ cup of heavy whipping cream
⅔ cup of super fine sugar
8 ounces of marscapone cheese, softened
cocoa for dusting
Instructions
In a bowl, whip together the cream and sugar until you have soft peaks.
Add ¼ cup of the Irish Cream liqueur and mix again.
Lightly fold in the marscapone cheese.
Set aside.
In a bowl, mix together the strong coffee/espresso and the remaining ½ cup of Irish Cream liqueur
Dunk the ladyfingers in the cooled espresso, letting them soften slightly.
Line the bottom of an 8x8 pan with the soaked ladyfingers.
Spread ½ of the Irish Cream mixture over the cookie layer.
Follow again with another layer of soaked ladyfingers.
Follow with the remaining Irish Cream mixture.
Dust lightly with cocoa and let set in the fridge for about 8 hours or overnight.
Enjoy!
Tomorrow we'll have one final surprise to wrap up a fabulous Christmas Week but today, you need to see what this group of fabulous bloggers whipped up!
Visit all the other Christmas Week Peeps for more Holiday Baking Goodness:
Today's #ChristmasWeek giveaway comes courtesy of Freund Container & Supply. Freund Container & Supply has been helping build businesses since 1938 as the largest distributor of glass bottles, containers, and wholesale packaging supplies online. Freund offers over 5,000 items in stock every day, 98% same day shipping, and low-price guarantees. Take a look at Freund's wide selection of jars, tins, bottles and vials for all your crafting and food related needs!

Today's winner will receive one $250 Freund gift certificate, as well as one copy of "The Pioneer Woman Cooks: A Year of Holidays". To enter, read the details and use the Rafflecopter below!
***This giveaway is for one $250 gift certificate to Freund Container & Supply, as well as one copy of "The Pioneer Woman Cooks: A Year of Holidays". Gift certificate is a one-time use certificate and must be used in its entirety; any leftover monies on the gift certificate will be forfeited. This giveaway is open to both US and Canadian residents. However, it should be noted that due to current International shipping rates, any Canadian winners will pay higher shipping costs for orders. ***
***Disclaimer: This gift certificate is being provided by Freund Container & Supply, while the cookbook has been provided by Juanita's Cocina. #ChristmasWeek bloggers have not received product or been compensated as a part of this giveaway.***
Did you enjoy this post?
| | |
| --- | --- |
| Share the love | Get free updates |