Roasted Chicken Sausage and Potatoes Tray Bake is a delicious & easy weeknight dinner. Chicken sausage roasts to perfection with onions, peppers and potatoes and a hint of spice for a sheet pan dinner that your friends and family will love.

Happy New Year everyone! I know, I know – I normally start waxing poetic about culinary goals to kick off the new year, but indulge me please because I have some delicious recipes I want to share with you while I ponder some of my goals and my plans for 2016.
Ever have a night when you think "I don't know WHAT to make?" For me, it happens more often than I care to admit. This is one of my easy go-to recipes – just a few minutes of prep and the oven does ALL of the work. What's not to love about that.
I remember the first time I heard someone talk about a tray bake. I was watching an episode of Nigella Bites and Nigella was raving about her no fuss Spanish Chicken and Chorizo tray-bake where everything was made on one sheet pan. Easy clean up and everything roasts beautifully. Granted this was in my "I can't cook to save my life" days so tips like that were priceless to me. Ever since then, I have relied on my sheet pan to help me prepare dinner because roasted veggies have so much flavor!
The other night, I was going to update my Roasted Potatoes, Chicken Sausage and Peppers post but, being that it was a Secret Recipe Club post from back in the day (don't scold me on the horrid pics please), I figured I'd jazz up the recipe a bit but with a nod to the original inspiration. I had some extra peppers, some creamy Yukon gold potatoes and my favorite spice just waiting to be tumbled onto a pan. I love using chicken apple sausage because it has a nice sweet note that lends itself well to the spices. To make it even more lovely, you can add a sunny side up egg over top and, with that runny yolk forming its own rich sauce, now that, my friends is a dinner! The options are limitless. Don't like the spices – change them up. Want to use a different sausage – perfect. Just make sure to get a sausage that is precooked, that way you just essentially are heating it up in the oven.
When you are looking for a dish that is not one of your same old tried and true recipes, make this Roasted Chicken Sausage and Potatoes Tray Bake. Your friends and family will love every bite!
On to the recipe:
Gather your ingredients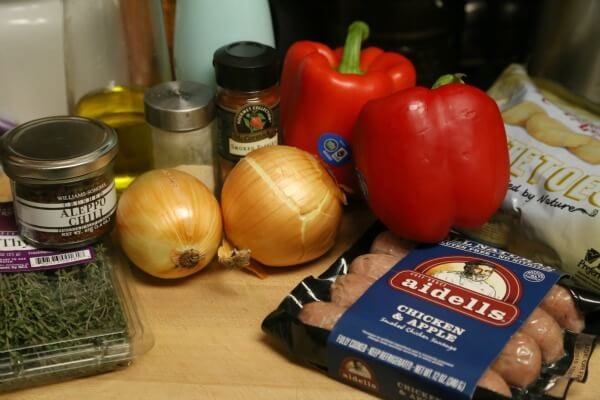 Toss the potatoes, onions and peppers with the spices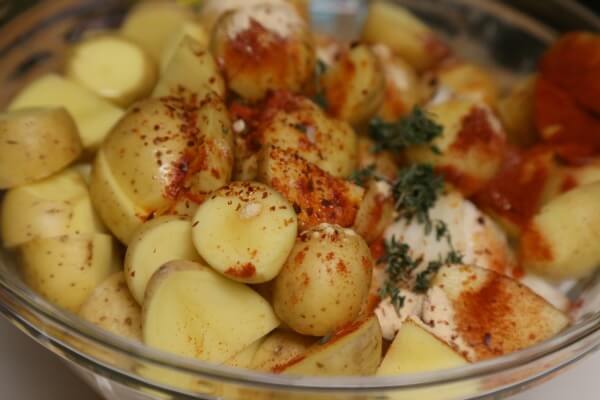 First let's roast the veggies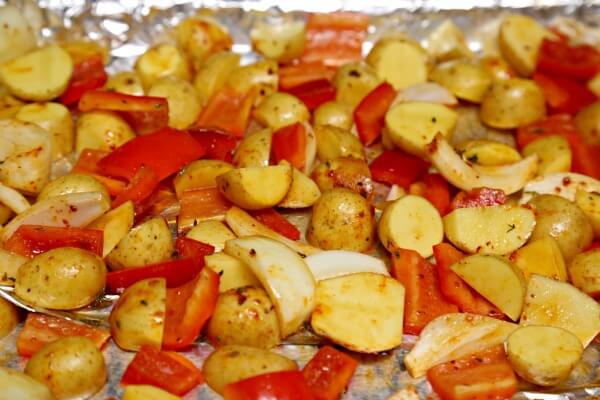 Adding the chicken sausage to the pan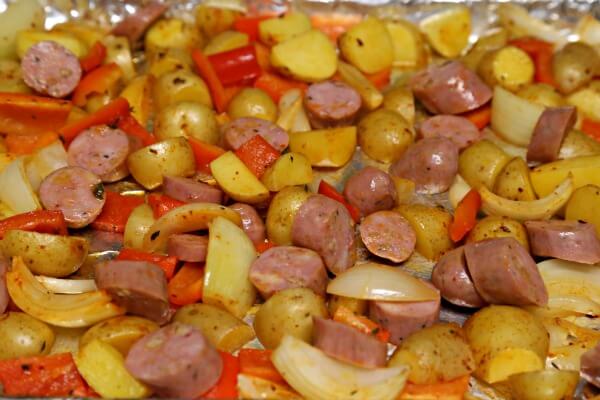 Now – doesn't this look delicious?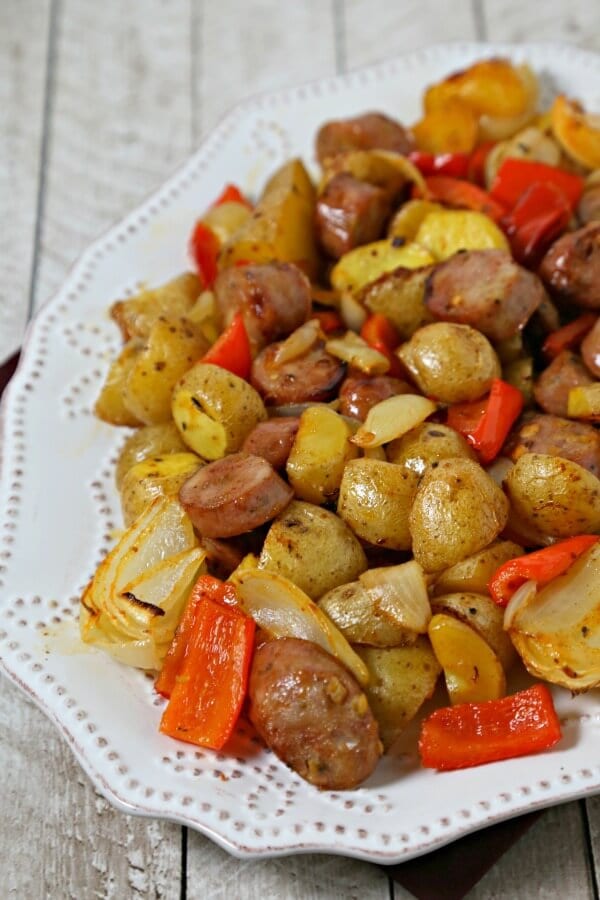 Let me make you a plate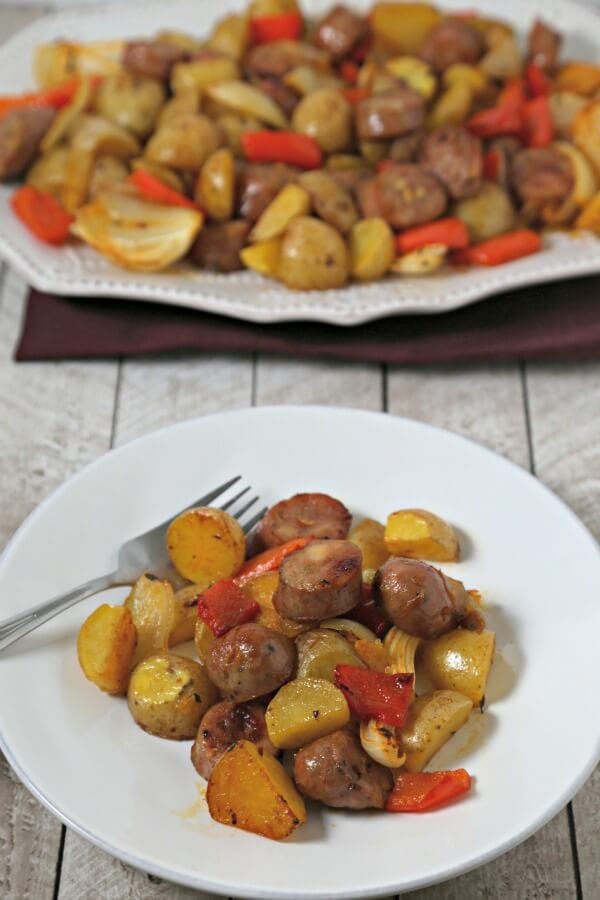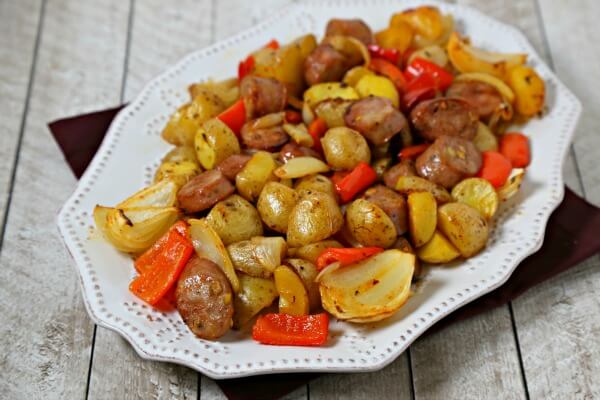 Ingredients
1 1/2 - 2 pounds of baby yukon gold potatoes, quartered or halved.
2 small onions, cut into quarters
2 read bell peppers, seeded and cut into 1" pieces
2 teaspoons of olive oil
1 teaspoon of fresh thyme, minced
3/4 teaspoon of smoked paprika
1/2 teaspoon of garlic powder
1/4 teaspoon of aleppo chili
1/8 teaspoon of red pepper flakes
1/4 teaspoon of freshly cracked black pepper
1/4 teaspoon of kosher salt
1 pound of your favorite Chicken Sausage (I used Chicken and Apple), cut into large pieces.
Directions
Heat the oven to 375 degrees F.
Line a large sheet tray with foil and set aside.
In a large bowl, toss teh potatoes, onions, red peppers, with the olive oil, thyme smoked paprika, garlic powder, aleppo chili, red pepper flakes, blacked pepper and salt until everything is evenly coated.
Pour the mixture on to the prepared baking sheet and place in teh oven.
Bake for about 15 - 20 minutes, stirring occasionally so that nothing sticks.
After 15 - 20 minutes, add the sliced sausage to the baking pan and toss everything together.
Let the mixture bake for about 30 minutes, tossing every 10 - 15 minutes so that nothing burns.
Once the potatoes are cooked through, serve.
Enjoy!
7.6.4
1080
http://cookinginstilettos.com/roasted-chicken-sausage-and-potatoes-tray-bake/
All images and content are © Cooking In Stilettos. Please do not republish without contacting us first. Thank you.
Did you enjoy this post?
| | |
| --- | --- |
| Share the love | Get free updates |