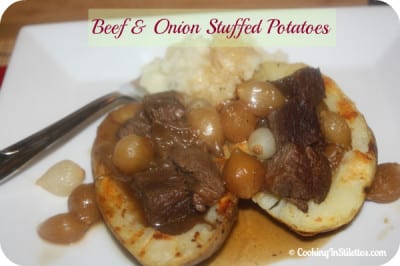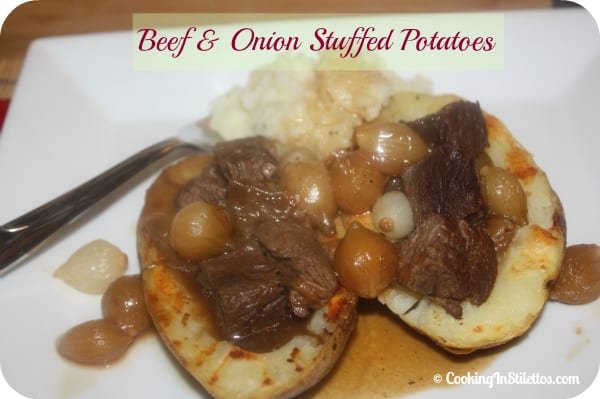 While some of my fave foodies head to South Beach for the annual  South Beach Wine & Food Festival to frolic in the sun, have a few cocktails and get to have some seriously delish eats, this gal will be dealing with the bitter winter cold. I can't help but be a bit green but there's always next year (perhaps that should be on my 2014 Culinary Goals, huh?). I had a blast when I went with Jen from One Curly Fry a couple years ago and, if you ever get an opportunity to head to SOBEWFF, you must! For now, I'll console myself by looking at fabulous photos from those attending like Megan from This Girl Can Eat, Susan from Sticky Gooey Creamy Chewy and I know Sunny will be tweeting like mad.
For now, this gal needs a bit of comfort and something to take off the chill. There's nothing like some beef stew on a winter's day but this recipe for Beef and Onion Stuffed Potatoes from Claire Robinson really takes it to a new level. She is known for cooking with 5 ingredients and, well, since you know I like to improvise, mine has only a couple more optional additions but the flavor makes it worth it. You can change it up a bit by adding wine to the mixture and if you want to thicken up the stew even more, add a bit of cornstarch at the end.  I love the presentation and, while it does take a little time to make, it's the perfect dish for cozying up with by the fire – perfect for these cold winter evenings.
On to the recipe:
Gather your ingredients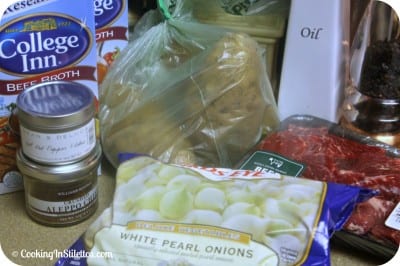 Take the time to reduce the stock – so much flavor that way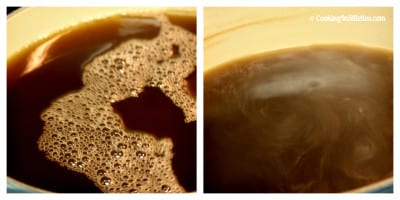 First the onions and spices and then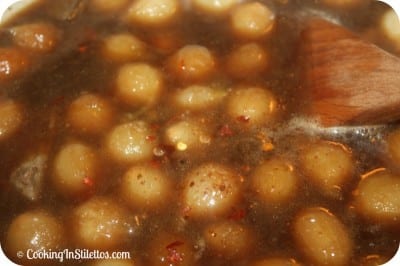 Tumbling in the seared beef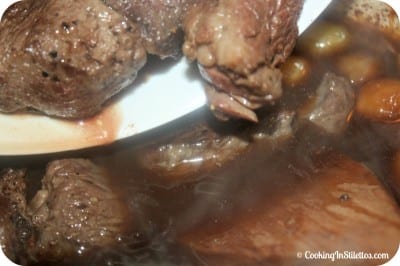 While that simmers, making the potato shells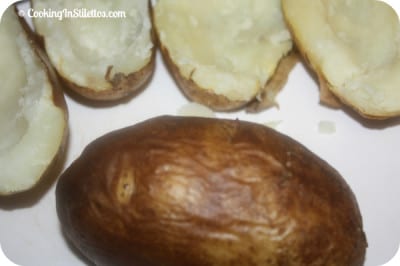 Utter comfort!
Beef and Onion Stuffed Potatoes
---
Ingredients
8 cups of low-sodium beef stock
3 large russet potatoes
Extra-virgin olive oil
2 pounds beef chuck, trimmed and cut into 1-inch cubes
Kosher salt and freshly ground black pepper
Water, as needed
1 1/2 cups of frozen pearl onions
1 teaspoon of Aleppo pepper (optional)
1/4 to 1/2 teaspoon of red pepper flakes.
1/4 cup of milk (optional)
Directions
Preheat the oven to 400 degrees F.
In a large saucepan, pour in the beef stock and bring to a boil. Cook until the beef stock is reduced by half (whereby you will have 4 cups).
Put the potatoes on a baking sheet and roast in the oven until they are tender, about 45 minutes.
Let them cool for a bit and then cut in half lengthwise.
With a spoon, remove the inner potato to a separate bowl, taking care to leave a 1/2 thick rim around the edge.
Pour a little olive oil (about 1 tablespoon) onto the baking sheet and put the potato shells cut size down.
Bake the potato shells until the skin is crispy and the cut size is lightly browned, about 20 minutes or so.
Pat the beef dry with paper towels and season with a bit of salt and pepper.
In a large dutch oven, add 2 tablespoons of olive oil over medium-high heat.
Sear the beef on all sides, remove to a plate and deglaze the pan with a couple tablespoons of the reducing beef stock (or you could use water), taking care to scrape up the brown bits from the bottom.
Add another tablespoon of olive oil to the pan and tumble in the onions. Season with salt and pepper and cook for about 10 minutes, until the onions begin to caramelize. You can scrape up more of the brown bits using water.
When the onions are golden brown, add the reduced beef stock, the beef, the Aleppo pepper, and the red pepper flakes to the pan and bring to a boil.
Reduce to a simmer and cook until the meat is tender, about 35-45 minutes, taking care to skim the fat from the top if needed.
Take the reserved potato and either put through a ricer or mash with a fork until smooth. You can add a bit of milk if you would like or water.
Mix in 1 tablespoon of olive oil to the potatoes, season with salt and pepper to taste and set aside.
Set a potato bowl on a plate, ladle in the beef and onion stew and serve with a bit of the mashed potatoes.
Enjoy!
Notes
Slightly adapted from Claire Robinson
7.6.8
778
https://cookinginstilettos.com/beef-and-onion-stuffed-potatoes/
All images and content are © Cooking In Stilettos. Please do not republish without contacting us first. Thank you.
What's your favorite cozy winter dish?
Did you enjoy this post?
| | |
| --- | --- |
| Share the love | Get free updates |