This easy one-pan BLT Frittata is packed with the classic flavors of bacon, spinach and tomatoes along with mushrooms and cheese for the perfect breakfast, brunch or dinner bite!
Disclosure: The Lodge Cast Iron Skillet featured in this post was sent from Lodge Cast Iron as part of #BaconMonth.
I am so excited to share my first #BaconMonth 2016 recipe with you today and I brought a dish that is perfect for breakfast, brunch or dinner – a ridiculously easy one pan BLT Frittata.  I know I took a bit of liberty with the lettuce element, using spinach in lieu of arugula but since I already brought you a Smoky Pancetta Quiche last year that was packed with peppery arugula, I felt baby spinach was a bit more needed.  Plus – spinach makes you strong, right – just ask Popeye.
Before we get going – did you enter the #BaconMonth giveaway?  You need to because these prizes are EVERYTHING!  I mean – c'mon – Lodge Cast Iron is one of the giveaways and you know that for crisp bacon you need a great pan and Lodge Cast Iron is the best cast iron pan, hands down.  I used the Lodge 12 inch cast iron skillet that Lodge sent me to play with for this recipe and isn't it beautiful?  You need to get one of your very own – it is a kitchen staple!
If you follow me on Snapchat, you might have seen I'm at one of my favorite places – my family cottage on the Connecticut shore.  I have been spending time with my family and also putzing around the area.  During one of my excursions, I encountered a bit of a "What Would You Do" situ that has a bacon related twist.
I was getting coffee the other day at a local 'bucks and this woman was berating the barista for the bacon in their bacon egg and cheese sandwich.  Apparently she only eats "applewood smoked bacon" and how dare they only have double smoked bacon on hand.  I was MORTIFIED for the employee because, quite frankly, the woman's behavior was uncalled for but the barista handled it way better than I could have – the entitled attitude of this woman and they way she treated the employees was reprehensible.  Looking back, perhaps I should have schooled the woman on manners something fierce but I did not because she had her child with her.  I later spoke to the baristas and apparently this behavior is commonplace around here.  In my view – Bacon is Bacon so if it's applewood or double-smoked – it's all still bacon so enjoy, right?  I did warn the team that if I did see that type of behavior from the Town & Country set, don't get mad but I will channel my inner Philly wench and say something.  These baristas work hard so a little extra kindness is greatly appreciated.  The stories they told me got me a bit heated and I have to applaud them for putting up with this level of crazy because I don't think I could.
What would you do in this case – would you have a Come to Jesus chat with the woman on manners or just let it go?
Back to why you are really here – the bacon – this BLT Frittata will be a favorite on those brunch weekends or when you want breakfast for dinner.  It's so easy to whip up – the perfect one pan plan.  Bring home the bacon, fry it up in a cast iron pan (c'mon – you know you are singing that old 70s jingle too, right?).  Use a bit of the bacon fat to sizzle the mushrooms and onions, add two types of tomatoes (sundried for the texture and sweetness and grape tomatoes for the pop of freshness), a bit spinach and cheese and *boom* BLT Frittata.
Now – wouldn't you like a slice of this BLT Frittata for breakfast, brunch or even dinner
On to the recipe:
Gather Your Ingredients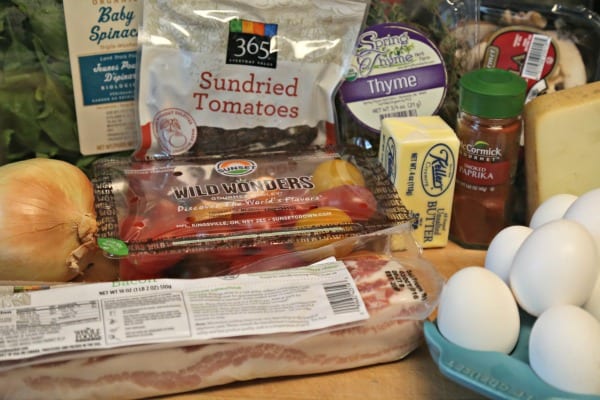 Look at that spinach wilting into the bacon, mushrooms and tomato mixture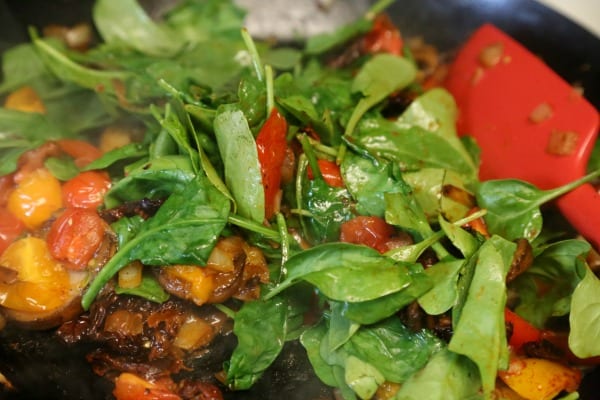 Let's add some eggs shall we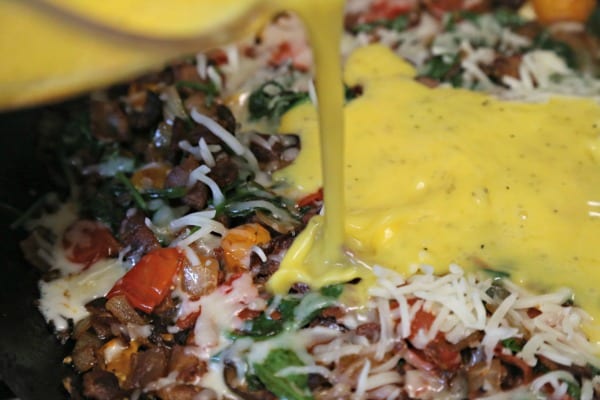 Now this, my friends, is a one pan breakfast – BLT Frittata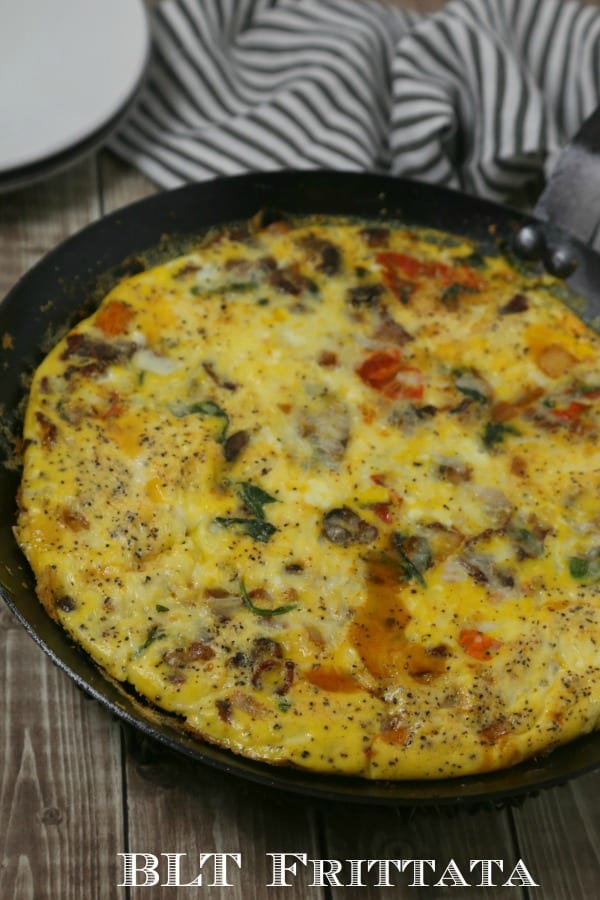 Shall I cut you a slice?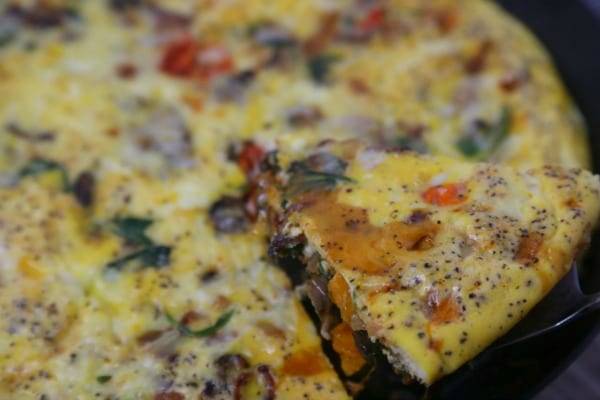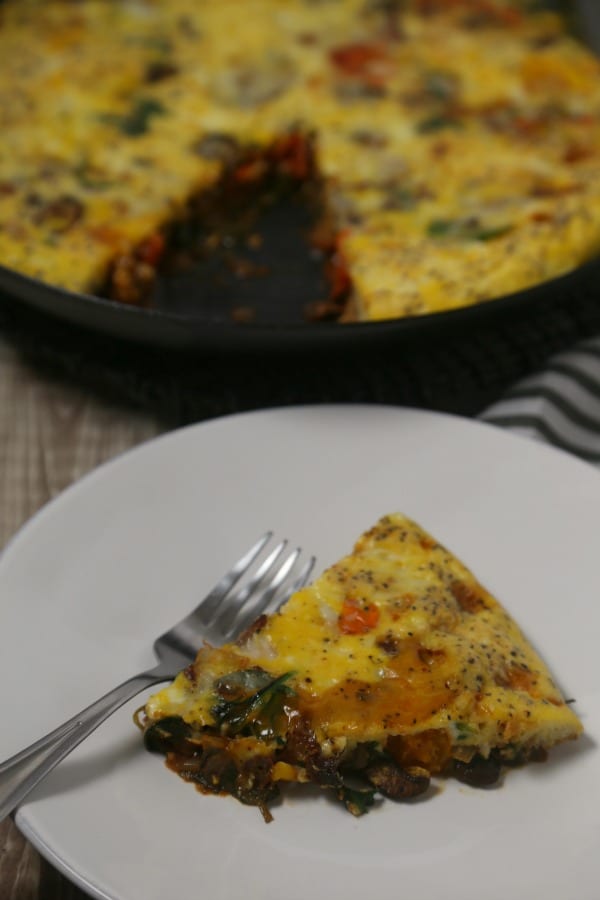 Aly M. Cleary
Yields 6

BLT Frittata

This easy BLT Fritatta is packed with the classic flavors of bacon, spinach and tomatoes along with mushrooms and cheese for the perfect breakfast, brunch or dinner bite!

10 minPrep Time

30 minCook Time

40 minTotal Time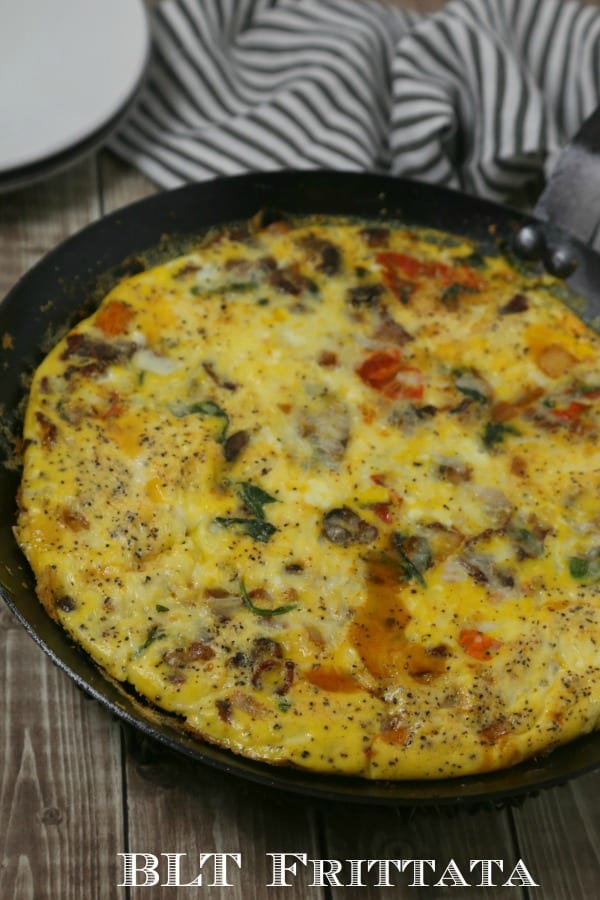 Ingredients
5 slices of thick cut bacon, diced
3/4 cup of sliced baby bella mushrooms
1 medium vidalia onion, diced
1 cup of grape tomatoes (I used heirloom) quartered (if small, just halve)
1/2 cup of diced sundried tomatoes
1 tablespoon of butter
2 cups of baby spinach
2 teaspoons of fresh thyme, minced
1 tablespoon of finely chopped flat leaf parsley
1/2 cup of shredded Monterrey jack cheese, divided
8 eggs
1/2 cup of milk
1/2 teaspoon of smoked paprika
1/2 teaspoon of kosher salt
1/4 teaspoon of freshly ground black peppe
Instructions
Heat the oven to 400 degrees F.
In a large cast iron pan or oven safe braiser or deep nonstick fry pan, add the diced thick sliced bacon to the ban and fry over medium high heat.
Drain the bacon on a paper lined plate and reserve 1 tablespoon of bacon drippings.
Add the baby bella mushrooms to the pan and brown taking care to not crowd the mushrooms.
Add the diced onions to the mixture and saute until the onions start to turn translucent. If you need to add a teaspoon or two of olive oil to the pan (or more bacon fat) feel free.
Add the quartered grape tomatoes and sundried tomatoes to the pan and saute for another couple of minutes. The grape tomatoes should release some juice.
Add a tablespoon of butter to the pan and follow that with the spinach.
Saute the spinach, folding it in with the tomato mushroom mixture and allow it to wilt for a few minutes.
In a bowl or large measuring cup, whisk together the eggs, milk, smoked paprika, salt, and pepper.
Fold the thyme, parsley and crisp bacon into the mixture.
Even out the mixture a bit so that it lies flat in the pan and add about 1/4 cup of the shredded cheese over the top of the ingredients.
Pour over the eggs, letting the eggs set for a couple minutes as you sprinkle the remaining cheese over the top.
Bake for about 12 - 14 minutes, until the edges pull away from the sides of the pan and the center is set.
Cut into wedges and serve.
Enjoy!
7.8.1.2

80

https://cookinginstilettos.com/blt-frittata/