There are a lot of types and tastes of mushrooms. Mushrooms are the best source of nutrients special for those who are on a diet.
Bacon stuffed mushrooms is the best appetizer, it is very nutritious and easy to make.  You can serve it at a party or dinner. It is the best recipe for bacon or mushroom lovers
Nutrition Facts:
Per serving of cheesy bacon Stuffed mushroom contains 110 calories.
Fat: 9.7g
Saturated fat:2.6g
Carbohydrates: 0.9g
Protein: 4.7g
Cholesterol: 17mg
Sodium: 150mg
Vitamin A: 2.4%
Vitamin B6: 0.4%
Copper: 1%
Folate: 0.4%
About Mushrooms:
Mushrooms are low caloric plants.  These are enriched in nutrients like carbohydrates, vitamin A, thiamin, sodium, potassium, zinc, and fiber.  One cup of raw mushrooms contains 25 kcal. Fiber is present in a sufficient amount. Mushroom consumption is increasing day by day because people are going to know its nutrition value. It fights against cancer, diabetes, and obesity.
About Bacon:
Bacon is also highly nutritious meat.  It contains Folate, vitamin B, iron, sodium, zinc, protein, and fats. It helps in fulfilling our daily caloric requirement. Due to high in nutrients bacon can easily use for weight loss purpose. Grilling or roasting is the best solution as compared to frying. It also contains polyunsaturated fats, saturated fats, and monounsaturated fats.
About cheese:
Dietitians suggest low-fat cheese in order to reduce the weight. Although cheese is high in fat and low in carbohydrates, it is a great fit for a keto diet.
Cheesy bacon stuffed mushrooms is a great meal and it can be a part ketogenic diet which you can check at newsletterforhealth.com. This recipe is high in fiber, it will provide you a feeling of satiety and prevent against colon infection. This recipe is full of nutrients. Per serving of cheesy bacon stuffed mushroom is perfect for a single meal.
If you are looking for the best recipe relates to mushrooms.  Cheesy bacon stuffed mushrooms are the best choice. If you are on a keto diet it will aid you in boosting up the metabolism of the body. This recipe is oven baked; it means that fat content is not as high as compared to frying. You will definitely enjoy it.  It is a must-try at home at dinner time or at a party.
OBJAVLJUJ – Cheesy Bacon Stuffed Mushrooms: How To Prepare It?
15 minPrep Time
15 minCook Time
30 minTotal Time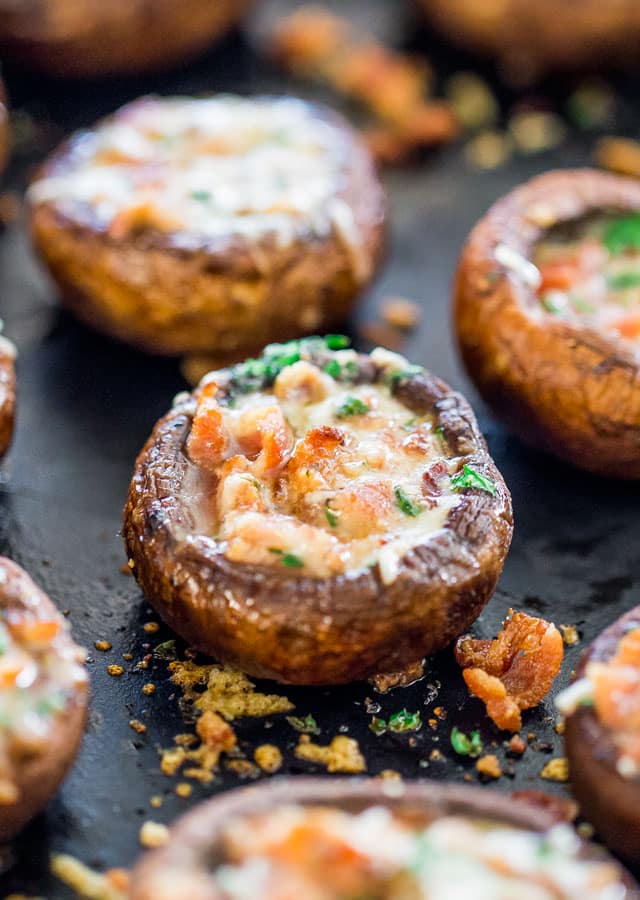 Ingredients
Garlic powder
8oz soft cream
Cooked and crumbled 8 to 10 bacon strips.
Cheddar Cheese
Butter
1 small chopped green onion
1 pound fresh mushrooms
Instructions
If your bacon is fresh, place it in the skillet and cook at medium flame. Drain it and set aside.
Preheat your oven at 200 degrees centigrade.
Remove the stems of mushroom and cut the stems into small pieces.
Melt the butter in a pan, stir the green onion, and chopped stems of mushrooms.
When the onion gets soft, remove it from the stove.
Take a bowl and mix all the ingredients along with cheddar cheese.
Scoop this mixture on the caps of mushrooms.
Bake them in the oven for 15 minutes.
Remove them from the oven. You can also sprinkle the extra cheese on this product.
7.8.1.2
412
https://cookinginstilettos.com/cheesy-bacon-stuffed-mushrooms-how-to-prepare-it/