The holiday cookie swaps are approaching and you know that you have to make a recipe that will make the receiver swoon over the treat that you have made. However, have you ever had that panic of looking at recipe after recipe and nothing seems good enough? I have the perfect cookie recipe for you – Toffee Bars. However, these are not just any toffee bar – they are studded with chocolate and caramel goodness.
I recently discovered a must make recipe for Toffee Bars that had me intrigued and thinking about them to the point of obsession. However, one of the steps it called for stopped me in my tracks – Brown Butter. Confession – I have never made brown butter successfully before – burnt butter yes, but brown butter – that has always eluded me. I have had friends rave about the nutty qualities it imparts in their recipes and, after one too many "burnt butter" episodes, I decided way back when that browning butter and I were not ever going to be BFFs. That was until these Toffee Bars crossed my path.
I recently discovered Nestlé® Toll House® DelightFulls™ Filled Baking Morsels and they had to.die.for chocolate caramel morsels that were begging to be tried. I'm a sucker for all things chocolate and caramel and I knew that these Toll House Chocolate Caramel Morsels would take a toffee bar from ordinary to extraordinary!
Some tips with these toffee bars – no matter HOW MUCH you are tempted to cut them as soon as they are out of the oven – don't. They need the time to rest. Resist the urge for at least a hour and a half to two hours. Also, while I thankfully was able to make my first batch of brown butter (and now I'll be trying it in more recipes), you have to watch it like a mother hen. I used a large stainless steel skillet and hovered over it, watching for the first signs of trouble. When I thought it was right at that stage, I removed it from the heat and poured it into a bowl to cool. No residual cooking for this gal – just in case.
Now – these are the basic bars – but you can totally make them your own – drizzle them with some dark chocolate or salted caramel or just serve them as is. If you really want to get experimental – you could do a dark chocolate cherry version with the Nestle Toll House Delightfulls in the Dark Chocolate Cherry flavor (and with some dried cherries soaked in amaretto for some added flavor – I'm just sayin….). Be the executive chef in your own kitchen – but make sure to put these Nestle Toll House Delightfulls on your holiday pantry shopping list (and then send me the links to what you made with them!)
On to the recipe:
Gather your ingredients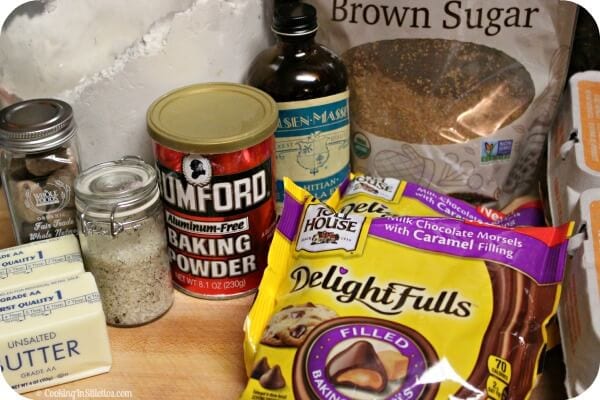 Check out these lovely Nestlé Toll House Delightfulls Baking Morsels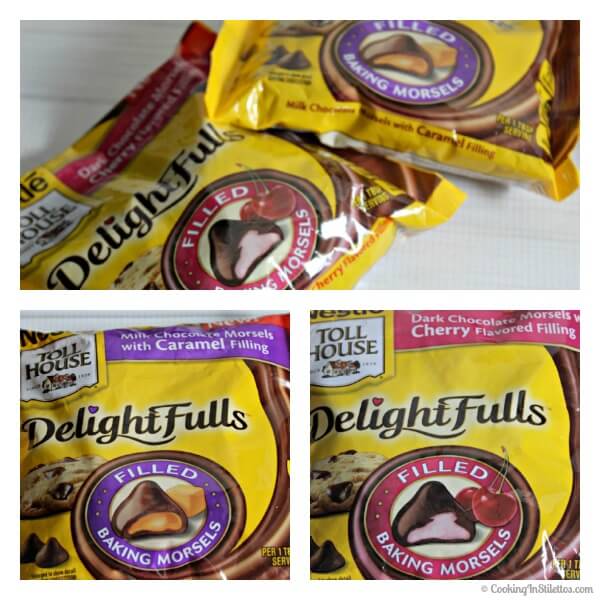 OK – let's bake. The first flavor component – time to brown the butter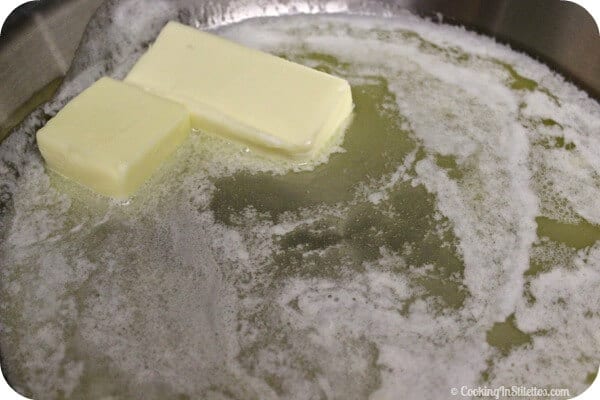 The second flavor component – the Nestlé Toll House Delightfulls Chocolate Caramel Morsels – sneak a couple for "quality control" purposes of course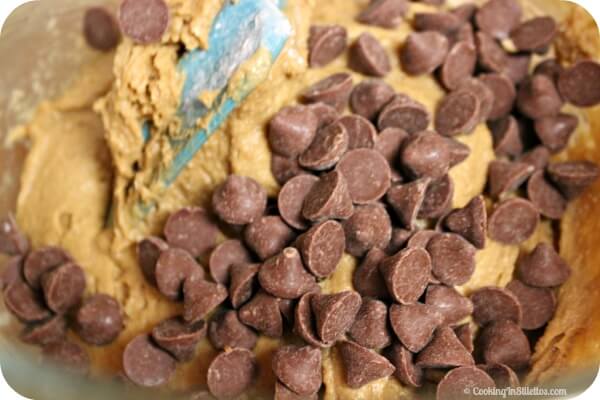 Let's get these lovelies into the oven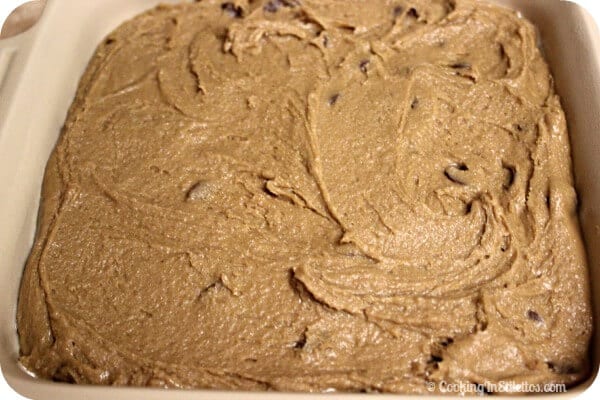 Would you like one?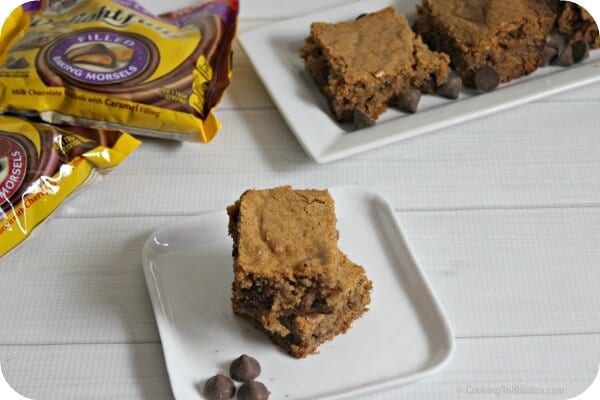 Adapted from Amy Thielen
Chocolate Caramel Studded Toffee Bars
5 minPrep Time
55 minCook Time
1 hrTotal Time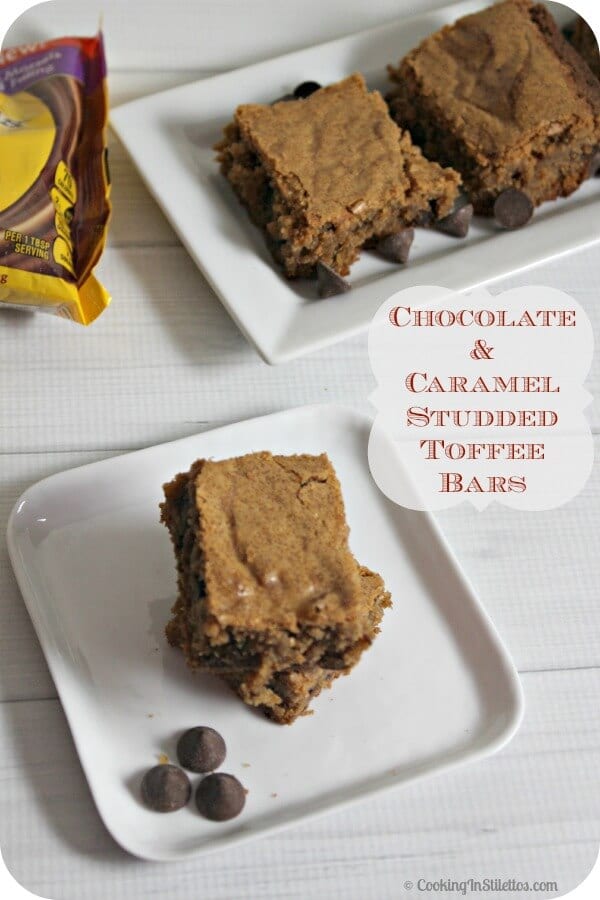 Ingredients
1/2 sticks of unsalted butter, plus more for buttering baking dish
3/4 cups of all-purpose flour
teaspoon of baking powder
1/4 teaspoon of freshly grated nutmeg
1/2 teaspoon of kosher salt (I used my favorite vanilla salt)
2 cups packed light brown sugar
3 eggs
1/4 teaspoon of vanilla extract
3/4 cup of Nestlé Toll House Delightfulls Chocolate Caramel Morsels
Instructions
Preheat your oven to 350 degrees F.
Butter an 8 x 8 pan and set aside.
In a large skillet, add the butter and let melt over medium heat. Cook for about 3 – 5 minutes until the butter foams and then turns a shade of nutty brown and remove from the heat. Pour into a bowl and set aside to cool.
Sift together the flour, baking powder, nutmeg and salt into a medium bowl. Set aside.
In the bowl of a large mixer, add the cooled brown butter and brown sugar and mix thoroughly.
Add the eggs, one by one followed by the vanilla until it starts to turn light and fluffy. The color will change from a dark brown to a light brown so keep an eye on this mixture.
Remove from the mixer and incorporate the dry ingredients by hand, making sure to not overmix.
Fold the Nestlé Toll House Delightfulls Chocolate Caramel Morsels into the mixture and then pour into the prepared baking dish.
Spread the mixture into an even layer.
Bake for 35 – 40 minutes, until a toothpick inserted in the center comes out clean
Let cool for at least an hour and a half to two hours before cutting into bars.
Enjoy!
7.8.1.2
186
https://cookinginstilettos.com/chocolate-caramel-studded-toffee-bars/
Check out some Delightfull recipe ideas from Nestlé Toll House. You can follow Nestlé on Twitter, Facebook, Pinterest and Instagram.
The same NESTLÉ® TOLL HOUSE® chocolate you know and love now filled with rich caramel, peanut butter, mint, and cherry flavored filling. Add these new filled baking morsels to your favorite recipes for a special twist on the classic, or try experimenting with them in a recipe you've never tried before!
This is a sponsored conversation written by me on behalf of NESTLÉ® TOLL HOUSE®. The opinions and text are all mine.