The kitchen is not just a room but a multi-utility space where you will find so many things like home appliances, utensils, oven, refrigerator, dishwasher, over the top cabinets, stove, tabletop, faucets, sink, chimney, etc. all at one place. Not anywhere else in your house, you have so many items placed together in a relatively smaller space. This is the reason it is such a brainstorming task to make it look perfect. The kitchen is also one of the most costly rooms to decorate. The kitchen is prone to stains, spills, detergent marks and so many other things that tiles are used to protect the walls from getting filthy.
For many people choosing tiles for the kitchen is very swift but if you go into the practicality you will be surprised to know that there are numerous things you did not take notice of. Kitchen tiles are certainly not the easiest to choose. Especially with the kind of variety available in the market, it becomes even more confusing to select the tiles which go by the interior of the kitchen and doesn't mismatch. Kitchen tiles are capable enough to highlight the interior of the kitchen. The reason why tiles are important is that they protect the kitchen walls from stains and spills and at the same time enhances the interior of the kitchen.
Types of Kitchen Tiles Available To Choose From:
As per belktile.com, there are two broad categories of tiles available for kitchen i.e. natural stone kitchen tiles and manmade kitchen tiles. If budget is not a constraint for you then opting for a natural stone kitchen tile is a wise decision. Manmade tiles are very cost-effective and are available in so many colors, patterns, and finishes. If you are more inclined toward natural stone kitchen tiles then here are some options for you.
Marble: Available in grey, white, striking dark, colored shades. Marble can provide your kitchen with a subtle or dramatic look.
Limestone: It is mostly available in cream and dark colors, beige and grey. It is most ideal for your kitchen if you are looking to create a whole lot of different looks.
Travertine: If you love beige and grey tones and warmer hues this is the perfect natural stone tile for your kitchen.
Slate: It is available in dark and rich tones and is surely attention-grabbing stone. It can be used on walls or on the kitchen floor. On the kitchen floor, it creates a textured surface. It is perfect for the kitchen floor because of its anti-slip property.
Manmade tiles as said above are an economical choice for people with a tight budget. The best thing about manmade tiles is that the choice available is enormous. Manmade tiles come in different patterns, colors, textures, and different finishes. The options available for you when opting for manmade tiles for your kitchen are as follows: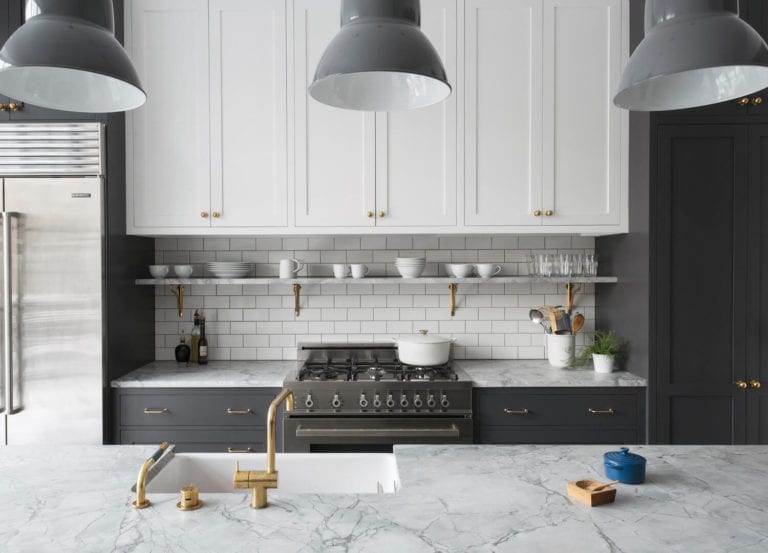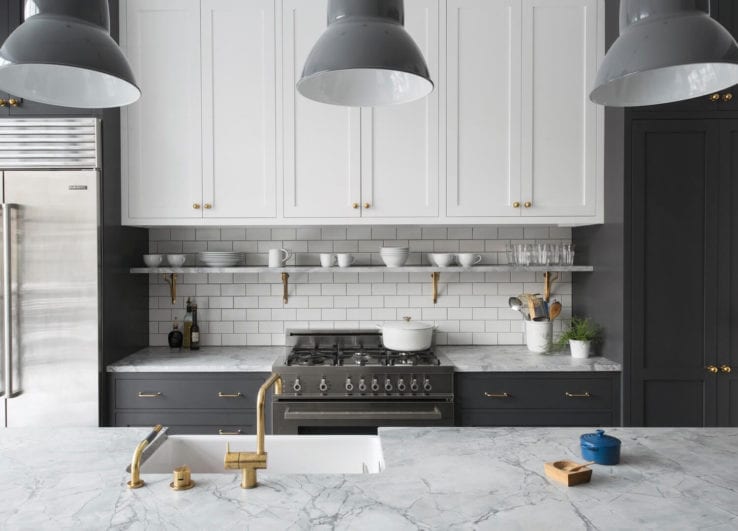 Ceramic tiles: Ceramic tiles are very easy to clean and an ideal choice for your kitchen walls. Some ceramic tiles are not good for the floor so check it before you buy for the floor because it might not tolerate the wear and tear of a busy kitchen.
Porcelain tiles: These tiles are high in density and are fired at a higher temperature than ceramic tiles. This makes Porcelain tiles a perfect choice for your kitchen floor. It is also a good choice for the kitchen wall.
Glass tiles: Glass tiles is a good option because it adds up extra sparkle to your kitchen. These tiles are generally featured in mosaics.
How to Choose Tiles for Your Kitchen
When choosing kitchen tiles, the interior of your kitchen matters a lot. It is often seen that people generally don't think of aligning the kitchen with the wall structure and color pattern of the walls. It is also very important to choose wall tiles that go seamlessly with the floor tiles as well. Wisely selected kitchen tiles as per the interior, color pattern, kitchen hardware setup tend to make a kitchen look perfect. If you are running short of ideas regarding how to choose kitchen tiles then here is a guide for you:
Think before you start: Tiles are a vertical element when you design your kitchen. So you can think of different patterns, color, and reflectivity before heading to the tiles store. So the first thing to do is to think of the patterns, color on your own, you can take the help of some magazine or research it online.
Decide the place: You cannot simply install tiles on all walls of your kitchen. Kitchen tiles are mostly used as a backsplash behind stove and on the wall just under the over-the-top cabinets.
Size of the tiles: Manmade kitchen tiles are available in a large variety of sizes. So if your kitchen is not big then try to choose tiles of a smaller size with good pattern or texture. If your kitchen is spacious or it's open then big size tiles with symmetry will enhance the look of your kitchen. Large tiles make the kitchen look larger and airier. Choose wall tiles and floor tiles separately because floor tiles have a harder glaze to withstand traffic.
Tile Pattern and Texture: It's entirely up to you if you choose matt or polished finished tiles. Most polished finished tiles are easy to clean while natural terracotta tile has no glaze. Also choose pattern and texture that goes by the wall color of the kitchen as well as look seamless with the appliances and furniture color theme. If your kitchen doesn't have much sunlight and often remains darker then opt for high gloss tile because they will reflect more light.
Household lifestyle: If your kitchen generally has high traffic like commercial kitchen tend to have large rush then it is wise to go for high-density tiles because they will withstand heavy traffic. Ceramic tile is a good choice for countertops while porcelain tiles are a good choice for the floor. If you have kids running around in the kitchen and pet doing all sorts of wear and tear then opt for durable floor kitchen tiles. Keep the household lifestyle in mind and then choose the best-suited tiles.
Other things to consider while choosing kitchen tiles are room size, color, grout, and budget.