This is our review for the Comfee Flashwave toaster oven which has been a pretty impressive experience for me for the last two months.
Like most cooking enthusiasts, we are someone who like to cook and air fryers are a must-have in our kitchen as they bring healthy and "crispier" food to our table. We moved our lab to a new place and we had to buy new appliances for our new kitchen. We decided that if we were going to use counter space conservatively, we might as well make it worthwhile by using a single device that could replace several different appliances.
This is where Comfee's new 24QT Air Fryer Toaster Oven came into our consideration which is now included in one of the best countertop ovens at Amazon in terms of features and performance. It features 10 settings, including carrying, toast, bagel, broil, bake, roast, dehydrate, pizza, and reheat. It is also big enough to hold a medium pizza pan which is a must-have for us. It has a lot going for it and we will break down our experience with it:
What's inside the box of Comfee 24QT?
The oven itself
Baking tray covered with enamel
Crumb Tray
Air Frying Basket
Baking Rack
Instruction Manual and Quick Start Guide
Recipe Book
24QT's Hardware: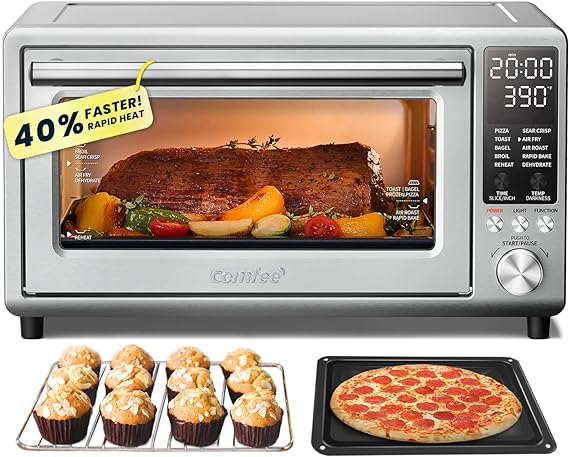 The case of the 24QT Comfee Flashwave toaster oven has dimensions of 17.56″D x 14.96″ W x 9.9″H with the front showing the positions of the baking trays which come with it. The front has a large LED panel along with a large mechanical knob and three press buttons for power, light, and function settings. The ample-sized LCD panel makes it apparent what cooking mode you're in, what the oven's temperature is, and how much time is remaining on the timer.
The outer shell has a nice smooth stainless steel color scheme which blends in nicely in our lab kitchen. The inner side is lit up by two LED lights along with the air fryer fan at the right side and an S-shaped element on the bottom. The entire oven is powered with a 1750Watts system and one of its kind, Rapid Flashwave Tech, as Comfee calls it.
Cooking Modes & Performance
The cooking modes are easy to get going for which you can use the touch panel or the mechanical knob. For two functions, including air fry, the 24QT immediately goes into a preheat mode: Swear crips and Air Roast. Once preheating is finished, you need to be ready to put your food in as the timer automatically begins to countdown on the main setting.
The Rapid Flashwave system of 24QT uses graphene as a heating element for faster cooking times and in our testing, we saw a significant difference in our tested cooking times as compared to other leading brands, many of which are much more expensive than the 24QT.
First, we tested the Pizza function which is accessed by pressing the "Function" button to select "Pizza" and then pressing the "Time/Slices/Inch" button to go into your pizza specifics. Then turn the knob to select the size of the pizza and finally press the "Temp/Darkness" button then turn the knob to select the temperature. The one we tested came out with gooey melted cheese on top and a crisp crust on the bottom with satisfactory results. Pretty good results from the Comfee Flashwave toaster oven for our first test.
We also tested the "Toast" function" on 24QT which give a good result as we expected. Even on the medium setting, the toast was lighter than desired. The 24QT can toast up to six slices simultaneously, however, we found that the results were satisfactory and the sides of the toasts were evenly browned. The oven was also very impressive when it comes to the Air Roast function where it produced a crisp-skinned, golden-brown, succulent roast chicken in 36 minutes (default time is 25min) which is still much less than other leading air fryers toaster ovens for the same meal.
Another great area where Comfee has done a great job is that the heat distribution is pretty even during the cooking process thanks to the S-shaped element used in the oven. This is why we got so great toasted bread slices every time we used it for breakfast meals. Also, we appreciate the easy "flip-away" design of the oven from the inside which made the cleaning process much more convenient after we finished the cooking.
Final Thoughts:
Comfee Flashwave toaster oven modeled 24QT is surely one of the few toaster ovens that are truly more useful and functional than the majority of regular ovens in the market right now. This is because of super-fast cooking times, small form factor but ample capacity, outstanding temperature precision, and a wide variety of cooking options, including air fry, sear crisp, and rapid baking. This device is what you need if you want to slow cook, dry, and air fry, as well as replace your normal oven for the great majority of culinary operations.