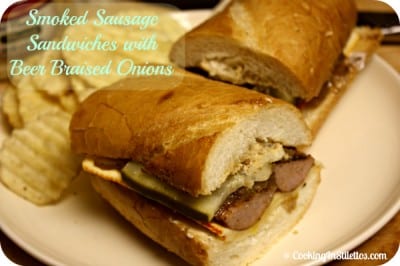 In Kicked Up Sandwiches, Emeril had a recipe for Smoked Sausage Sandwich with Beer Braised Onions that looked intriguing.  The main component of this sandwich that takes it up a notch is those beer braised onions.  I have learned that caramelized onions take a recipe from great to fabulous and if you add a fantastic beer to it and let that simmer away for 30 minutes or so and you will have a sandwich that is beyond "kicked up".
Being in Pennsylvania, we have these lovely "state restrictions" where if we need to buy a 6 pack or so, you can't just head to the local "packy" to pick one up.  You can often get a 6 pack in a bar but if you are going to a beer and soda store, you are going to wind up with a case.  That leaves NO room for experimentation in my book and if I'm going to buy a case of beer, it will be one that I drink often.  For a recipe that needs a beer "like Budweiser" and when you haven't drunk Budweiser since college days, well, you know I'm going to find an alternative because I only cook with what I would actually drink (nothing against Budweiser – just a college thing, that's all 😉 ).  Thankfully the Whole Foods in Plymouth Meeting can sell six packs of beer and, per the suggestion of Dianne, I had some excellent counsel from their resident beer guru, Patrick, to try this Extra Special Ale ("ESA") from Yards Brewing Company and, can I say, that beer was EXCELLENT!  Plus – it's from a local brewery here in Philly and I definitely would recommend giving it a try.
To add an extra "kicked up" factor, I also whipped out the Emeril's Kicked Up Horseradish Mustard instead of whole grain mustard and that really took the flavor over the top.  All in all, this is definitely a "card game" worthy sandwich and, if you make this sandwich for your guy – expect him to spoil you rotten – it's THAT good.
Here's the play by play:
Gather your ingredients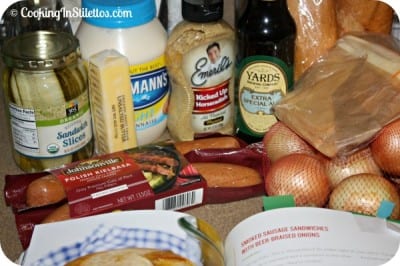 The Beer That Kicked It Up!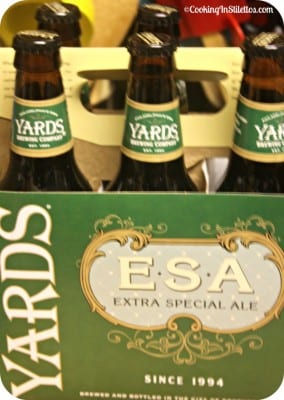 A ton of onions but no tears!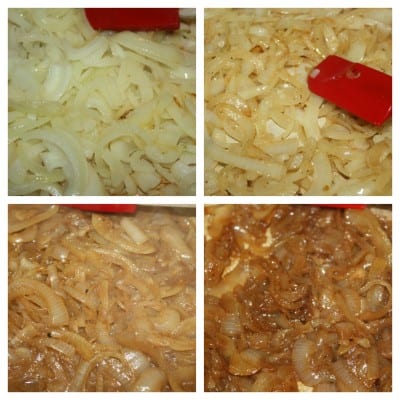 And adding the beer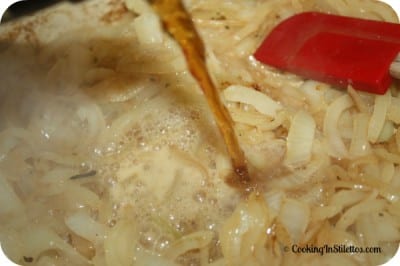 Breaking out my fave double burner grill pan for the bread and the sausages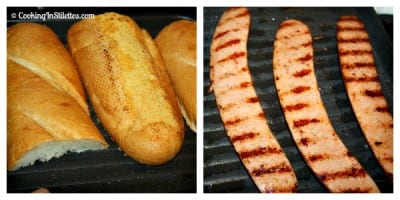 Sandwich Assembly Time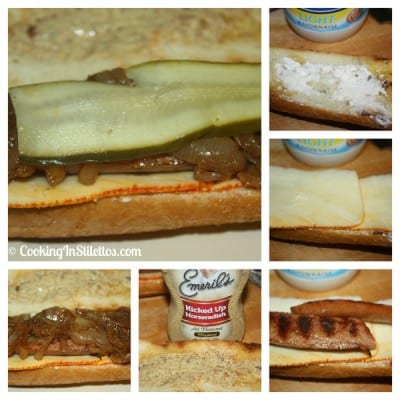 Now THIS is a Serious Sandwich!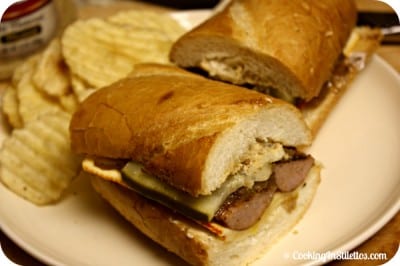 *Disclosure: A copy of Emeril's cookbook was provided as per of the #SeriousSandwich Blogger Cookalong along with a jar of Emeril's Horseradish Mustard. My opinion and experiences are 100% my own.