On weekends, I tend to gravitate towards French Toast – whether it's my Cinnamon Plum French Toast, Donut French Toast topped with a blueberry topping, Cinnamon Pan Perdu, or the basic standby flavored with a bit of vanilla and orange zest, it's easy to whip up and I rarely tend to char it to bits. However, there are times when I want to do something different that isn't your typical French Toast dish.
This French Toast Bread Pudding came out of the oven all golden and glorious and was a hit. The most effort – letting it soak for a spell.  Don't forget to put it in a baking pan – it definitely makes a different to have that constant heat surrounding it. However – make a plan on how to get it out – it was almost a ham burn flashback moment for me as I tried to maneuver the dish out without burning myself or shattering the dish to bits. I think it's time to get some silicone baking gloves because sometimes chef towels just don't help when there's scalding water floating around.
This recipe is a keeper and perfect for company or those long weekend brunches – so easy to prepare and who doesn't love french toast, right?
What's your favorite weekend brunch recipe – tell me in the comments!
Gather the ingredients
Raisin Challah was center stage
Fitting it all in the pan (Note – I even cut some end pieces to make sure there was no gaping holes)

Pouring In The Custard
Fresh From The Oven  – Puffy, golden and delicious
Shall I pass you a slice?
Yields 6
Tried and True: French Toast Bread Pudding
This French Toast Bread Pudding is perfect for weekend brunch!
30 minPrep Time
1 hr, 30 Cook Time
2 hrTotal Time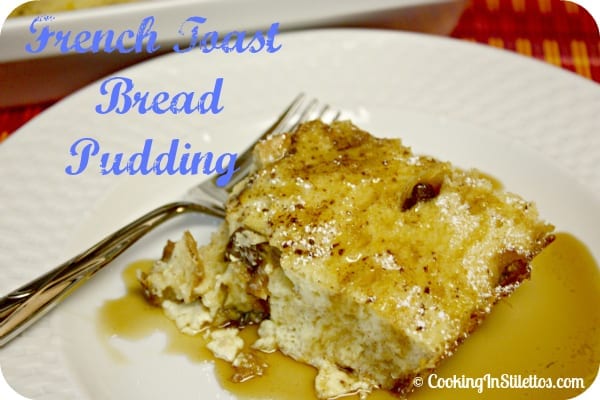 Ingredients
1 challah loaf, sliced 3/4 inch thick
6 large eggs
5 cups of milk
3 tablespoons of honey
1 tablespoon of grated orange zest
1 teaspoon of pure vanilla extract (I used my favorite Mexican Vanilla extract)
1 teaspoon of cinnamon
1/4 teaspoon kosher salt
Confectioners' sugar and pure maple syrup, for serving
Instructions
Preheat the oven to 350 degrees.
In a 9 x 13 baking dish, arrange the bread in two layers, making sure that the bread fits the dish. (Note: I also staggered the bread to allow for more coverage and less gaps when it would bake together).
Whisk together the eggs, milk, honey, orange zest, vanilla, cinnamon and salt in a large bowl.
Pour the mixture over the bread and press the bread down.
Allow to soak for 10-15 minutes.
Place the baking dish in a large roasting pan.
Add hot tap water to the roasting pan so that it covers and inch or so of the baking dish, taking care to NOT get water in the bread pudding mixture.
Cover the roasting pan tightly with foil, taking care to not let the foil touch the bread pudding.
Make two slashes in the foil to allow the steam to escape and bake for 45 minutes.
After 45 minutes, remove the aluminum foil and bake for another 45 minutes or so until the pudding is puffy and golden and the custard is set.
Remove from the oven and allow it to cool for a few minutes.
To serve, lightly dust with confectioner's sugar and drizzle with maple syrup.
Enjoy!
7.8.1.2
368
https://cookinginstilettos.com/french-toast-bread-pudding/