Last week, I broke out my new favorite grill pan and it was on. I do not need much convincing when it comes to cooking with tequila (or rum for that matter), but I was smart – I didn't turn on the gas stove until I had all the glaze ingredients in the saucepan and cautiously brought the mixture to a boil. After a near-miss inferno with the short rib enchiladas, I learned my lesson. I also went out and bought a fire extinguisher for the kitchen. I was not cooking with tequila until I was fully prepared. I have no desire to channel my inner Fire Marshall Bill, ya know.  Also, to bump up the garlic flavor, I added some Mojo de Ajo in place of the Olive Oil and that was a nice touch.
This recipe was SOOO good – and, if there are any leftovers, this scrumptious chicken is perfect for tacos or quesadillas, for a killer pizza topping or even for soup.  I served it with my Roasted Corn, Tomato and Black Bean Salad and it was the perfect way to bring in the 4th of July.
Now I have to ask you – what is YOUR favorite Grilling Recipe? Also – have you ever had a "near miss inferno" issue in the kitchen or do you keep your fire extinguisher at the ready.
Gather the Ingredients
Making the Ancho Chile Spice Rub
Adding some Mojo de Ajo to the mix
Spiced Rubbed Chicken On The Grill

Letting the Agave Tequila Glaze Come to a Furious Bubble
Adding the Agave Tequila Glaze to the caramelized spiced chicken thighs
Ancho Tequila Chicken
Grilling In Stilettos: Grilled Ancho Tequila Chicken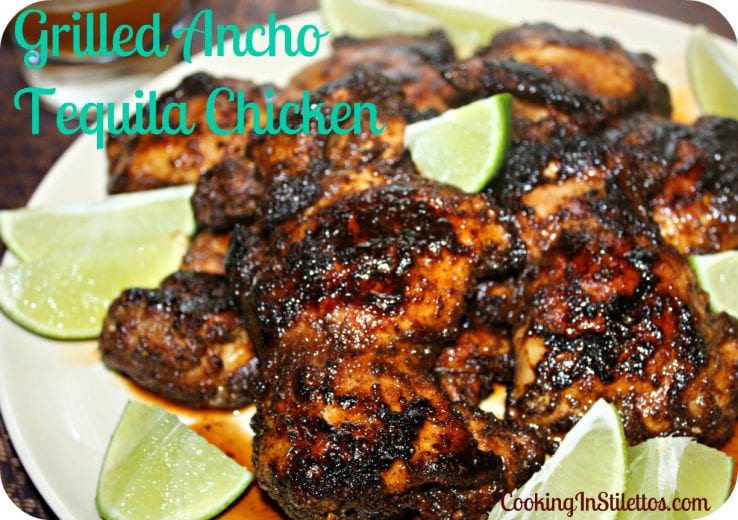 Ingredients
1 tablespoon ancho chile powder
1 1/2 teaspoons sugar
1 1/2 teaspoons garlic powder
1 1/2 teaspoons ground cumin
1 1/2 teaspoons freshly ground black pepper
3/4 teaspoon kosher salt
8 boneless skinless chicken thighs
1 1/2 tablespoons extra-virgin olive oil (or Mojo de Ajo)
4 tablespoons agave syrup
3 tablespoons tequila
2 teaspoons to 1 tablespoon hot sauce (depending on how hot you like it. Remember, I'm a wuss).
1 1/2 tablespoons butter
Zest and juice of one lime
Lime wedges for serving
Instructions
In a bowl, combine the ancho chile, sugar, cumin, salt and pepper.
Add the chicken thighs to the bowl and toss.
Add the olive oil to the bowl and toss the spice-coated chicken with it so that everything is well coated. Set aside.
In a heavy bottomed saucepan, add the agave syrup, tequila, hot sauce, butter and the zest and juice of the lime and combine.
Bring to a boil and cook until it is thickened and reduced to about 1/2 cup. Keep warm.
Over a preheated grill pan (or grill) that has been lightly coated with cooking spray (if needed), add the spiced rubbed chicken. Grill for about 5-7 minutes and then flip the chicken, cooking for an additional 4 minutes or so.
Coat the grilled chicken with some of the agave tequila glaze and cook for a few minutes longer, until it is nicely caramelized.
Serve with the lime wedges and the remaining agave tequila glaze.
Enjoy!
7.8.1.2
372
https://cookinginstilettos.com/grilled-ancho-tequila-chicken/