This refreshing and easy no churn Margarita Ice Cream with Blackberry Ripple is so easy to make – no ice cream machine required!

 
This post has been sponsored by Sauza Tequila. My opinions are my own.  This post may also contain affiliate links to products I adore and trust in my kitchen.  Thank you for supporting Cooking In Stilettos.

Ever have those days when you know you just need a margarita? I'm not talking just on Cinco de Mayo (where it's mandatory to kick up those stilettos, break out the Sauza and it's Margarita (or Sauza-Rita) time). That was my situation recently – having come off a nightmare jury duty, followed by two massive work projects and I realized that my batteries were beyond low – my iPhone had more battery life than I did. So, I decided that it was time to break out the "good" margarita glasses, chill with some friends and have some great conversation.  Granted during that time I channeled my inner clutz and wound up breaking one of those "good" margarita glasses and decided that matchy matchy glasses won't do. After all, it's not about the glass, but what's IN the glass that counts, right?  (Sidenote – at the store, the clerk broke one of the good glasses so it's not like I didn't know how fragile they were – but no – I wasn't thinking and *poof* the glass shattered – typical Aly – I was thinking of twenty things at once and learned my lesson.)
Deicing to play it low-key aka no major cooking on the agenda, I wanted to play with a recipe that I have been thinking about for years – Nigella Lawson's Margarita Ice Cream. I had done some retail therapy prior and found a nifty little ice cream container that would store well in my over well-packed freezer and since it was a recipe that warranted no ice maker needed, well – even better. With my schedule, time wouldn't allow me to be whisking custard and tempering eggs and all that jazz. (Plus – when it comes to my tequila – I tend to be a bit impatient – my boy Albee taught me well.)
This recipe could not be easier to whip up – squeezing and zesting some limes, a splash or two of orange liqueur followed by a nifty thimble of Sauza Tequila, followed by lots of whipping of cream and sweetened condensed milk and you have a voluptuous fluffy margarita cream that is begging to be eaten. Want to take it over the top – swirl in some blackberry jam and you have a sweet and tart ice cream that will be ready for you whenever #MargaritaMoments strike. How easy is that?
This Cinco de Mayo, I'll be chilling with friends, enjoying some of this delicious No Churn Margarita Ice Cream with Blackberry Ripple and having a Sauza-Rita or two. Because, sometimes, the best moments you have with friends involve a sweet spoonful of ice cream and a lot of laughter!
On to the recipe:
Gather your ingredients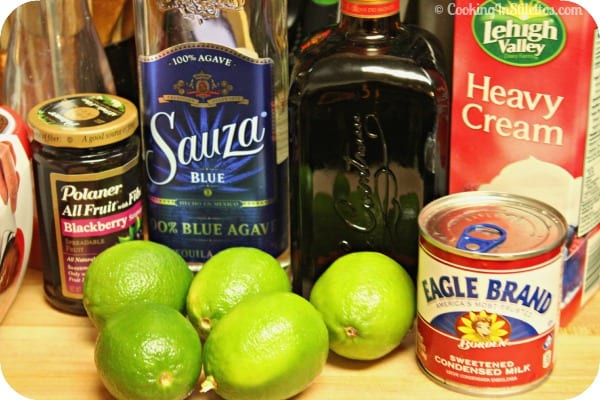 Adding the Sauza to the lime zest, juice and orange liqueur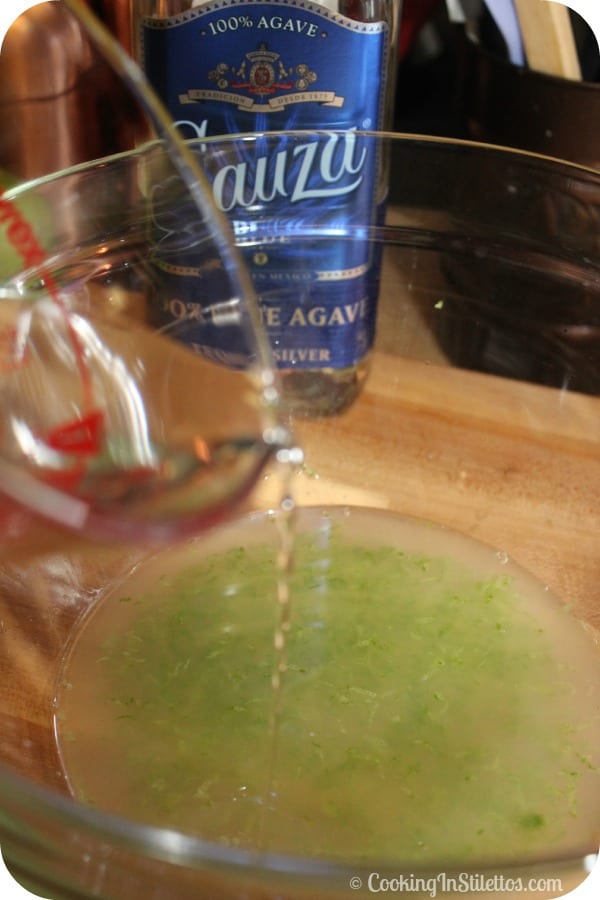 Whisking in the sweetened condensed milk to the fluffy whipped margarita cream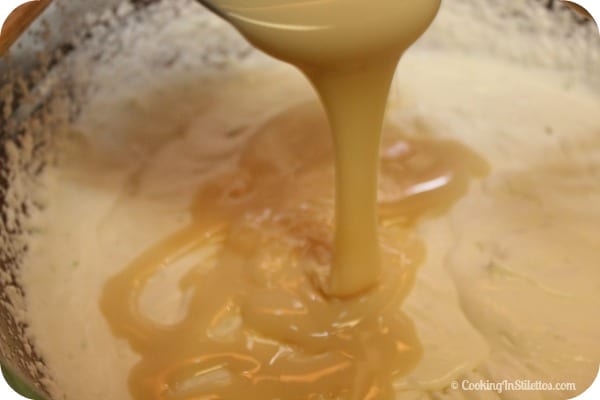 Let's ripple in the blackberry jam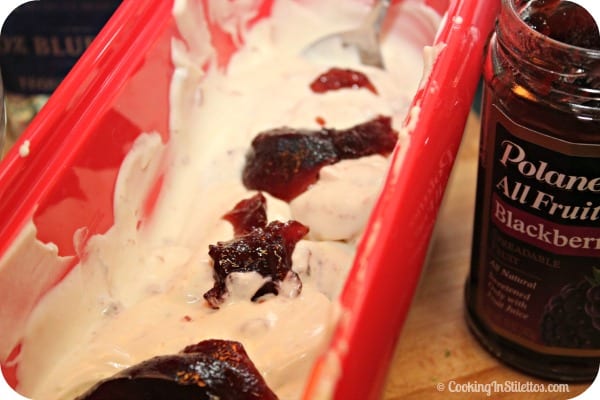 Now – try to have just a taste – I dare you!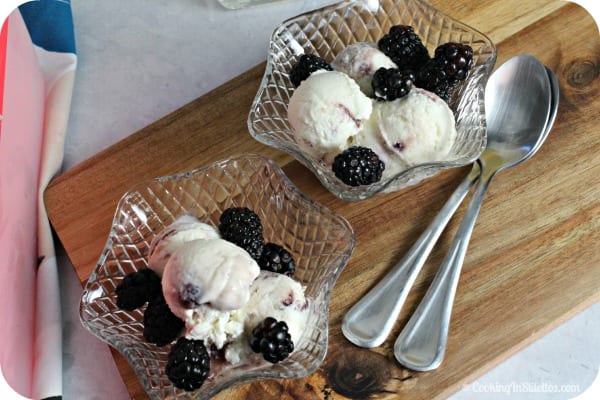 Print
No Churn Margarita Ice Cream With Blackberry Ripple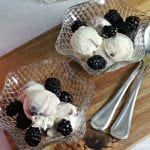 This easy no churn Margarita Ice Cream has a bit of a boozy kick along with a sweetly tart blackberry ripple woven throughout.
Author:
Prep Time:

8 hours 15 minutes

Total Time:

8 hours 15 minutes

Yield:

6-8

Category:

Dessert
Ingredients
Zest of two limes and juice of 4 limes (about 1/3 cup)
1/4 cup of tequila (I used Sauza Blue Silver – very smooth finish)
2 tablespoons of orange liqueur
1/8 teaspoon of kosher salt
2 cups of heavy cream
1 cup of sweetened condensed milk
1/2 cup of seedless blackberry jam, divided
Fresh blackberries for garnish
Instructions
In a large bowl, add the lime zest, juice, tequila, orange liqueur and salt and whisk until the salt is dissolved.
Pour in the cream and, using an electric hand mixer, whip the cream until it is thick and smooth but still a bit soft.
Add the sweetened condensed milk and whip for about 2 – 3 minutes more until the mixture is fully combined, thick and fluffy – but definitely make sure it is not stiff.
Spoon half of the mixture into an airtight container.
Scatter half of the blackberry jam over the mixture and ripple it throughout the container.
Pour the remaining margarita cream into the container followed by the blackberry jam and again, gently ripple it through.
Freeze the margarita ice cream 8 hours or overnight. It will not freeze too hard and will be easy to scoop.
Garnish with some fresh blackberries and enjoy!
Notes
Note: Inactive time is about 8 hours for chilling.  You could easily whip this up the night before and it's ready for your soiree the next morning!
My favorite products for this recipe: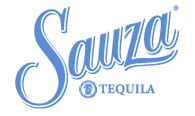 Nothing's more relaxing than a cool desert breeze blowing across your tired shoulders. Oh wait. That's the breath of a man who has something very important to tell you. He's the cowboy. And he's here to help you relax after a hard day on the ranch. When he's not rounding up baby cattle, he's rounding up ingredients for the perfect Sauza®-rita. Learn how to make it with him on your next ladies' night in:
www.youtube.com/SauzaTequila
.

Sauza® is a registered trademark of Tequila Sauza S. de R.L. de C.V. ("Tequila Sauza") and is used with permission. The information, comments and ideas expressed on this website do not necessarily reflect the views or opinions of Tequila Sauza, its affiliated companies or any of their directors or employees. Tequila Sauza does not sponsor, authorize, or otherwise endorse this website.
Disclosure: Compensation was provided by Sauza® via Glam Media. The opinions expressed herein are those of the author and are not indicative of the opinions or positions of Sauza®.
Did you enjoy this post?
| | |
| --- | --- |
| Share the love | Get free updates |