One of my favorite recipes to make is this Pan Fried Meatloaf in Tri Color Peppers that I saw a few years ago.  I use a combo of ground turkey and mild Italian turkey sausage, mix that with some fire roasted tomatoes and spices, let it simmer on the stovetop followed by a quick oven sauna and  *viola* dinner is served.  IMO, meatloaf and stuffed peppers are ultimate comfort food and to combine them together is genius.  I didn't dream up this brilliance – my gal Sunny Anderson did.  It was one of her earlier recipes when she first started on Food Network and it's garnered some fabulous reviews.  This is one recipe that you can play with to make it your very own and, when your mother in law remarks on your brilliance on combining meatloaf and stuffed peppers, just nod, smile and say "Thank you."  Don't worry – I won't say a word.
On to the recipe:
Gather the ingredients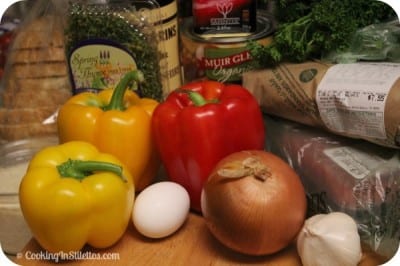 Stuffing the peppers – look at the gorgeous colors!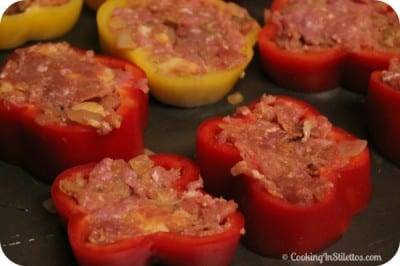 Getting that flavor aka char on (See the lovely crust courtesy of my Le Creuset – always provides the perfect sear)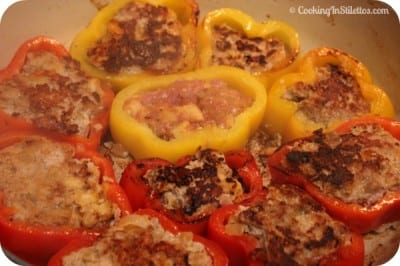 Simmering away in the fire roasted tomatoes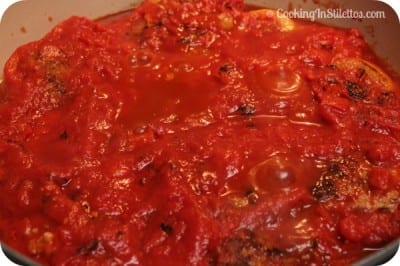 Now – isn't this a fabulous idea for dinner?
Pan Fried Meatloaf In Tri Color Peppers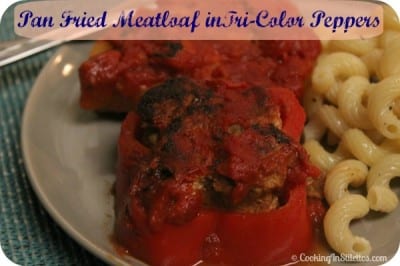 Ingredients
2 red bell peppers
2 yellow bell peppers
1 small onion, diced
2 cloves of garlic, minced
1 teaspoon of smoked paprika
Pinch of red pepper flakes
1 pound of ground turkey
2 links of mild Italian turkey sausage, removed from its casing
2 slices white or sourdough bread, cut into cubes
1 (28-ounce) can crushed fire roasted tomatoes, divided
1 egg
1 tablespoon chopped thyme
1 tablespoon of Worcestershire sauce
Salt and freshly ground black pepper
1 tablespoon oil
Instructions
Preheat oven to 400 degrees F.
Clean the bell peppers, removing the core and seeds.
Slice the peppers into 1 inch rings and place on a baking sheet. There should be about 3 rings per pepper.
In a saute pan, saute the onion until it is translucent. Add the garlic and cook for another minute.
Add the smoked paprika and red pepper flakes and cook for another minute or so.
Let cool.
In a large bowl, mix together the ground turkey, mild Italian turkey sausage, bread cubes 1/2 cup of the fire roasted tomatoes, egg, thyme, and Worcestershire sauce. Season with a bit of salt and pepper.
Press the meatloaf mixture into the pepper rings.
In a large oven-proof skillet, over medium high heat, saute the meatloaf rings until golden brown – about 5 – 7 minutes a side.
When the meatloaf mixture is browned and the peppers are starting to soften, add the remaining tomatoes to the skillet, place in the oven and bake until cooked through, 20 to 25 minutes.
Enjoy!
7.8.1.2
309
https://cookinginstilettos.com/pan-fried-meatloaf-in-tri-color-peppers/