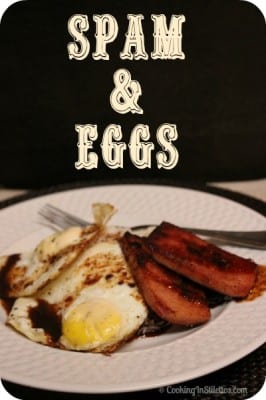 This month's Pass The Cookbook Club was a fun one with a spotlight on recipes from Debbie Lee's Seoultown Kitchen. Now – I adored Debbie on Next Food Network Star a few years ago so when this cookbook came out, I was thrilled to go to the kitchen and play.

For those that don't know what Pass the Cookbook Club is – it's a group of fabulous food bloggers who, once a month, make a couple recipes from a favorite cookbook and talk about their experiences with the recipe.   The recipes and cookbooks change every month and it's always great to see what others experienced making the same recipe.
Now, there were a few choices but I decided to play with an ingredient that was never allowed in my Bampa's kitchen – Spam. See – during WWII, I learned that he and his unit had Spam morning noon and night so when he got back stateside, that little can was never allowed in his kitchen. So – when I said I'd be making Spam and Eggs for dinner one night, I was met with the "Huh???" response. To err on the side of caution, I made some of the eggs with Spam and some wanted Canadian Bacon. I jazzed it up a bit with a bit of a chili smoked paprika rub on the Spam and Canadian Bacon slices. The one key component – the chili maple syrup – it ties everything together.
Now – if you aren't a fan of Spam, feel free to sub Canadian Bacon and have a ball!  It was definitely an interesting take on flavors.  The spam wasn't bad – especially when it was spiced up a bit and with a bit of char.  I did have an issue with the eggs as I burned the first batch of eggs (like an idiot, I turned up the burner on the wrong pan – oops!).  The second batch of eggs came out much better.  I loved how the syrup melded with the rice.  All in all – it was a great dish.
Onto the recipe:
Gather the ingredients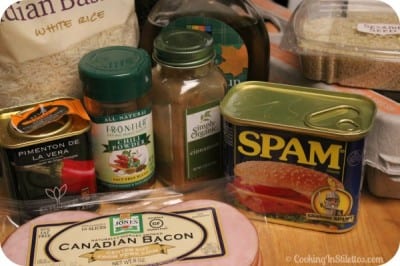 Making the chili maple syrup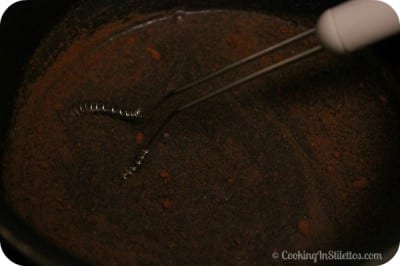 Charring the spam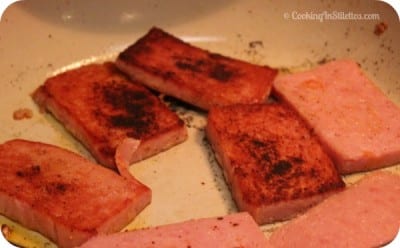 Let's make some eggs (again)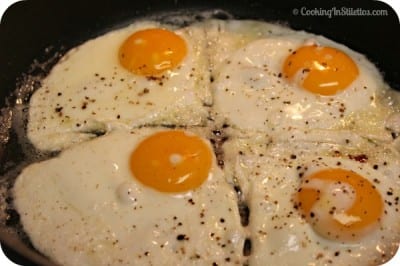 Spam & Eggs Anyone?
Ingredients
2 tablespoons of olive or vegetable oil
8 eggs
Sea salt and black pepper, to taste
1 can of Spam, sliced into 1/4in pieces (about 8 slices)
4 cups of cooked white rice
2 tablespoons of roasted and salted sesame seeds, for garnish

For the Chili Maple Syrup

1/2 cup of pure maple syrup
1 1/2 tablespoons of chili powder
1/2 teaspoon cinnamon
1 teaspoon smoked paprika

For the Chili Rub (if using)

1/2 teaspoon of chili powder
1/2 teaspoon of smoked paprika
Directions
In a small saucepan, whisk together the maple syrup, chili powder, cinnamon and smoked paprika.
Bring the mixture to a simmer and cook for about 10 minutes to allow the flavors to marry. Keep warm.
In a large nonstick skillet, over medium low heat, add 1 tablespoon of oil and let warm for a minute or so. Crack the eggs into the skillet and cook for about 5 minutes or so until the whites are cooked and yolks are slightly runny. (Don't overcook them like I did with a cover - ugh!). Season with salt and pepper.
Make the chili rub by mixing together the chili powder and smoked paprika.
Season the spam slices with the rub and set aside.
In another skillet, over medium high heat, add the remaining tablespoon and heat for a minute or so.
Place the spice rubbed spam side down and let cook for a few minutes. When it is nicely charred, flip and cook the other side. Remove from heat.
To assemble the dish, place some cooked rice in the middle of the plate. Top with two fried eggs and two slices of spam. Drizzle with the chili syrup, sprinkle with the sesame seeds and enjoy!
Notes
Recipe slightly adapted from Debbie Lee / Seoultown Kitchen
7.6.8
828
https://cookinginstilettos.com/spam-and-eggs/
All images and content are © Cooking In Stilettos. Please do not republish without contacting us first. Thank you.
If you want to check out the other fabulous bloggers or join for next month's cookbook fun – check out the Facebook group!
Did you enjoy this post?
| | |
| --- | --- |
| Share the love | Get free updates |