My gal Kim at Cravings of a Lunatic decided that a vacation was in order this week so, since she was heading out and about – she was kind enough to allow some bloggers to guest post one of their favorite seafood recipes.
When it comes to seafood recipes, I tend to stick with what I know – like salmon either on the grill mojo de ajo style, broiled with a herb mustard glaze or grilled with a citrus salsa verde.  However, other fish, like cod or tilapia tends to frighten me right out of my stilettos.  But – when Lunie poses a challenge, I decided to break out of my culinary tried and trues and go with a lighter, more tropical recipe and this Coconut Almond Crusted Cod is to. die. for.  Seriously – it's beyond simple and I don't know what ever took me so long to give it a whirl.   When you are looking for a delicious baked cod recipe this will be your new go-to. 
If you are looking for a new way to jazz up seafood, head over to Cravings of a Lunatic to check out this Coconut Almond Crusted Cod!
On to the recipe:
Gather the ingredients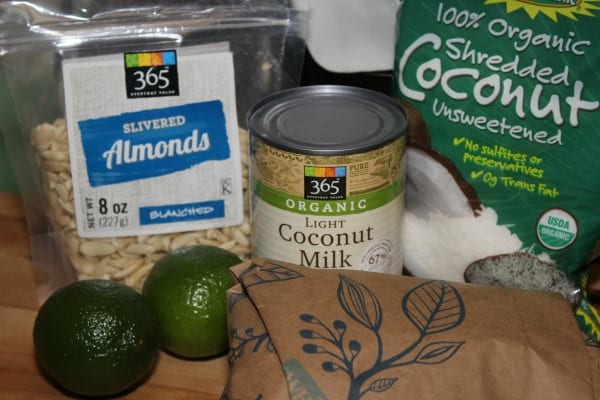 It's all in the prep – whirl, soak, coat – bake.  See – easy peasy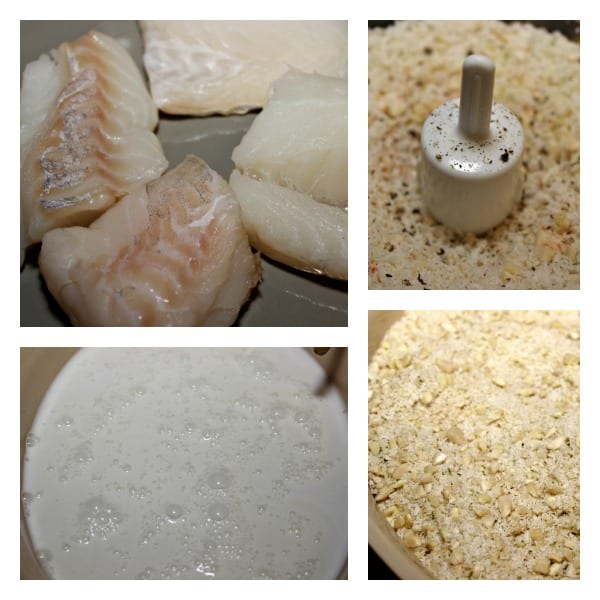 Now – don't you want this for dinner?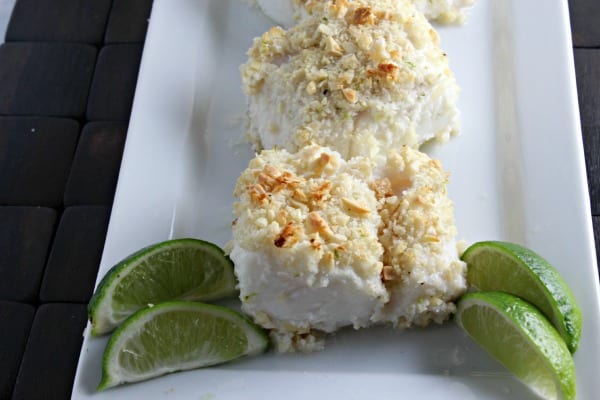 Seriously – SOOOO Good!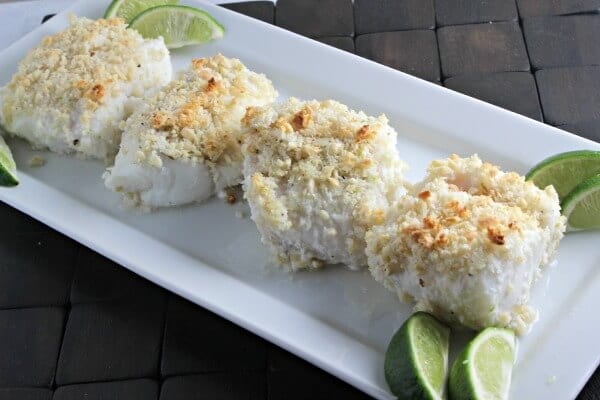 Coconut Almond Crusted Cod
Cod goes from ordinary to extraordinary when it melds with coconut, almonds and a hint of lime. This Coconut Almond Crusted Cod will be a family favorite!
Author:
Inspired by Ingrid Hoffmann
Ingredients
1 cup of slivered almonds
½ cup of unsweetened shredded coconut
Zest of one lime
⅛ teaspoon of cayenne pepper
¼ teaspoon of freshly cracked black pepper
¼ cup of light coconut milk, unsweetened
Juice of one small lime
4 6-ounce cod filets
½ teaspoon of kosher salt
Lime wedges for serving
Instructions
Heat the oven to 425 degrees F.
In a food processor, whirl together the coconut, almonds, a bit of lime zest, black pepper and cayenne pepper for about 10 – 15 seconds. Pour in a dish and set aside.
In a baking dish, whisk together the light coconut milk and lime juice. Set aside.
In a third baking dish (preferably a 9 x 13 pan), spray with the cooking spray.
Take the cod, dry it a bit with paper towel and sprinkle with salt.
Dip the cod filets in the coconut milk mixture, making sure that all sides are covered.
Crust the cod on all sides with the coconut almond mixture and place in the prepared baking dish.
Continue with the rest of the cod and, when the prepared cod filets are ready, lightly spray the tops with a bit of baking spray and bake for about 12 - 15 minutes. The topping should be browned and the fish should be opaque and lightly flake with a fork.
Enjoy!
Many thanks to
Kim
for helping me break out of my tried and true recipe patterns.  This was quite the recipe eye opener!
Did you enjoy this post?
| | |
| --- | --- |
| Share the love | Get free updates |