This is a sponsored post.  As always, my opinions are my own.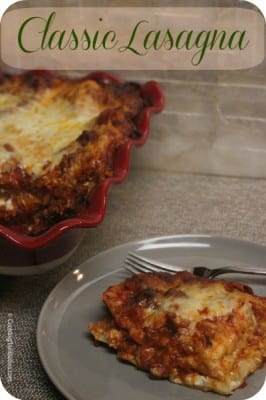 Lasagna was the first dish that I ever remember making. I can remember it like it was yesterday. I was about 10 or so.  I took some of the jarred tomato sauce from the cupboard, added a slew of spices that probably should have never gone in there and did the ricotta and mozzarella layers. My family, brave souls that they were, ate it and never told me that it sucked.  However, knowing what I know now, I'm sure I did the "dump a dash of this, sprinkle a dash of that" like a mad scientist. I will say this, my family never had me make lasagna again.
Now, when I do lasagna, I often whip together lasagna rolls. However, to make a full lasagna – I must confess, my inner 10 year-old self whispers "Aly – you can't make another lasagna! Remember last time?" I haven't made one in eons.
When Contadina challenged us to a #CleanPlate challenge, I decided to face my fears, break out the spices and do it the tried and true way with a low and slow simmered tomato sauce, ripe with tomato flavor and full of Italian sausage, pancetta and seasonings, layered with a variety of cheeses and, one of my new favorites – no boil noodles, and this weekend's dinner was a success. There were clean plates all around. My inner 10 year-old has been silenced.
What's the one dish you make that will result in clean plates on your dinner table?
On to the recipe:
Gather the ingredients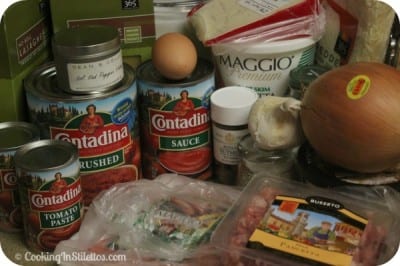 Everything is always better with pancetta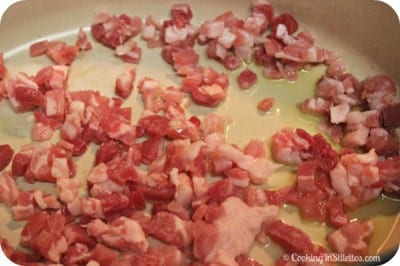 Lining up the Contadina Troops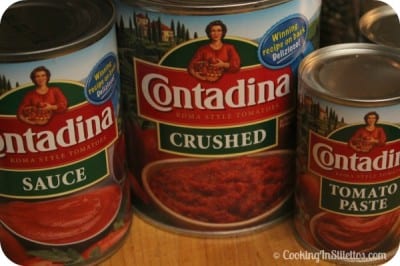 Adding the tomatoes to the browned sausage, pancetta and onions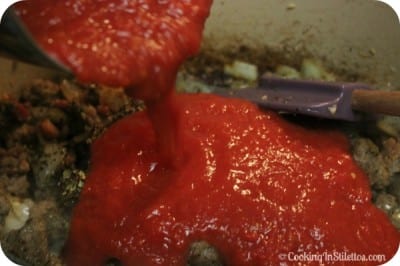 Time to simmer the sauce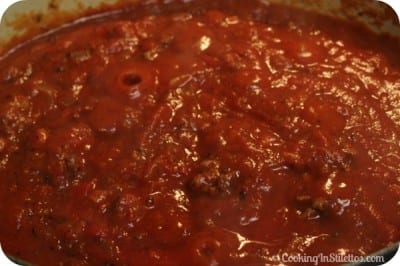 Adding a bit of nutmeg to the ricotta mixture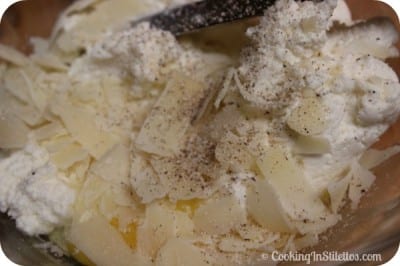 It's all about building the layers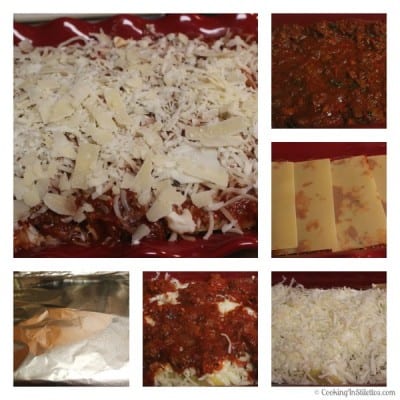 Look at all the cheese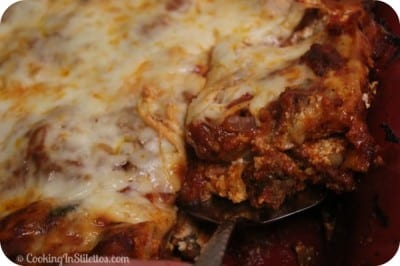 Now – don't you want a slice?
Ingredients
1 pound of sweet Italian sausage
4 ounces of pancetta, diced
1 medium onion, minced
3 cloves of garlic, minced
1 1/2 teaspoons Italian seasoning
1/4 teaspoon of red pepper flakes
1 teaspoon of oregano
1 28 ounce can of crushed tomatoes
1 6 ounce can of tomato paste
1 14 ounce can of canned tomato sauce
2 teaspoons of sugar
2 teaspoons salt
1/2 teaspoon ground black pepper
2 teaspoons of chopped fresh basil
12 no boil lasagna noodles
15 ounces of ricotta cheese
1 egg
1/2 teaspoon of salt
Pinch of grated nutmeg
2 cups of shredded mozzarella cheese
1 cup of shredded fontina cheese
3/4 cup of grated Parmesan cheese
Directions
For the sauce:

In a large Dutch oven, brown the pancetta and Italian sausage in batches. Remove from the pan when browned to a paper lined plate.
When everything is browned, add the onions and garlic and sauté for a bit.
Return the pancetta and sausage to the pot, add the Italian seasoning, red pepper flakes, and oregano and stir for a minute or so.
Pour in a bit of the crushed tomatoes, making sure to deglaze the pan and add the remaining crushed tomatoes. Add the tomato paste, tomato sauce, sugar, salt, pepper and basil and stir thoroughly.
Cover and simmer for about an hour and a half, stirring occasionally.
tablespoons parsley. Simmer, covered, for about 1 1/2 hours, stirring occasionally.

For the Ricotta Cheese Mixture:

In a large mixing bowl, combine the ricotta cheese, egg, 1/4 cup of the grated parmesan ccheese and a pinch of nutmeg. Mix well.

To assemble:

Preheat the oven to 375 degrees F.
In a 9 x 13 pan, ladle a bit of the sauce so it thinly coats the bottom of the pan.
Lay 4 noodles width wise over the meat sauce.
Add 1/3 of the ricotta mixture over the noodles, followed by 1/3 cup of the mozzarella cheese, 1/3 cup of fontina cheese and 1/4 of parmesan.
Ladle a bit of the meat sauce over that and start again.
Continue in the same order, finishing with the remaining mozzarella and a bit of parmesan.
Cover with foil (making sure to spray the foil before going over the dish so it doesn't stick).
Bake for 30 minutes and then remove the foil and bake for another 25-30 minutes more until the cheese is browned and bubbly.
Let cool for about 15 minutes to allow everything to set and enjoy!
7.6.8
837
https://cookinginstilettos.com/classic-lasagna/
All images and content are © Cooking In Stilettos. Please do not republish without contacting us first. Thank you.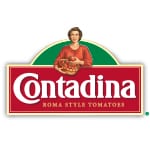 Every mealtime masterpiece starts with Contadina and ends with a clean plate. While many people enjoy posting photos of their food before they eat, we believe that a clean plate afterwards is the true testament to a delicious meal. And that meal is a labor of love, so share your gratitude with a clean plate celebration on Facebook at https://www.facebook.com/Contadina
Disclosure: Compensation was provided by Contadina via Glam Media. The opinions expressed herein are those of the author and are not indicative of the opinions or positions of Contadina.
Did you enjoy this post?
| | |
| --- | --- |
| Share the love | Get free updates |