Growing up, my mother always used to keep cottage cheese in the fridge. Most of the time, it was mixed with pineapple or chive and, when she had no idea, I would sneak some myself. I loved the flavor and on a cracker – cheesy heaven. Whether or not she knew it was me making the container go faster than she thought it would, we'll never know.
I now use cottage cheese, not only by itself (with crackers, of course), but also I find myself incorporating it into recipes, including my absolute favorite brunch cheesecakelets. Recently, I collaborated with Friendship Dairies, a brand I use often in my kitchen, to incorporate a bit of cottage cheese love into some new recipes.
Did you know that cottage cheese is the original superfood? Also, did you know that cottage cheese packs a serious protein punch? I use their 1% cottage cheese often, which has 15 grams of protein per serving. Talk about some protein power, right? They also have different styles of cottage cheese whether it's whipped or small curd, California style or pot style, 1%, non-fat or even 4%. There is something for everyone.
Also amazing is Friendship Dairies' fabulous Superfood Generator. This nifty generator showed me recipe options and the ingredient benefits. It was as if a completely new recipe world opened up and recipe ideas have been coming fast and furiously.
This past month, my morning yogurt has been abandoned for a bowl of their luscious cottage cheese topped with various fruits and nuts. For a bit of savory, I could whip up some cottage cheese with a touch of mojo de ajo for some garlicky dipping goodness for veggies. I would spread some of their whipped cottage cheese on toast for a fabulous alternative to cream cheese. And smoothies – did you know you could make a smoothie with cottage cheese?
I have been making a more conscious effort to make healthier choices this year. With cottage cheese being packed with protein and that its low fat has made it a must have option for this gal's pantry. I find myself snacking much less during the day when I start the day with a bit of cottage cheese to fuel me.
The Superfood Generator has been a huge asset to learning what is great paired together. I could pair blueberries with, perhaps, a bit of chia and walnuts or mix in one of my favorite flavors, cherry, which is packed with antioxidants, with some almonds which are a heart healthy choice. A bit of cinnamon and spice not only makes everything nice but also has healthy benefits. It helps you make some conscious choices about what you are eating and when you know the benefits, it makes choices easier. Sure – you can grab something from that vending machine at the 9to9, but even easier is to have a Fit to Go container of Friendship Dairies cottage cheese in the office fridge and top it with some crunchy walnuts or another favorite mix-in.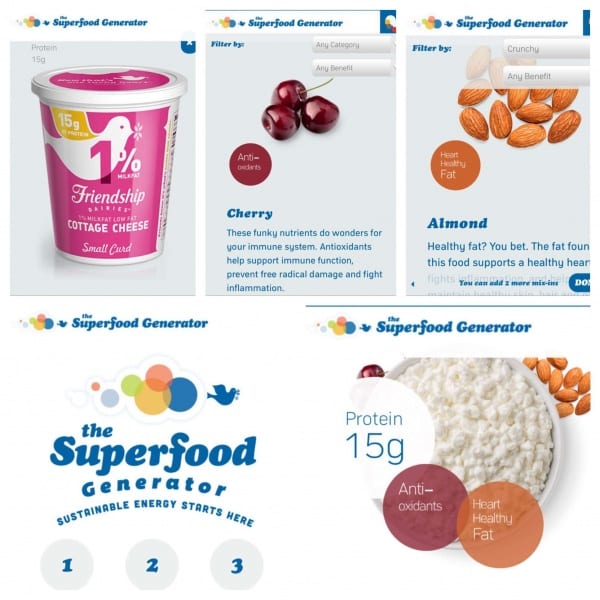 Now – while I am in full-blown confession mode, with fresh dark cherries stocking the fridge and toasty slivered almonds in the pantry, I have been enjoying a Cherry Almond Bowl to start the day in lieu of my typical yogurt. However, as it has been a massively crazy week, I have found myself occasionally mixing in a touch of dark chocolate to make it a great way to start the day (or end the evening for a little dessert).
Chocolate and cherries are a marriage made in heaven and whisked into some low-fat cottage cheese with some crunchy almonds and a touch of vanilla – divine. Want a little sweetness – add a touch of agave nectar. The options are endless. I might find myself whirling it all together this evening with a bit of ice for a chilly smoothie.
If you want to start the day with cherries and dark chocolate, why not add a little protein to make a healthier choice.
If you want to start the day with cherries and dark chocolate, why not add a little protein to make a healthier choice.
Let's whip up a bowl now:
Gather the ingredients.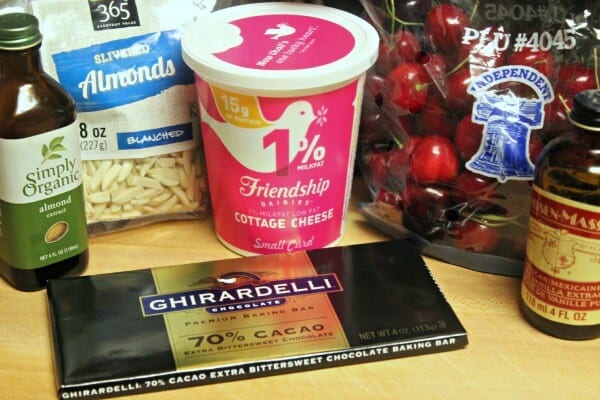 Look at how rich and creamy this Cottage Cheese is.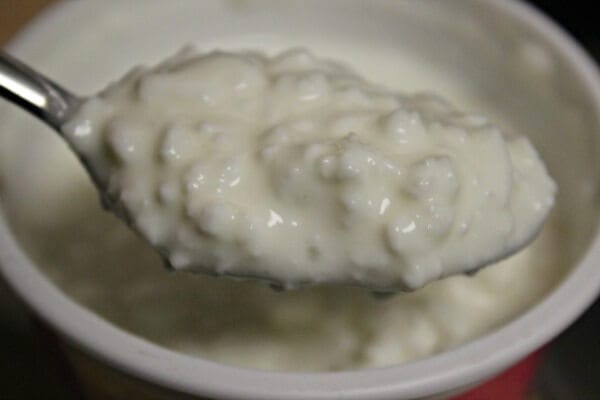 You can't go wrong with a touch of vanilla.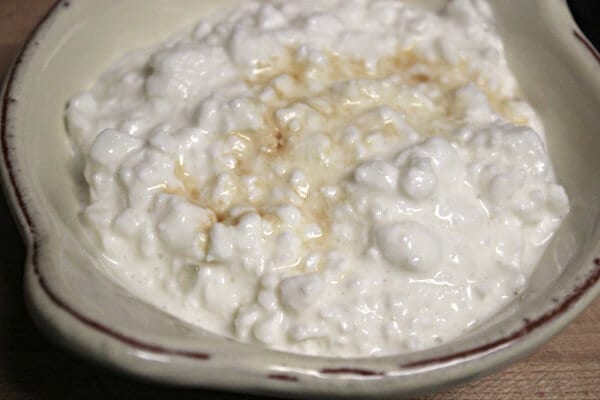 Now – who wouldn't want to start a day with this?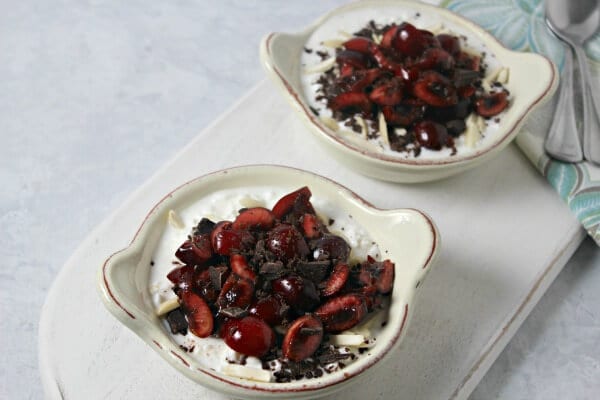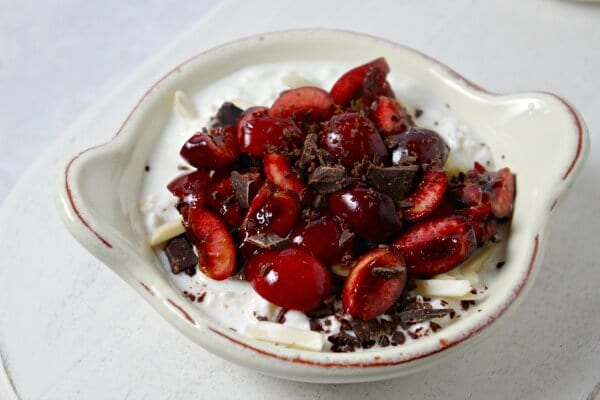 Aly M. Cleary
Yields 2
Learning About #TheOriginalSuperfood And A Chocolate Cherry Almond Bowl Recipe
This Chocolate Cherry Almond Bowl is the perfect way to start the day - just a few ingredients and you have a protein packed healthy breakfast!
5 minPrep Time
5 minTotal Time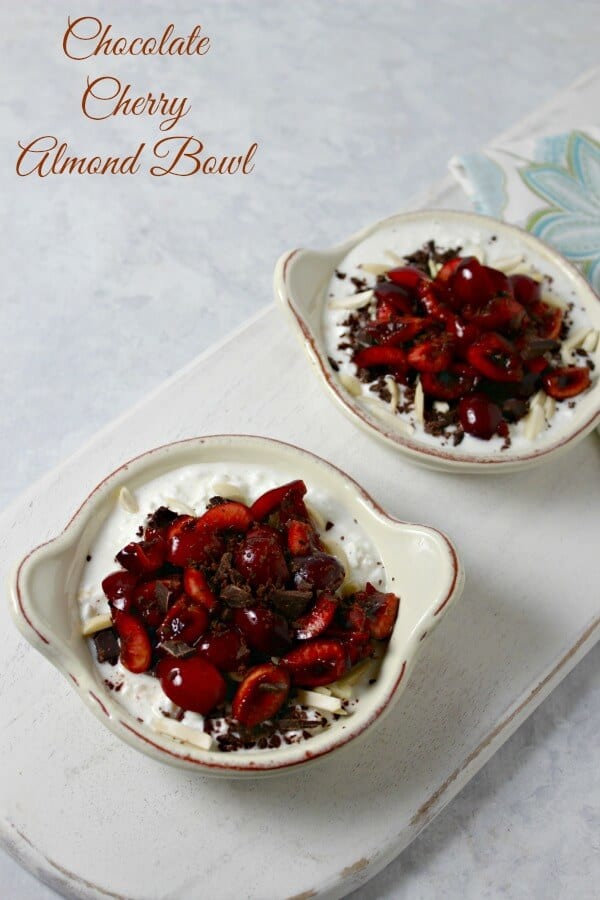 Ingredients
1 cup of Friendship Dairies Cottage Cheese (I used 1%)
1/2 teaspoon of pure vanilla extract
1/2 teaspoon of agave nectar (optional)
2/3 cup of pitted and sliced fresh cherries
1 ounce of dark chocolate, finely chopped
2 tablespoons of slivered almonds, toasted
Instructions
Whisk together the Friendship Dairies Cottage Cheese, vanilla extract and agave nectar if using.
Divide the mixture into two bowls and top each bowl with sliced cherries, chocolate and slivered almonds.
Enjoy!
7.8.1.2
160
https://cookinginstilettos.com/chocolate-cherry-almond-bowl-recipe/