Or, in the alternative, why you don't attempt to make pickles at 9pm on a Sunday night…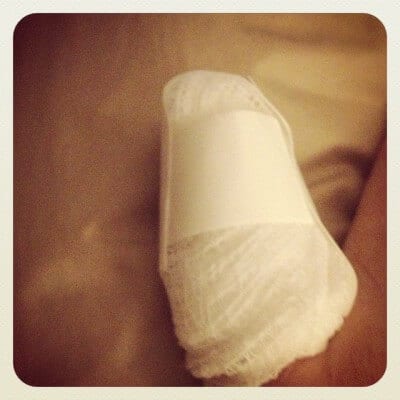 Some may have seen in my Insta that I had a bit of an ER situ a few weeks ago. I decided to attempt to make homemade pickles for a recipe I was developing and, sadly, my swanky Japanese mandoline decided it was going to bite me instead. Next thing you know, it's a scene from ER in my house but sadly, sans George Clooney. The side of my right thumb had met the mandoline when the veggies that I was slicing slipped sideways and it was game on then. I'm trying to get things to stop gushing, the mandoline laid on my cutting board mocking me and I'm going "Ummmm… I think I need to go to the ER" when I realized that a bandaid or three wouldn't do.
The ER staff at Einstein took one look at my thumb and one of the nurses went "Yeah – you got it good" but it could have been worse – thankfully it was only the side. They brought me back into the ER room, a couple doctors decided to see what I did and my response was "I was channeling my inner Food Network wench."  A hour or so later, the side of my thumb was "gel skinned" back together, wrapped up tighter than a comforter and served with a side of tetnus shot. (Sidenote – when they start discussing the needle size with "I need a 22, all I have is an 18 and a 25", needless to say, I couldn't watch. This gal does NOT like needles). I was sent home with a warning to not play Food Network wench for a while.
One doesn't realize how much you use your thumb, especially when it's your right thumb and you are right handed. Typing has gone from 80 wpm down to typing like Tom Hanks in "You Got Mail."
Source
The space bar is my enemy. My handwriting is atrocious.  Using a smart phone with this thumb – ummm.. frustrating to say the least.  I can't get this thumb wet for anything (except to change the bandage daily) and that means I have to Maguyver a plastic baggie over my hand with hair ties so not a drop of water gets in whenever I have to shower, cook, etc. I'm forbidden from doing dishes until this is fully healed (not that I'm complaining about that part but have you ever tried to do dishes with one hand? Not fun.) Cooking (and photographing) is laboriously slow now and if I have to do anything chopping wise, I bought some knife gloves for the hand that is not injured and it's plastic baggie on the other. That evil mandoline was evicted from the house and while I am determined to do that recipe again once the doc says it's game on and no thumb bandage needed (about 3 – 4 more weeks – it's still gross), it's going to be a bit longer. I might either get a swanky new mandoline (with a substantial hand guard and a stand) or just use my food processor. I haven't decided just yet.
I have learned a few valuable lessons – do not channel one's inner Iron Chef when using a mandoline (this gal does not have GZ mandoline hands, that's for sure).  I need to take yet another knife skills class (third time is the charm, right?).  Those knife gloves will be needed while I relearn how to chop, slice and dice and multi-tasking in the kitchen needs to be put on hold when sharp objects are out.  Finally, I need to update my kitchen first aid kit – and add some tape and gauzy bandages because while accidents happen, I would like to be better prepared.
So – in light of injuries and while I'm on the mend, recipes might be a bit "slow" around these parts. Thankfully I have some seriously awesome bloggy friends that will be guest posting here this month and I should be back up and running at full speed by the time Brunch Week comes around.
Just don't ask me to make pickles for a while, okay?