Philly Cheesesteak Hot Dogs are sure to be a hit at your next cookout or tailgate with the flavors of the classic Philly cheesesteak in a hot dog!

Disclosure: This post may contain affiliate links of products that I adore and trust in my kitchen. Thank you for supporting Cooking In Stilettos
I have a recipe to share with you that is a must for your next cookout and it couldn't be easier to make – Philly Cheesteak Hot Dogs.
Philly peeps – cover your ears before we start getting into the "hot dogs can't be steaks" argument which then tends to go into who makes a better cheesesteak, with whiz or without, "wit or witout" onions, Pat's or Geno's (for me – it's all about Jim's on South Street) and so on.  These Philly Cheesteak Hot Dogs have the FLAVORS of the classic Philly cheesesteak but in a hot dog.  We cool now?  Phew – I was getting nervous for a sec ?
These Philly Cheesteak Hot Dogs are so easy to grill up – they are perfect for your next cookout or tailgate.  Caramelized onions and peppers are nestled in soft sub rolls (if you can get Amoroso rolls, even better) along with thinly sliced London Broil you can get straight from the deli (no shaving of steak here for this easy recipe) along with your favorite hot dog.  Drizzle that all with this creamy provolone cheese sauce and you will be in cheesesteak lover heaven!
I first made these last year and they were such a hit, I often am asked to whip them up when grill season hits.  The provolone cheese sauce takes it over the top.  You don't have to wait for a slice of cheese to get all melty on the grill and make a huge mess.  You can just keep the sauce in a small crock pot or fondue pot and drizzle as needed.  The one non-negotiable is you need a soft pillowy sub roll like our Amoroso rolls.  Standard hot dog buns won't hold up to all of the deliciousness crammed into these hot dogs – trust me, I tried.  Plus – here in Philly, Amoroso rolls are a must – there's something about the flavor that just screams "Philly".
For your next tailgate, Labor Day cookout or whenever you have a craving for the flavors of a Philly cheesesteak, make these Philly Cheesesteak Hot Dogs!
On to the recipe:
Gather your ingredients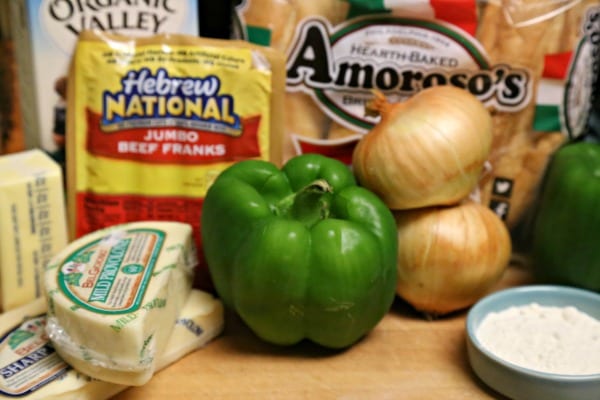 It's a tale of two provolones in this creamy provolone sauce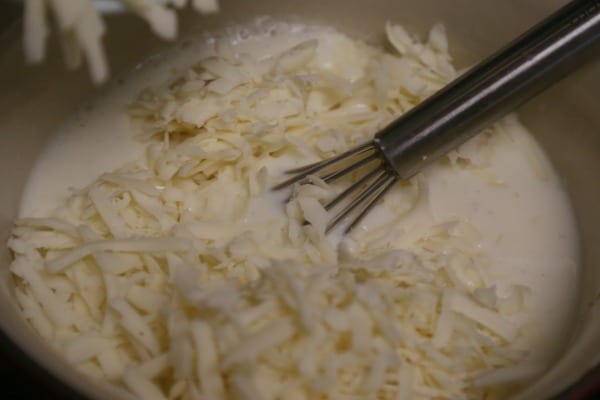 These hot dogs are going to be "WIT" – peppers and onions are a must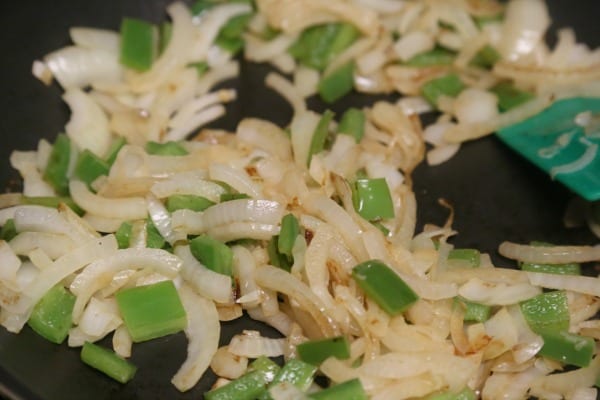 Let's add the griddled London Broil to the Amoroso roll first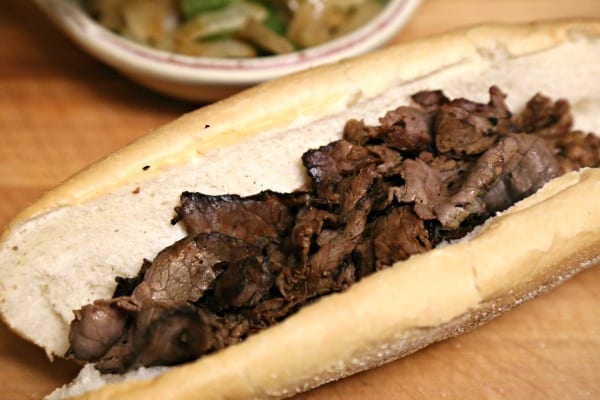 Followed by peppers and onions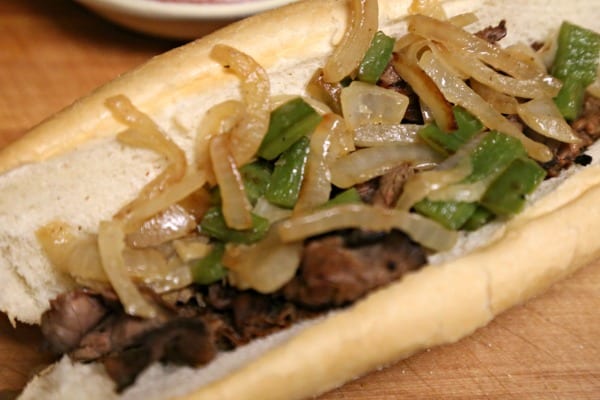 Now – this, my friends are the perfect Philly Cheesesteak Hot Dogs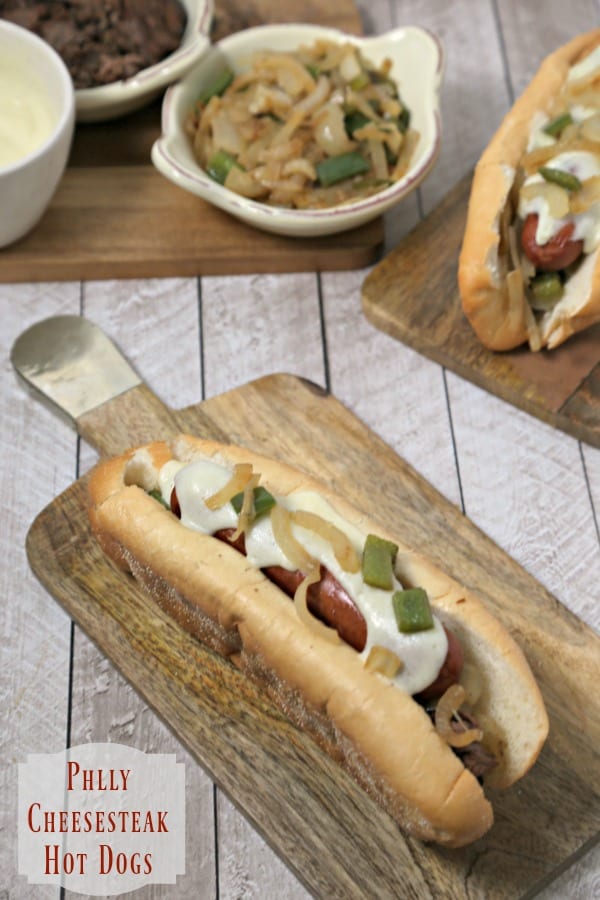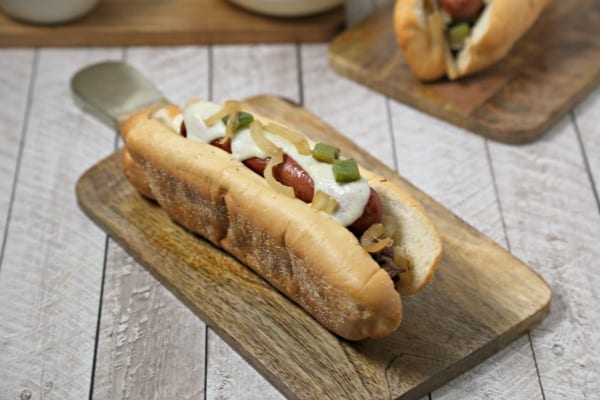 Aly M. Cleary
Yields 6

Philly Cheesesteak Hot Dogs

Philly Cheesesteak Hot Dogs have the flavors of a classic Philly cheesesteak but in hot dog form. Griddled peppers and onions are nestled in soft Amoroso buns with caramelized London Broil and hot dogs and then drizzled with a creamy provolone sauce.

10 minPrep Time

35 minCook Time

45 minTotal Time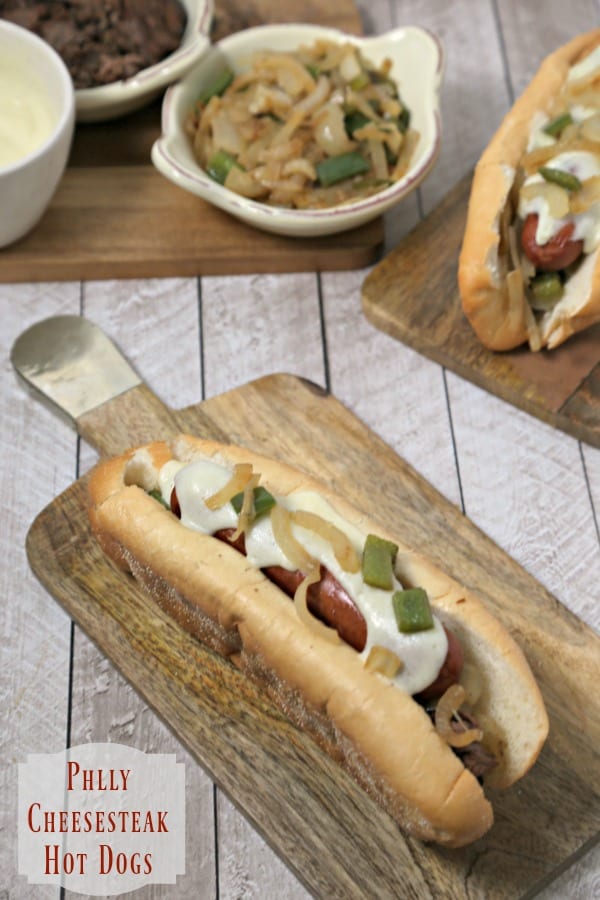 Ingredients
FOR THE PROVOLONE CHEESE SAUCE:

4 tablespoons of butter
3 tablespoons of all-purpose flour
2 cups of milk
1/2 teaspoon of kosher salt
1/4 teaspoon of pepper
1/8 teaspoon of freshly grated nutmeg
1/4 teaspoon of dry mustard
3/4 cup of grated sharp provolone cheese
1 1/2 cups of grated mild provolone cheese

FOR THE PHILLY CHEESESTEAK HOT DOGS

3/4 pound of London Broil deli roast beef, sliced thin and cut into strips.
2 teaspoons of olive oil
2 medium Vidalia onions, sliced thin
1 large green pepper, ribs and seeds removed, diced
6 hot dogs
6 soft sub rolls, sliced (Amoroso rolls would be perfect for this!)
Instructions
TO MAKE THE PROVOLONE CHEESE SAUCE:

In a heavy saucepan, melt the butter over medium high heat.
When the butter is melted, whisk in the flour and cook for a couple minutes until it forms a nice paste and starts to get a bit golden brown.
Slowly whisk in the milk so that there are no lumps.
Continue to whisk until the mixture starts to thicken and coat the back of a wooden spoon.
Whisk in the salt, pepper, nutmeg and mustard.
Fold in the grated sharp provolone cheese and mild provolone cheese.
Stir the cheese sauce mixture until all of the cheese has melted.
Keep warm while you prepare the hot dogs.
In a large saucepan, over medium high heat, add a few slices at a time of the deli London Broil and griddle until it starts to caramelize. I often use the side of my spatula, Philly style, to dice up the steak mixture. Continue until cooked through and not rare. Set aside.
To the sauté pan, add the olive oil and add the sliced Vidalia onions.
When they start to caramelize, add the diced green bell pepper.
Cook until the peppers are softened and the onions are slightly caramelized. Set aside.
Griddle or grill the hot dogs until they are cooked through.

TO ASSEMBLE:

To the soft sub roll, add the warmed London Broil and some of the peppers and onion mixture.
Nestle the hot dog on top of the peppers and onions.
Drizzle with some of the creamy provolone sauce and top with a few more peppers and onions.
Enjoy!
7.8.1.2

82

https://cookinginstilettos.com/philly-cheesesteak-hot-dogs/