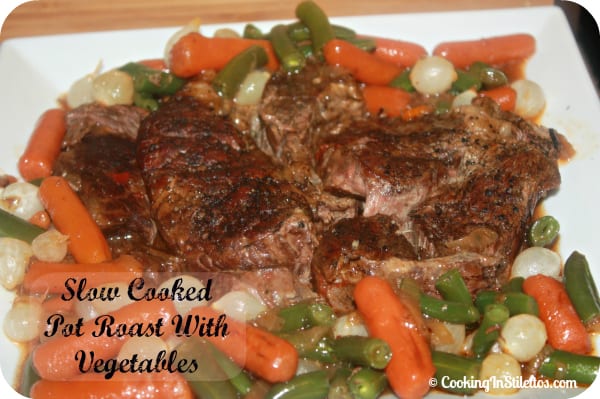 I can think of no better way than to kick off the first recipe post of 2013 with a culinary creation from the Secret Recipe Club.
This month's top secret assignment was Cookin' Mimi and, like many of my prior Secret Recipe Club assignments had me whining about "I can only pick ONE?" Mimi has some seriously delicious recipes like her Pumpkin Spice Sweet Rolls, a soul soothing Easy Beef Vegetable Soup, these intriguing Enchilada Stuffed Shells but it was her Slow Cooker Pot Roast with Vegetables that captured my attention. I had never made a pot roast before so I figured there was no better time like the present. Plus – with the chill in the air in Philly, I figured it was time to break out my favorite slow cooker and start off 2013 with a bit of comfort.
I don't know why I thought a pot roast would be daunting. In all reality, it's a bit of searing, a bit of chopping and veggie tumbling into the slow cooker and a bit of beef stock to turn everything all delicious. Me and my irrational culinary fears I guess. This was amazing and, I have a confession, I have never used tapioca to thicken a sauce, until now. What a brilliant idea! One tip for the pot roast – make sure to dry the meat thoroughly and season before you sear. I used a bit of my favorite garlic olive oil to add a bit of extra garlic flavor. I browned the onions a bit for that caramelization factor and took a shortcut with the baby carrots. The last hour, I tumbled in some frozen cut green beans and pearl onions and it was absolutely perfect.
On to the recipe:
Gather the ingredients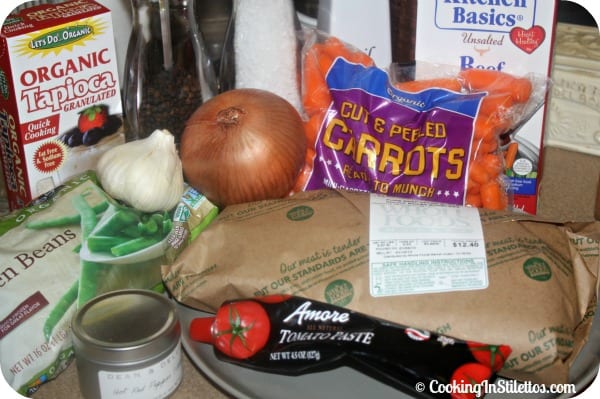 Isn't this a beautiful piece of chuck roast?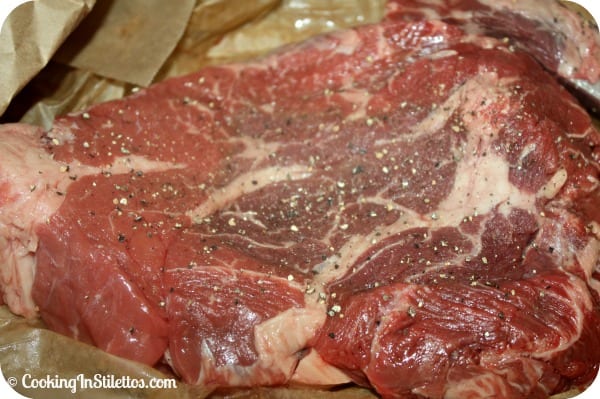 Sprinkling the veggies with the tapioca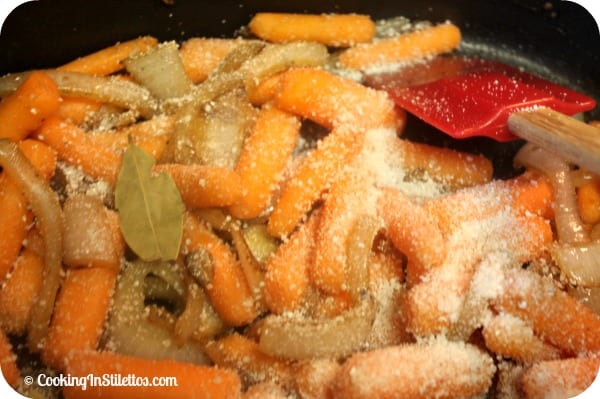 Serve over some Parmesan mashed potatoes and enjoy!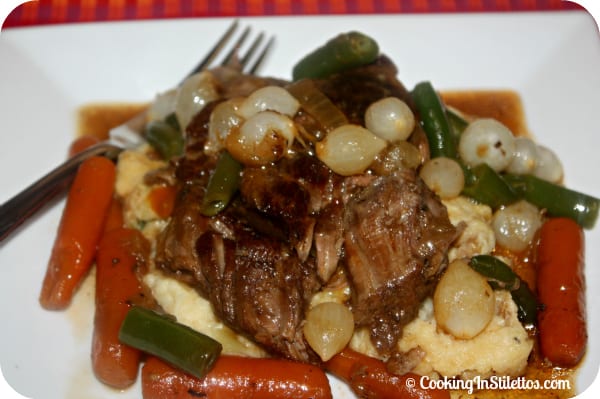 [b]Slow Cooked Pot Roast With Vegetables[/b]
---
Adapted from Cookin' Mimi
Yields 6
This Slow Cooked Pot Roast with Vegetables is the ultimate cozy comfort food dish and couldn't be easier to prepare!
10 minPrep Time
10 hr, 30 Cook Time
10 hr, 40 Total Time
Ingredients
3 lb chuck roast
2 tablespoons of olive oil (I used my favorite garlic olive oil), divided
1 pound baby carrots, washed, peeled and in 1 inch pieces
1 large onion, sliced
4 cloves of garlic, minced
2 Tablespoons quick cooking tapioca
1 1/4 cup low sodium beef stock
2 tablespoons of tomato paste
2 bay leaves
1/8 - 1/4 red pepper flakes (depending on how spicy you like it)
1 1/2 cups of frozen cut green beans
1 1/2 cups of frozen pearl onions
Kosher salt and fresh cracked black pepper to taste.
Directions
Pat the chuck roast dry and season with salt and pepper.
To a large saute pan (or if your slow cooker insert can be used on the stovetop), add 1 tablespoon of olive oil and heat over medium high heat.
Sear the chuck roast and set aside.
Add the remaining olive oil and add the sliced onions and saute until lightly browned.
Add the minced garlic and cook for a minute or two longer.
Deglaze with a bit of the beef stock, taking care to scrape up the brown bits with a wooden spoon.
To the slow cooker insert, add the onion and garlic mixture, carrots and sprinkle with the quick cooking tapioca. Stir to combine.
Add the bay leaves, red pepper flakes, and the beef stock along with a bit more of salt and pepper (I used about 1/2 teaspoon of pepper, 1 teaspoon of salt) and stir again.
Nestle the browned chuck roast into the veggies and broth, cover and set to cook on high for 5-6 hours or on low for 8-10 hours.
In the last hour, tumble in the frozen pearl onions and cut green beans.
minutes before serving, remove the pot roast to a plate and cover with a bit of foil.
Stir the veggies one last time, check the broth for seasoning and cover.
Skim any fat off of the sauce and remove the bay leaves before serving.
Serve over mashed potatoes and enjoy!
7.6.8
882
https://cookinginstilettos.com/secret-recipe-club-slow-cooked-pot-roast-with-vegetables/
All images and content are © Cooking In Stilettos. Please do not republish without contacting us first. Thank you.
As I know I'll be faced with Pot Roast leftovers for days, I'll be checking out these
Pot Roast Enchiladas from Jersey Girl Cooks
, making a batch of Pot Roast Soup from Eat.Live.Blog, and getting a
few ideas from The Kitchn
– possibly some pulled beef sammies.
Many thanks to Mimi for a fabulous recipe and the Secret Recipe Club for a fabulous assignment to kick off 2013.
Do you have any ideas for what to do with Pot Roast leftovers?
[Want to see my other Secret Recipe Club assignments? Click here to see my take on some fabulous food bloggers' recipes. Not a member of the Secret Recipe Club and want to join? Click here to sign up!]
Did you enjoy this post?
| | |
| --- | --- |
| Share the love | Get free updates |