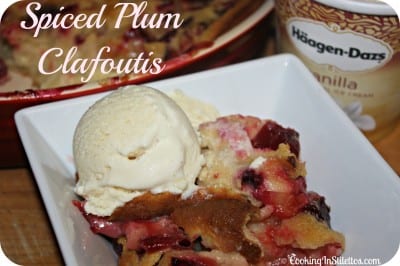 Every month, I look forward to getting a lovely email from the Secret Recipe Club with the details of my next assignment. I look at it as a little bloggy gift – discovering a blog that might or might not have crossed my path. When I get the assignment, I take a few days, wandering through the blog, looking at various recipes, reading their stories and then try to narrow down the recipes that pique my culinary interest. Sometimes it is hard to narrow it down to just a few. There are blogs that I want to make almost every. single. recipe. and this month's blog was one of them.
This month, I was assigned Eliot's Eats, an amazing blog that believes in the power of local ingredients.  I was so inspired by so much of what I read at Eliot's Eats.. I never really thought about where the ingredients in the grocery store came from and, now that I'm more aware, I will try to make more local choices. In addition, they love to can and you know I've just started my "Canning In Stilettos" journey, with the goal to get some lovelies in the pantry for winter. So, to narrow a recipe to just one was torture for this gal. I mean how can you choose between Espresso Brownies with a Baileys Ganache, Blackberry Lemon Jam with Cinnamon Basil, Bacon Jam, or a decadent Amaretto Chocolate Coffee Bundt Cake.
I finally settled on this divine Plum Clafoutis. I adore making clafoutis – especially with cherries. However, I had never tried it with plums. To be honest – and I have a bit of a confession here – I never cooked with plums that I can think of. I tend to eat them as is, if that makes sense. So, this recipe was a huge eye opener for me. I decided to add a little warmth to the batter with some cinnamon and nutmeg and, well, since we're at full on confession mode, I added a bit more amaretto to the batter as well. I don't know what I was thinking but I was rather happy with the outcome. Sadly, it was humid as all heck in Philly when I made this and, while it was set when the clafoutis came out of the oven, it was like a bit of a bread pudding when I went to serve it. No worries – a scoop of vanilla ice cream served alongside made it all better.
Many thanks to the Secret Recipe Club for introducing me to my new daily must read – Eliot's Eats and to the couple behind Eliot's Eats – you have inspired me in more ways than one. Thank you.
Ingredients
1 1/2 lbs. plums, pitted cut into large dice (about 5 plums)
Zest and juice of 1/2 a lemon
1/3 cup of brown sugar
4 large eggs
1/2 cup of sugar
1 cup milk
1/2 cup flour
1/4 teaspoon salt
1/2 teaspoon of cinnamon
Pinch of nutmeg
3 tablespoons of melted butter (cooled)
3 tablespoons of Amaretto (I used DiSarrano – I say don't cook with it unless you'd drink it ?)
1/2 teaspoon vanilla
Directions
Preheat oven to 400 degrees.
In a large bowl, add the plums, lemon juice and zest and brown sugar. Toss well to coat and set aside.
In a blender, add the eggs, sugar, milk, flour, salt, cinnamon, nutmeg, cooled melted butter, Amaretto and vanilla. Blend until smooth.
Tumble the macerated plums into a shallow baking dish that has been buttered or sprayed with a non-stick spray.
Pour the batter over the plums.
Bake in the oven for 35 – 45 minutes, until fully set.
Serve warm with a bit of ice cream or whipped cream and enjoy!
Notes
Recipe adapted from Eliot's Eats
7.6.8
812
https://cookinginstilettos.com/secret-recipe-club-spiced-plum-clafoutis/
All images and content are © Cooking In Stilettos. Please do not republish without contacting us first. Thank you.
Gather the Ingredients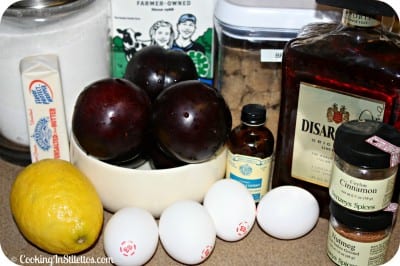 Nothing like a little fruit maceration, right?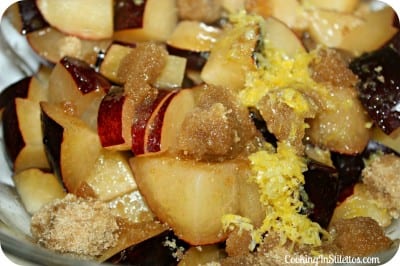 Pouring in the batter.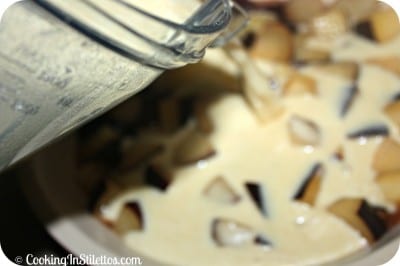 Puffed and golden – straight from the oven.
Did you enjoy this post?
| | |
| --- | --- |
| Share the love | Get free updates |