When it comes to whipping up something quick for a weekend brunch, a killer French toast has always been a lifesaver. Recently my friend highlighted a recipe for Cinnamon Pan Frances, so I decided to try it.
I made a few changes to the recipe – notably while she used Mexican crema, sadly, I can't seem to find it in my neck of the woods so I used a mixture of crème fraiche and heavy cream. I also never really have whole milk in the fridge so low-fat had to suffice.
Now – growing up I was a big fan of cinnamon toast and this was a more grown-up version that will be in the tried and true file.
Gather the ingredients
Is there anything better than Challah?
Time to Soak
This batch is the perfect shade of gold
Brunch is served

Tried and True: Cinnamon Pan Frances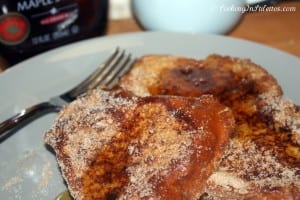 Ingredients
3 large eggs
3/4 cup low-fat milk
2 tablespoons crème fraiche
2 tablespoons of heavy cream
1 tablespoon plus 2 teaspoons ground cinnamon
1 tablespoon Mexican vanilla extract
1 cup plus 1 teaspoon sugar
1 loaf of challah, sliced thickly
4 tablespoons (1/2 stick) unsalted butter, plus more for serving
Maple syrup
Instructions
In a baking dish, whisk the eggs, milk, crème fraiche, heavy cream, vanilla, 1 teaspoon of sugar and 2 teaspoons of cinnamon together.
Add the bread and let it soak for a minute or two, then turn over and let it soak for an additional 2-3 minutes.
On a plate, mix the remaining cup of sugar and tablespoon of cinnamon and set aside.
Melt 2 tablespoons of the butter in a large nonstick skillet over medium heat. Add 4 of the soaked bread slices and cook until golden brown on each side – about 3-4 minutes a side.
Transfer to the cinnamon sugar plate and turn to coat. Set aside.
Continue with the next batch of bread, batter and butter and repeat the steps above.
Serve with maple syrup and enjoy!
7.8.1.2
398
https://cookinginstilettos.com/tried-and-true-cinnamon-pan-frances/