Toast the holidays with a festive Cranberry Honey Blossom Cocktail – the flavors of cranberry and orange meld with tequila and a kiss of honey sweetness!
Disclosure:  This post has been sponsored by Hornitos­® Tequila.
The holiday season is here and today I have a delicious holiday cocktail for you to ring in the holidays with – my Cranberry Honey Blossom Cocktail. This festive sip will be the toast of your holiday party.
Holiday planning has commenced and I will be having a homemade holiday with well-thought out gifts and treats for those that I adore. Just between you and I, for a few of my favorite peeps, I will be crafting gift baskets filled with some of my favorite spirits and mixers and, for my tequila aficionados, it will be a Hornitos® holiday with the makings for this delicious sip.
I love the flavors of cranberry and orange, so when Hornitos® Tequila asked for a must-make holiday cocktail, I knew I had to incorporate those flavors along with a hint of spice and, for sweetness, a touch of honey. This cocktail is so easy to make and it's simple to adjust the amount accordingly for parties where you might need to make more than just a few. Make a pitcher of this signature sip and you can be a guest at your own soiree! No need to play bartender all evening, right?
The key to this drink is the spiced honey syrup that is simmered with orange rind, star anise and cinnamon. If you want a stronger honey flavor, just increase the honey using a ratio of 2 to 1 and it should work out lovely. For the perfect pop of citrus, freshly squeezed orange juice compliments the tart cranberry juice. I paired these flavors with Hornitos® Plata Tequila, which I often use in many of my tequila cocktails. This drink would also be lovely paired with Hornitos® Spiced Honey Tequila that has a touch of honey with notes of vanilla and spice.
Hornitos® Plata Tequila has crisp, clear notes with hints of clove and spice, perfect for the holiday season. I love using Hornitos® not only in my cocktails, but also in various cooking and baking recipes. After all, tequila is not just for margaritas.
This holiday season, for a festive holiday cocktail that will have your guests dancing the night away, serve this Cranberry Honey Blossom Cocktail!
Happy Holidays!
On to the recipe:
Gather your ingredients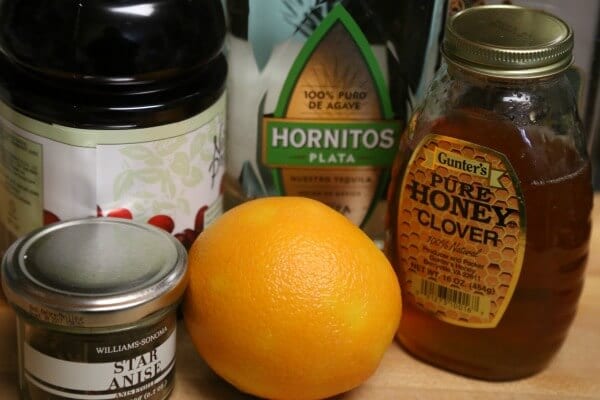 Let's make the spiced honey syrup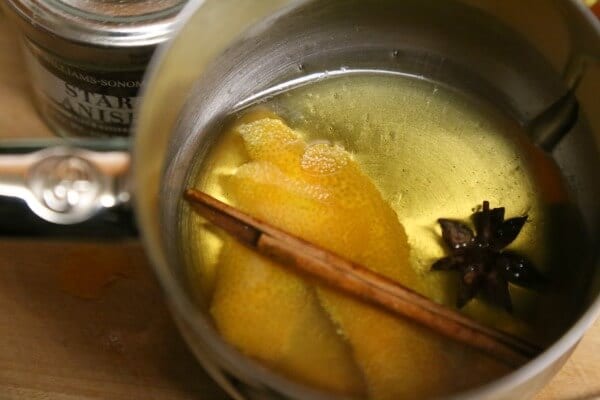 Nothing like freshly squeezed orange juice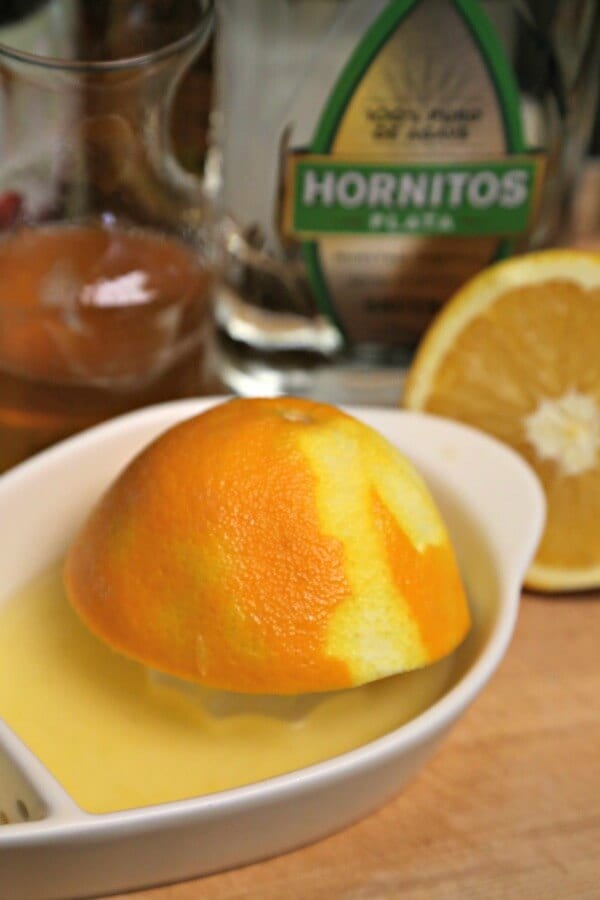 This cocktail is stirred, not shaken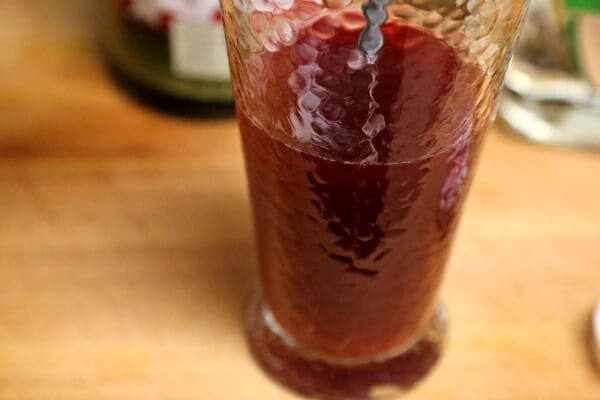 Be the belle of the holiday parties with this cocktail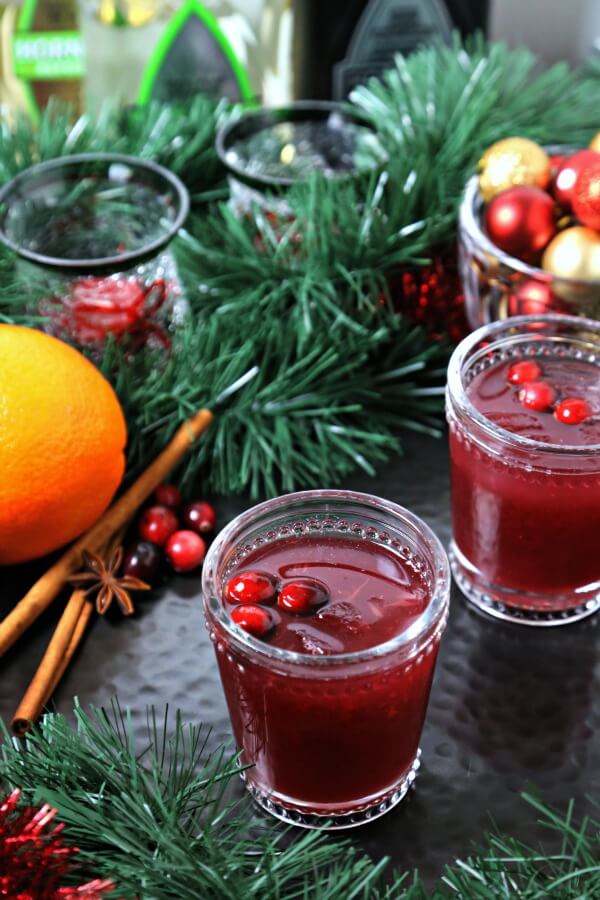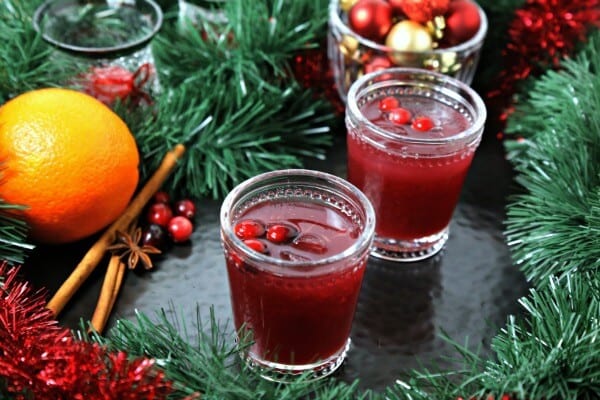 Aly M. Cleary
Yields 2
Cranberry Honey Blossom Cocktail
This Cranberry Honey Blossom Cocktail is a festive cocktail for the holidays. The flavors of tart cranberries and sweet orange meld with tequila and a touch of spiced honey syrup for the perfect sip!
5 minPrep Time
7 minCook Time
12 minTotal Time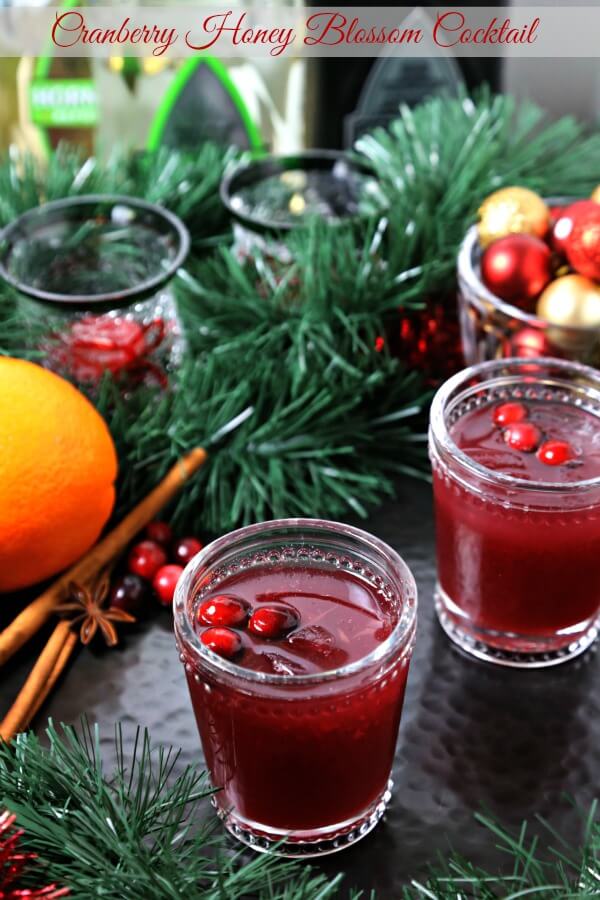 Ingredients
For the Spiced Honey Syrup

1/3 cup of honey
1/3 cup of water
2 – 3 strips of orange rind
1 cinnamon stick
1 star anise

For the Cocktail:

1 1/2 ounces of Hornitos® Plata Tequila
3 ounces of fresh orange juice (about 1 large orange)
1 1/2 - 2 ounces of Spiced Honey Syrup, cooled
4 ounces of cranberry juice
Ice
Fresh cranberries for serving (optional)
Instructions
To make the Spiced Honey Syrup:

In a small saucepan, add the honey, water, orange rind, cinnamon stick and star anise.
Bring to a boil over medium heat so that the honey is completely incorporated into the water.
Let the mixture simmer for 5 minutes.
Set the mixture aside to cool while you make the cocktail.

To make the Cocktail:

In a large glass, add the Hornitos® Plata Tequila, fresh orange juice, the cooled Spiced Honey Syrup and cranberry juice.
Stir the mixture so that everything is combined.
Pour the drink into an ice filled rocks glass.
Garnish with a couple fresh cranberries and enjoy!
Notes
You can adjust the level of sweetness in the cocktail – be your own mixologist and test to see if the flavors are too tart or too sweet and adjust accordingly with the syrup. I tend to lean on the less sweet side for cocktails.
7.8.1.2
114
https://cookinginstilettos.com/cranberry-honey-blossom-cocktail/
Hornitos® Tequila doesn't settle for the status quo but believes in taking experiences to the next level with 100% agave tequila. Learn more about what makes us Not Just Any Tequila at www.hornitostequila.com and follow us on Twitter at www.twitter.com/hornitos.
Disclosure: Compensation was provided by Hornitos® Tequila via Mode Media. The opinions expressed herein are those of the author and are not indicative of the opinions or positions of Hornitos® Tequila.