This luscious Aloha Style Homemade Eggnog invites you to get cozy by the holiday tree while dreaming of warm Hawaiian breezes and sunshine. This easy homemade eggnog flavored with coconut, vanilla, spices and Maker's 46® Bourbon will be a holiday favorite!
Growing up, my Bampa would make his famous eggnog from scratch with eggs and cream whipped to perfection with foamy peaks floating on top accented with freshly grated nutmeg. Since he passed, we have had store-bought eggnog on the holidays that I always jazz up with a hint of nutmeg and, of course, a splash of bourbon but it just is not like the eggnog that I remember from my youth.
Maker's Mark issued a #GetCozyCocktail challenge to create a delicious eggnog for the holidays using their premium bourbon, Maker's 46®, and you know I couldn't resist throwing my stilettos into the recipe ring. Maker's Mark, as you all know, is my go-to bourbon of choice. They say for the best results in cooking and baking, use what you would drink and, for me, that's Maker's Mark. It is a must have in my Bourbon Pulled Pork, this decadent Bourbon Soaked Eggnog Cake, Spiced Boozy Cherries, etc. Essentially, if the recipe needs a little bourbon, I am grabbing my Maker's Mark. 
This is the first time I have tried Maker's 46® and, at first sip, I fell in love. This rich bourbon starts as the traditional Maker's Mark bourbon, but then it is returned to oak barrels and aged for several months longer, producing a strong complex flavors and notes of vanilla, caramel and spice which are at the forefront with no bitterness like other aged whiskeys tend to have. One sip and I knew it was perfect for this Aloha Style Homemade Eggnog.
I must confess – I have never made eggnog from scratch so this recipe took a few tries to get it just right.  After a bit of recipe inspiration thanks to this recipe, I wanted to add a bit of a Hawaiian touch to to the traditional eggnog. I must caution you – this eggnog is rich and creamy but does have a bit of a bite. As my friend SL will tell you, I tend to have a heavy pour when it comes to my bourbon.  So – small glasses is my suggestion and sip slowly to savor the complex bourbon flavor playing against the sweet coconut notes.
Make this Aloha Style Homemade Eggnog this holiday season and get cozy by the holiday tree!
On to the recipe:
Gather your ingredients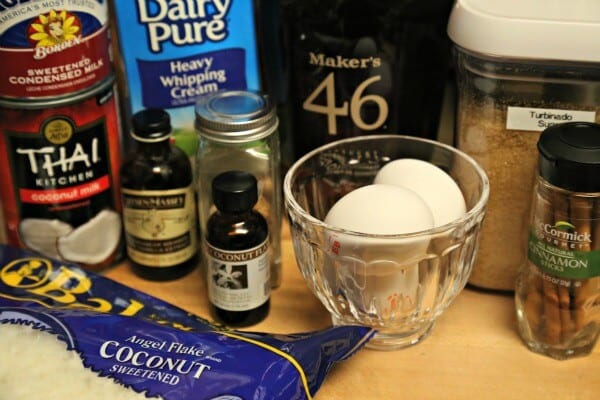 Adding the eggs to the cream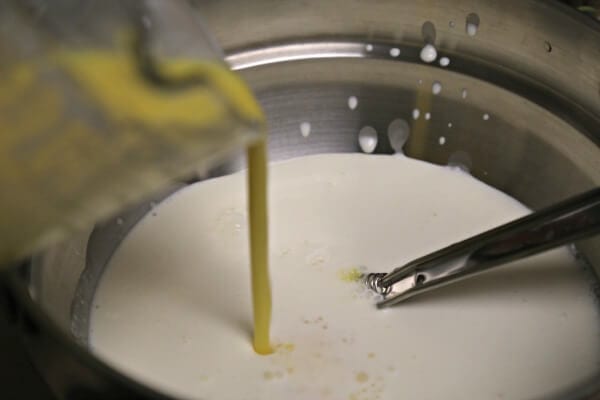 Whisking the egg custard base to perfection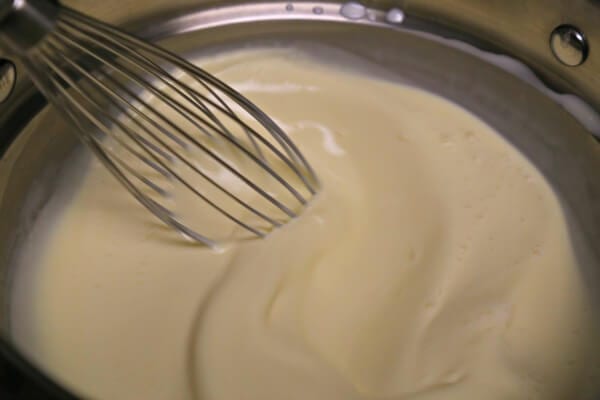 The must have ingredient – Maker's 46®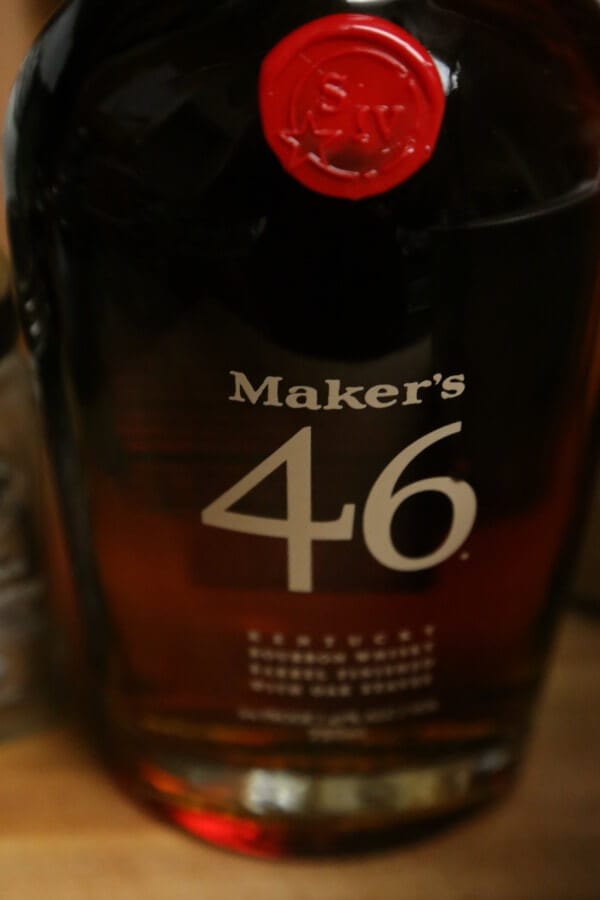 Now – doesn't this look festive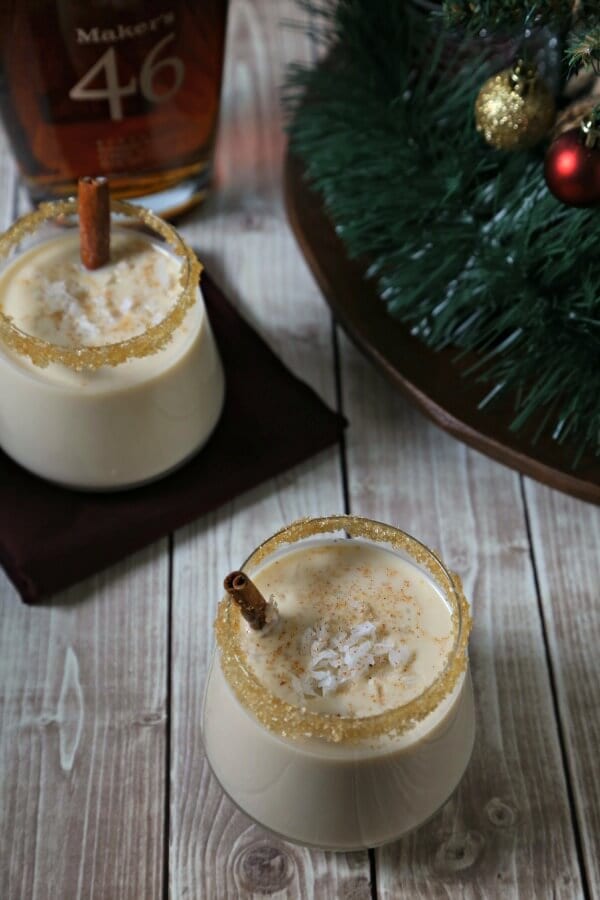 Shall I get you a glass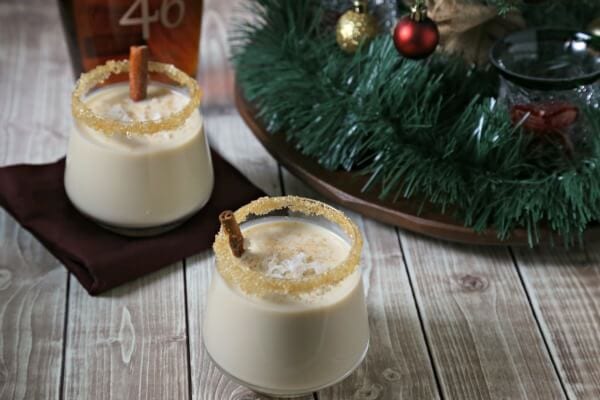 Aly M. Cleary
Yields 6
Aloha Style Homemade Eggnog #GetCozyCocktail
This luscious Aloha Style Homemade Eggnog has the flavors of coconut, vanilla, and spice with a splash of Maker's 46® Bourbon – perfect for the holidays!
3 hr, 30 Prep Time
7 minCook Time
3 hr, 37 Total Time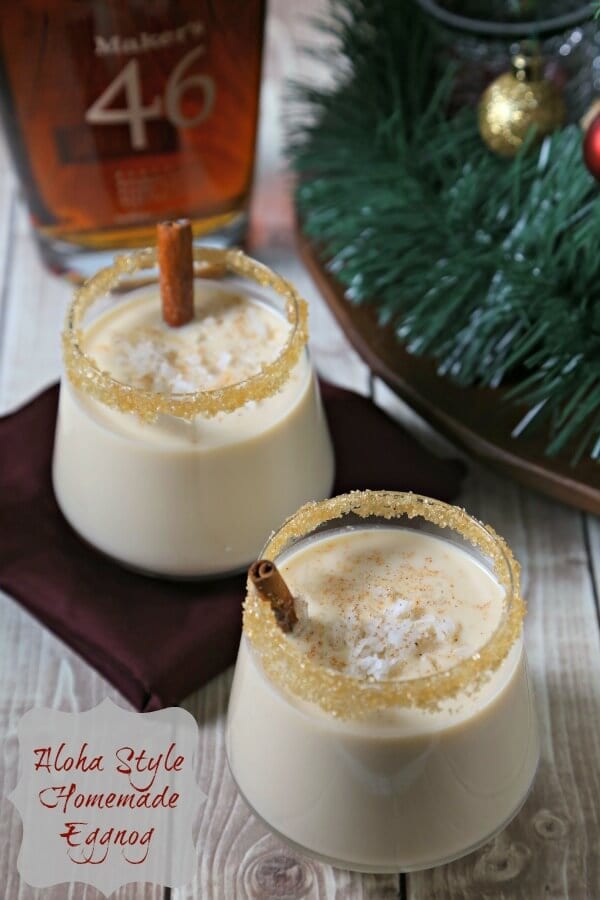 Ingredients
2 cups of heavy cream
3 eggs, beaten
1 14-ounce can of coconut milk
1 14-ounce can of sweetened condensed milk
3/4 cup of Maker's 46® Bourbon
2 teaspoons of pure vanilla extract
1/2 teaspoon of coconut extract
2 cinnamon sticks
1/4 teaspoon of freshly grated nutmeg, plus more for garnish
Sweetened flaked coconut for garnish
Turbinado sugar for garnish
Cinnamon Sticks for serving (optional)
Instructions
Add water to the bottom of a double boiler (about 1 inch) and bring to a boil over medium heat. Reduce to a simmer.
To the top of a double boiler, add the heavy cream and beaten eggs and whisk to combine. Place over simmering water and cook, whisking constantly until the mixture thickens and the temperature reaches 160 degrees F, about 5 minutes. The mixture should be thick enough to coat the back of a spatula or spoon.
Remove the egg custard mixture from the heat and strain into a large bowl.
Whisk in the coconut milk, sweetened condensed milk, Maker's 46® bourbon, vanilla extract and coconut extract, and ground nutmeg until everything is thoroughly combined. Taste and add a bit more bourbon if you want it a bit boozier.
Nestle the cinnamon sticks into the mixture and cover with cling film. I also lay another layer of cling film directly on the mixture so it doesn't form a skin.
Refrigerate for at least 3 hours.
When you are getting ready to serve, rim the glasses with a bit of turbinado sugar. I dip the glasses in a bit of water, then into the raw sugar and place in the refrigerator to chill for about 15 – 20 minutes.
Pour the eggnog into the sugar rimmed glasses. Garnish with a bit of sweetened flaked coconut and a grating of fresh nutmeg along with a cinnamon stick if you wish and enjoy!
Happy Holidays!
7.8.1.2
40
https://cookinginstilettos.com/aloha-style-homemade-eggnog-getcozycocktail/